Prince George Bathrobe Worn When Meeting the Obamas Is Already Sold Out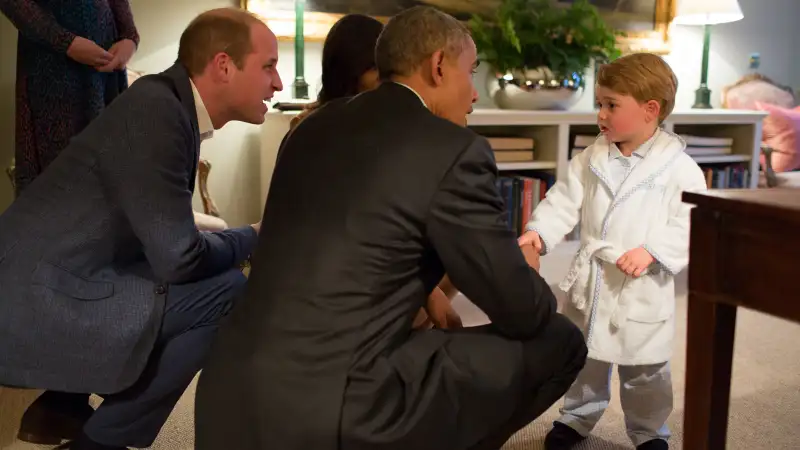 The White House—Getty Images
Bad news for fans of Prince George's style: The bathrobe the young British prince wore to meet President Obama Friday has already sold out.
The prince stole the show with the dapper bathrobe he wore to his post-bedtime meeting with President Obama and the First Lady. Ardent followers of the prince's wardrobe have already taken note: U.K.-based company My 1st Years, which designed the prince's luxury white bathrobe with blue patterned trim, said its £27 ($39) bathrobes are no longer in stock, CNN Money reported.
The company, which makes personalized baby gifts, will only accept pre-orders following a flood of interest in the accessory. A Princess Robe similar to Prince George's only with pink trim is currently also available only on a pre-order basis. "We can't believe Prince George wore our robe to meet President Obama," My 1st Years said on Instagram. "Doesn't he look adorable!?"
Co-founder Daniel Price said the company tries to make its products affordable so that "everyone can dress their little one like a Prince or Princess." It describes the robes on its website as "Fit for a prince!"
Prince George's fashion choice may not have been an accident; the company has previously sent him cashmere blankets and high-tech trainers to the prince as part of a celebrity outreach program.
Read Next: The One Thing Prince George Won't Get for His Birthday
The prince, who will turn 3 in July, was allowed to stay up 15 minutes past his bedtime to meet the Obamas. While photos of the Obamas with the Duke and Duchess of Cambridge and Prince Harry were also widely circulated, it was the prince's bedtime outfit—which also included a pajamas and slippers—that generated the most interest online.
"If I had a little boy, I'd want one too," wrote Instagram user @smccann1234.
If you're also an admirer of the prince's fashion sense, you can preorder his robe for your toddler here.