Here's How Much Princess Eugenie's Engagement Ring Cost, According to Jewelry Experts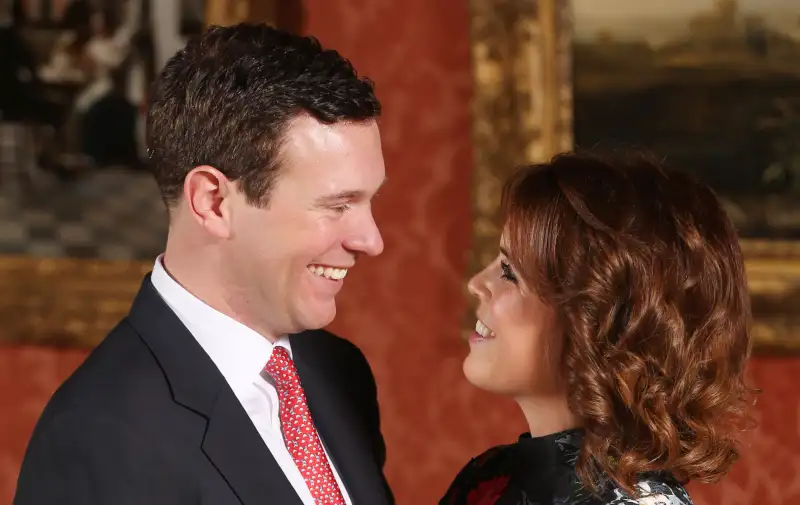 Jonathan Brady - PA Images—PA Images via Getty Images
The latest member of the Royal Family to get engaged, Princess Eugenie of York, has an engagement ring that not only bears similarities to her mother's — but also to Kate Middleton's.
The ring features a pink-hued padparadscha sapphire — a stone predominantly found in Sri Lanka that's typically salmon colored, with hues of pink, orange and yellow — surrounded by diamonds.
The blush-colored ring has been compared to that of her mother, Sarah, Duchess of York, which had a red ruby as a center stone with diamonds surrounding it.
Jack Brooksbank proposed to the Queen's granddaughter with a "complete surprise" in Nicaragua — and without a ring, according to the couple's interview with BBC. Brooksbank went to a jeweler to find the ring and the couple later designed it together with the diamonds surrounding the padparadscha sapphire.
"And what's amazing about it is that it changes color from every different angle that you look at it, which is what I think of Eugenie, that she changes color, and is just so amazing," Brooksbank told BBC.
Kathryn Money, the vice president of strategy and merchandising at Brilliant Earth, an ethically-sourced jewelry company, estimated the diamonds surrounding the sapphire on the ring were between 2.5 and 3 carats.
Diamond experts gave a variety of price estimates to Money, ranging from $30,000 to around $150,000.
"But the second she put it on her finger, the value increased exponentially," Michael Fried, the CEO of Diamonds Pro, a company that helps buyers find the best diamonds for their money, said in an e-mail.
The ring also resembles that of Kate Middleton, which was Princess Diana's engagement ring and includes a 12-carat oval blue Ceylon sapphire.
"We love that both rings incorporate a family connection, with Kate's ring previously belonging to Princess Diana and Eugenie's ring inspired by her mother, Sarah, Duchess of York's sunburst halo engagement ring," said Money of Brilliant Earth.
Experts told Money that Meghan Markle's engagement ring from Prince Harry was "priceless" due to its use of diamonds from Princess Diana's personal jewelry connection.
Princess Eugenie and her fiancé will wed at St. George's Chapel in the fall, according to Buckingham Palace. That's the same venue where Meghan Markle and Prince Harry will wed on May 19.