6 Ways to Keep Zombies Away From Your Money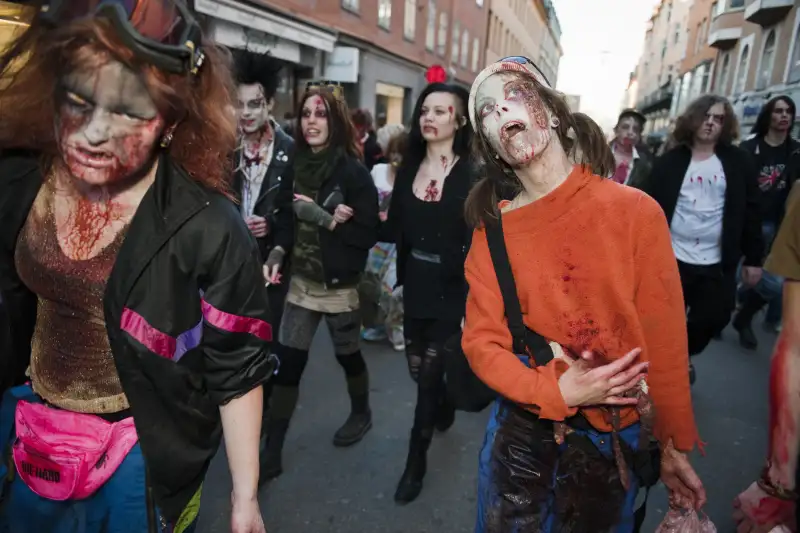 Christian Aslund—Getty Images
Learn more about Richard at NerdWallet's Ask an Advisor
Zombies are the brain-craving menace of movies and television shows. It's all good, fake fun. But zombies of the financial variety can do real damage. They crave your cash and nibble away so stealthily that you don't even realize it. Here are six ways to protect your net worth from these money munchers:
1. Avoid overdraft fees
The Consumer Financial Protection Bureau received about 410,000 complaints about bank fees from December 2011 to June 2015. Amazingly, only 1.6% of these complaints concerned overdraft fees. Consumers pay a median fee of $27 for overdraft protection.
To protect yourself, link a savings account to your checking account. For $5, on average, money will transfer automatically to cover overdrafts. Even better, consider NerdWallet's list of institutions with low or no overdraft fees.
2. Don't ignore your 401(k)
Your company retirement account is a zombie feeding ground. Once your money is invested, two zombies can take potentially lethal bites out of your assets.
First, it's easy to unwittingly let your account become overweighted in the stock of your employer.
Your risk becomes too high when 15% or more of your liquid assets are tied up in one investment and it underperforms or, worse, drops dramatically in price, as happened with many stocks in the energy sector over the last year. To manage risk, once the stock allocation exceeds 15% of the total value of a retirement account, consider trimming it back.
Second, many people have a tendency to invest and forget. Employees rarely review, alter or rebalance their 401(k) holdings. These accounts require regular attention. Try setting aside 30 minutes every three months to determine whether your portfolio's proportions still fit your original allocation plan. If this allocation has become out of kilter, it's time to rebalance. Consider using the services of a certified financial planner to provide an objective analysis of current investments and recommend changes.
3. Make credit card payments far above minimums
According to NerdWallet, as of October 2015, average household credit card debt in the U.S. was $16,140 for households that had such debt. The interest on this debt is a feast for zombies.
Let's assume that the minimum payment on this balance is roughly 5%. With an interest rate of 15% (the U.S. median), it would take close to 11 years to pay off the balance, assuming you stop using the card. Scary!
Minimum payments are inadequate weapons against zombies. You're going to need more firepower. Consider taking advantage of low-interest deals that come with balance transfer offers, using liquid savings (which currently pay close to zero interest) or calling the credit card company to negotiate a lower rate. I've seen people save thousands this way.
4. Hunt down recurring charges
These are like zombies in the fog. You won't notice until it's too late, but you can limit the damage. Recently, after a close examination of my credit card statements, I discovered a quarterly payment of $9 to a newsletter I'd forgotten about. I'm ashamed to say this had been going on for two years.
5. Don't make extra mortgage payments
Borrowers love to make additional mortgage payments because it makes them feel good, but it isn't good for their finances. Most homeowners will stay in their residences for only about five years, not 30. Making extra payments saps the lifeblood of your liquidity. Unless you plan to remain in a house for 10 years or longer, paying extra only makes sense if you've adequately funded investments or completely paid off other, higher-interest debts.
6. Sign up for employer benefits
Benefits enrollment season is about to begin. Every year, I observe employees making mistakes that leave their futures up to chance by failing to take medical or disability insurance, reasoning that "nothing bad is going to happen."
A serious illness or a disability without adequate insurance coverage can be financially devastating. Rather than face this risk, it's wise to transfer it to insurance companies.
Instead of letting these zombies consume your money, take action to find and eliminate them. A life free of financial zombies is less scary and far wealthier.
More from NerdWallet: