3 Companies That May Not Last Through 2015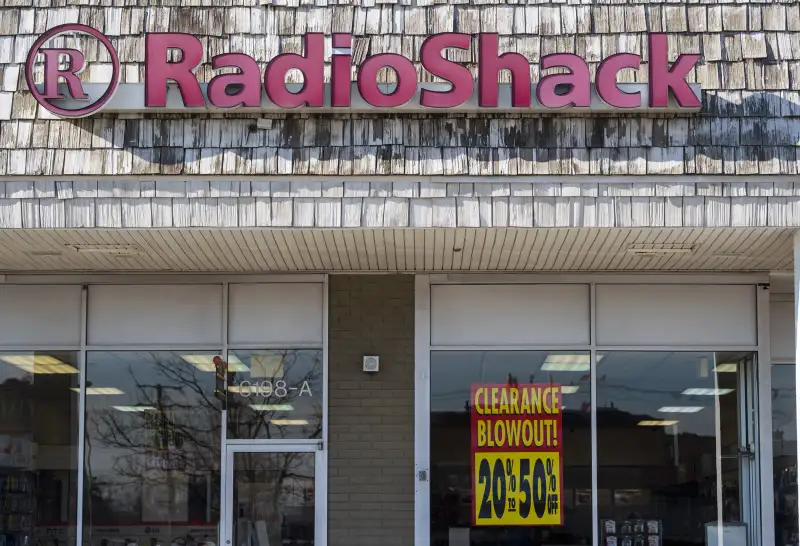 Saul Loeb—AFP/Getty Images
For more than six years now, the stock market has defied naysayers in a bull-market run that has pushed major-market benchmarks to record levels. Yet no matter how strong the stock market is, you can always find pockets of weakness among certain companies that simply haven't lived up to expectations. Indeed, in extreme cases, some companies find that it no longer makes sense to stay in business, either breaking themselves up in major asset sales or declaring bankruptcy. The result is often a plunging stock price that leaves shareholders with major losses.
To help you identify some potential danger areas, three Motley Fool contributors picked companies that they believe might not live to see the end of 2015. Their views certainly aren't a guarantee of failure for these stocks, but they nevertheless believe that you should watch these companies closely before you put your investing dollars at risk.
Radio Shack has been a fixture in electronics retail for over a generation with over 4,000 stores nationwide, but this year could be its last. A combination of declining sales, steep losses, and pressure from its creditors may force it into bankruptcy and liquidation.
The company still brings in substantial sales at more than $3 billion over the last twelve months, but its share price has fallen all the way to $0.39 as of Monday's close, valuing the company at $39 million, or slightly more than a penny for every dollar in sales.
Radio Shack was already in trouble this time last year with same-store sales falling by double digits, but the company's hopes for a turnaround took a sudden turn for the worse when creditors rejected a plan to close 1,100 stores last spring, claiming that doing so would violate debt covenants. Since then, cash has evaporated, and the Shack was left with just $62 million in liquidity as of its third quarter earnings report when it turned in an operating loss of $114 million.
Since then, Radio Shack has resorted to what seem to be desperate moves, suspending employee 401(k) contributions and, in December, bringing in its third CFO in just four months. Its marketing chief also quit in December, during the crucial holiday selling season, a further sign that the company's demise could come even sooner than expected.
The retailer's moment of truth should come this Thursday, when the deadline it has with lender Standard General arrives. Radio Shack must prove it has $100 million in liquidity in order to implement a financing package with Standard General agreed on in October. If Radio Shack is unable to secure additional funding, the company's prospects look essentially dead. Moreover, even if it shows up with the $100 million, that's no guarantee it will remain viable through the end of the year.
Aeropostale might not make it out of 2015 alive, even though shares of the teen retailer jumped more than 20% on January 8 after better-than-expected holiday sales. Aeropostale said comparable holiday sales fell 9%, better than last year's 15% decline. But the results still signify this is a company in severe decline. Shares of Aeropostale lost nearly three-quarters of their value last year due to collapsing sales, and management's plan to turn the company around mostly involves shuttering stores. The company plans to close as many as 240 Aeropostale stores and all of its P.S. children's concept. Not only are total sales falling, but sales per square foot are falling as well, which means store closings are not likely to restore growth
Aeropostale announced a smaller-than-expected loss for the fourth quarter. Management expects the company will lose $18 million-$23 million in the quarter, down from a prior forecast of $28 million-$34 million. Still, this hardly seems reason to celebrate. Over the past three quarters, Aeropostale lost nearly $200 million, approximately double the loss from the same period one year ago.
The teen fashion landscape changes very quickly, and companies that fall out of favor find it hard to catch up. While Aeropostale suffers the effects, investors shouldn't touch this company that might not survive through 2015
One of the most often-chosen stocks for a potential implosion is retailer Sears Holdings , which has struggled for years to navigate difficult conditions in its niche of the big-box retail segment. The company is on pace to lose money for the fourth year in a row, and restructuring charges and asset sales that for most companies are extraordinary events have become commonplace for the operator of Sears and KMart stores.
Sears is infamous for its long string of spinoffs, with last year's Lands' End IPO having been one of the more successful of its former parent's corporate moves. Many believe that CEO Eddie Lampert's primary strategy has been to unlock the value of Sears Holdings' assets through such moves, with the eventual goal of leaving the money-losing retail business as a used-up husk. Yet many have been surprised at just how long Sears has managed to stay in business, and a recent hacker-attack against the company's KMart division was just another problem that the company will have to face in trying to attract shoppers.
It's entirely possible that Sears Holdings shareholders could receive further valuable distributions on their stock through spinoffs or other corporate moves. Yet the odds of Sears Holdings continuing in anything like its current form grow smaller every day.
Neither Bob Ciura, Dan Caplinger, nor Jeremy Bowman has any position in any stocks mentioned. The Motley Fool has no position in any of the stocks mentioned. Try any of our Foolish newsletter services free for 30 days. We Fools may not all hold the same opinions, but we all believe that considering a diverse range of insights makes us better investors. The Motley Fool has a disclosure policy.
Related Links