4 Smart Ways to Buy a Bigger Home Now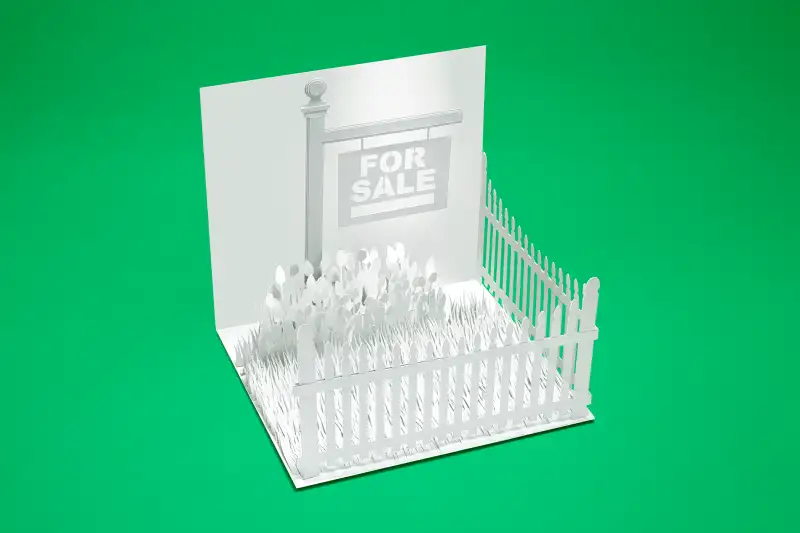 Photograph by Gregory Reid for Money; Paper sculpture by Daniel Sean Murphy
For families with growing kids, a starter home can soon begin to feel cramped. Yet if you've ventured out into the housing market recently, you may have noticed that it's feeling a squeeze as well, with strains on supply and a resulting increase in prices.
Of everyone jostling for position in today's competitive real estate market, trade-up buyers face the trickiest balancing act. With timing critical, you must work to max out your sale price and then shop fast and furious for a new place. On the plus side, the same forces that work against you as a buyer—tight inventory, rising prices—are in your favor as a seller. That bodes well for a quick sale and gives you cash to work with as you're house hunting.
Here are the best moves for you to make as you think about selling your current house and searching for more elbow room.
1. Sell First
Even in the current seller's market, financial advisers recommend that you sell your existing place first. In different circumstances you might have been able to make an offer on a new home dependent on the sale of your current place, but now? "You want as few contingencies as possible," says Virginia Calvin, a broker with Windermere Real Estate in Seattle.
If you wind up having to rent for a few months, experts say, that's better than juggling two mortgages. The good news: While there are always exceptions, you should be able to sell quickly. Nationally, the median time on the market was 59 days in February, NAR says, a 5% drop from the prior year. Just continue to shop around while you're marketing your home so you can move quickly to bid on your next place.
2. Don't Overprice
With all this talk of supply constraints, you might be tempted to add a little extra onto your asking price, just to give yourself more purchasing power when it's time to make an offer on your next place. Resist: As a trade-up buyer, you'll need flexibility as well as a high price, so your primary goal should be to draw multiple bids—which in turn will give you more room to negotiate your exit.
Read the whole Spring Real Estate Guide:
You want to be no more than 1% to 2% higher than comparable recent sales, says Kelly Moye, a ReMax real estate broker in Denver. "Buyers know if something is priced too high, and the house will sit," she says. To find comps, ask your agent or check Zillow for several sales from the last two to six months. Make sure properties are as similar as possible to your own, and be sure to zero in on the final deal prices, not list prices. "Price the house perfectly and you improve your odds of getting multiple offers," Moye says.
3. Look at New Home Developments
Most new developments are sold on a first-come, first-served basis. That different buying process, which tends to have a longer time frame, can simplify the trade-up buyer's high-wire act. "There are no bidding wars," Moye says. You'll need to pay a deposit upfront—figure 1% to 2% of the purchase price—but the balance won't be due until you close on your mortgage, typically when the home is near completion. That gives you time to sell your current house.
Builders tend not to negotiate on prices, since doing so reduces the comps for future sales. But they may offer incentives, such as picking up closing costs, to entice buyers in the early stages of a development.
4. Don't Snub the Suburbs
Across the board, Americans have been migrating back into urban areas since the recovery began six years ago, according to U.S. Census data. Millennials in particular are living in cities at a higher rate than any other generation and intend to stay there, research giant Nielsen has found.
You should head in the opposite direction, though—not for the schools and elbow room, as previous generations did, but for the bargains. Since January 2010, the average price per square foot in the urban cores of 32 metro areas has increased 10.6% a year, according to Redfin, vs. 6.3% for the overall metro areas.