4 Frustrating Reasons Your Credit Score Isn't Improving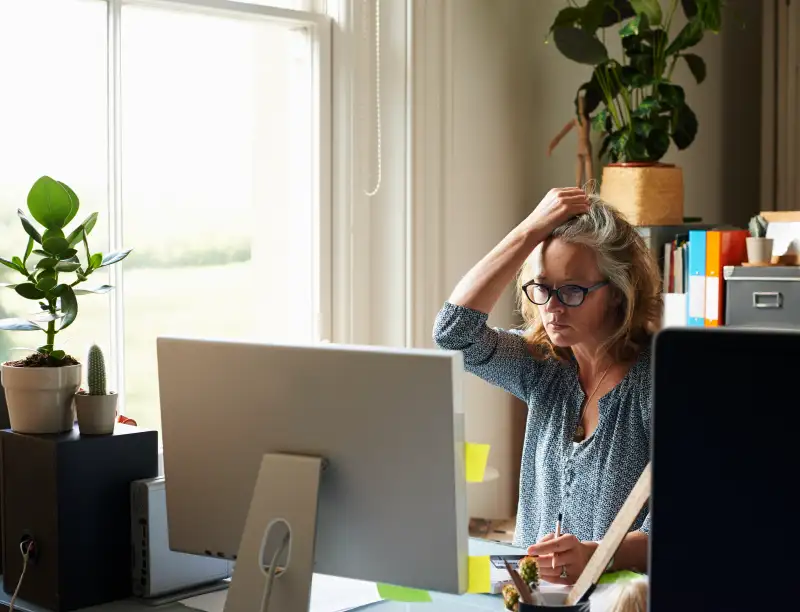 Caiaimage/Paul Viant—Getty Images/Caiaimage
We hear it from readers constantly: I'm paying all my bills on time, so why isn't my credit score going up?
This feeling that you're doing everything right and not getting rewarded for it is one of the most frustrating things about credit scores. And the simplest answer to that question is almost as frustrating: It depends.
First of all, credit scores are the result of complicated formulas, so that makes it difficult for the average person (even personal finance writers) to pinpoint exactly why your score is the way it is. On top of that, there are dozens of credit scoring formulas, and you can't keep track of all of them. Finally, and here's the really important part, everyone's credit history is unique. Without looking at your credit report, a credit expert can't say exactly why your score isn't changing.
In general terms, there are a few things that could be causing your credit score to stagnate. Here are four of them.
1. Your Credit Card Balances Are Too High
Payment history has the greatest impact on your credit scores, but making on-time payments alone won't give you a good credit score. It's certainly important, given how much a late payment can hurt your credit score (it can knock about 100 points off your score, depending on what else is in your credit history), but there are four other major factors that affect your score. The next-most important (after payment history) is your amount of debt.
The key is to keep your revolving credit balances (like credit card balances) as low as possible. This relates to credit utilization: Your revolving credit accounts generally have limits, and the closer your credit balances are to those limits, the higher your utilization. High utilization, in which your debt is more than 30% of your available credit limit, will keep your credit scores down.
"I think it's common for a high credit card balance to keep scores [stagnant and low]," Jeff Richardson, a spokesman for VantageScore Solutions, said in an email. "Consumers will and should expect their scores to increase as a delinquency gets older and older, but if they still have a high utilization, it's certainly possible that the score can only rise so much until they pay down the balances on their card(s)."
Calculator: How long will it take to pay off my credit card(s)?
2. Something Seriously Negative in Your Past Is Dragging You Down
Perhaps you're paying debts on time and keeping your credit utilization low. In that case, you may want to look at other aspects of your credit history. If there's something exceptionally negative in your credit history, like a bankruptcy or foreclosure, it can take many years for your score to recover. Most negative information can remain on your credit reports for up to 7 years, so while you wait for the effect to lessen over time, it can help to focus on what you can control: making payments on time and keeping your credit utilization low.
Read More: 4 Credit Cards You Couldn't Get Last Year
3. You're Missing Something Important
Though they are the most influential factors in your credit score, on-time payments and credit utilization are not the only things that determine it. How often you apply for new credit, the length of your credit history and the mix of accounts in your file also play an important role in credit scoring.
There's not much you can do about your length of credit history other than exercising a lot of patience. The longer you've been an active credit user, the better your score will theoretically be, but there's nothing you can do to speed up time. One of the best tips on this topic is to keep your oldest credit account open, because your credit age is an average of your accounts' ages. You may have a good reason for closing an old account, but it's a decision you shouldn't make lightly.
As far as mix of accounts goes, you would ideally have active installment and revolving accounts to show that you're capable of responsibly managing different kinds of credit. Sure, you may be doing a fantastic job paying your credit cards on time and keeping their balances low, but without any active installment loans, that's only going to do so much for your credit.
Read More: 5 Credit Cards Not Made from Plastic
Staying on top of just one credit account can be challenging, although doing that well can give you a great score. Mix of accounts is a small part of what determines your credit scores, so opening up a new credit account solely for the sake of your credit score doesn't usually make much sense, especially if you can't manage it and wind up in debt.
4. There Are Errors on Your Credit Report
When's the last time you checked your free annual credit reports? It's a smart thing to do regularly, as you can spot errors that could be keeping your credit score lower than it should be. If you find an error on your credit report — that can be anything as little as a misspelled name or as problematic as a wrongful late-payment notation — you can dispute it with each of the credit bureaus reporting the wrong information.
If you find several problems or are overwhelmed by the task of trying to fix your credit, you can hire professionals to help out. Keep in mind, anything a credit repair company does, you can do yourself for free. Also, make sure to research any companies you're considering. A legitimate credit repair company will not promise a specific jump in your credit score, which is illegal. (You can learn more about how credit repair works here.)
Read More: What Not to Do With Your Credit Card Rewards
It's also a good idea to check your credit scores regularly. You can see two for free. Viewing these can help you track changes in your credit scores and let you know if and how you should adjust your behaviors to build good credit.