What Retail Apocalypse? These 10 Big Chain Stores Are Growing Like Crazy in 2019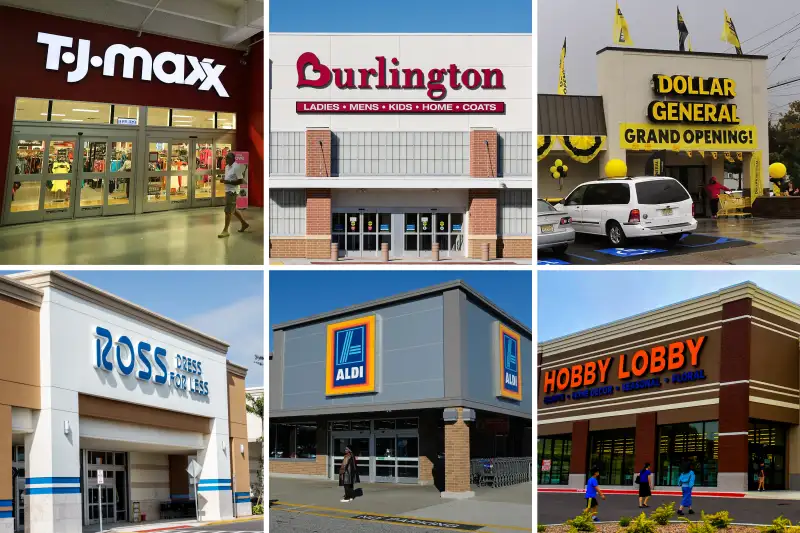 You've probably seen the headlines about J.C. Penney and Sears closing stores, and even entire malls shutting down. For the sake of nostalgia or simple bargain hunting, you may have browsed liquidation sales of retail chains totally going out of business, like Payless or Toys "R" Us.
But while the so-called "retail apocalypse" is undeniably wreaking havoc in the shopping industry, not all physical retailers are floundering. The IHL Group, a global firm that provides research and analysis of the retail industry, gave Money a list of retailers that are actually adding new stores in the U.S. in 2019. Below, we're highlighting the top 10 retailers with big expansion plans in the works: Each company says it will add 50 or more new stores this year.
What has enabled these stores to thrive despite the gloomy, ultra-competitive state of the physical retail world? And how can these retailers justify expanding at a time when Amazon seems to be gobbling up more and more of our shopping dollars each day?
For one thing, the majority of the retailers that are expanding are discounters, including dollar stores and chains full of random closeout and leftover inventory like Marshalls and T.J. Maxx. The success of these low-price retailers may seem curious: Given historically low unemployment rates and what's widely regarded as economic boom times, you might expect shoppers to shift to higher-end stores instead of sifting for deals in the sales rack.
But regardless of robust employment, wages remain low for many workers, hence the need to keep scrimping at the dollar store. What's more, beyond low prices, what many of the physical retailers expanding today have in common is that their shopping experience is something of a treasure hunt that can't easily be replicated online. The inventory at a dollar store or Marshalls is constantly changing, with every aisle full of quirks, surprises, and sale items that you may literally never see again. It's an exciting experience that is clearly resonating with today's shoppers.
As Ernie Herman, president and CEO of TJX, which owns Marshalls and T.J. Maxx, put it in a conference call with investors and analysts last year, "We have great confidence in the enduring appeal of our treasure-hunt shopping experience, with the vast majority of overall retail sales occurring in brick-and-mortar locations."
That's why his company and many low-price brick-and-mortar stores are not merely surviving, but growing, even as other retailers struggle mightily or go bankrupt.
Aldi: 100 New Stores
Owned by the same German company that runs Trader Joe's, Aldi has made a huge impact on the grocery store segment with a business model that combines a smaller store size, private-label products (a.k.a. not national brands), and super cheap prices.
As of 2015, Aldi had around 1,400 supermarkets in the U.S., with big plans to expand up to as many as 2,500 locations by 2022. Aldi had roughly 1,800 stores as of last fall, and it's expected to open 100 more stores in 2019.
Aerie: 60 to 75 New Stores
The Washington Post—The Washington Post/Getty Images
Aerie, the clothing brand aimed at young women owned by American Eagle, is on a tear. Aerie operates its own stand-alone stores as well as side-by-side locations next to American Eagle stores, and the brand's comparable sales increased 29% last year, after a 27% increase in 2017.
The number of Aerie stores is growing too. American Eagle reported a net increase of 35 Aerie stores last year, and the IHL Group says that plans are in the works for 60 to 75 new U.S. locations in 2019.
Burlington: 50 New Stores
John Greim—LightRocket via Getty Images
Burlington — known as Burlington Coat Factory before a rebranding about five years ago — has managed to flourish alongside similar off-price competitors like Ross Stores, Marshalls, and T.J. Maxx. Burlington has said it plans to open about 50 stores in 2019, and it's on the way to achieving that goal: 13 new stores opened in March, and another 12 are confirmed for openings in April and May.
Dollar General: 900 New Stores
Brian Killian—2009 Getty Images
Dollar stores have thrived over the past decade when economy's been bad and even when it's been good. It's fairly obvious why shoppers turn to dollar stores when times are tough and finding the cheapest prices is essential. But what explains the continued strong sales when the economy is booming?
"While the economy is doing very well, our core customer continues to struggle because, normally, her expenses outstripped her wage growth," Dollar General CEO Todd Vasos told analysts in a on a conference call last summer. "Even in a good economy, she is still looking for value and convenience."
No dollar store chain has been hotter lately than Dollar General. An estimated 900 to 975 Dollar General stores are expected to open in 2019, and hundreds of its locations will add produce and fresh foods to serve customers in so-called "food deserts" — where there are no big supermarkets for miles around.
Dollar Tree: 160 New Stores
John Greim—LightRocket via Getty Images
Dollar Tree acquired Family Dollar in 2015, and while the company plans on closing 390 stores this year, it will also opening several hundred locations in the U.S. Overall, it's expected that there will be a net increase of 160 Dollar Tree and Family Dollar stores in 2019, according to the IHL Group.
Hobby Lobby: 65 New Stores
Mark Reinstein—Getty Images
Hobby Lobby says it will open about 65 new stores in 2019, creating 2,500 to 3,000 jobs along the way. The arts-and-crafts retail chain will have over 900 stores in the U.S. after the expansion is complete.
Peloton: 100 New Stores
Roberto Machado Noa—LightRocket via Getty Images
The upscale exercise brand Peloton, known for $2,000 stationary bikes and a cult-like following of enthusiastic customers, has recently made a huge push into the physical retail space. Peloton currently has about 65 showrooms in the U.S. and reportedly plans on opening 100 more stores by the end of 2019.
Ross Stores: 100 New Stores
Jeff Greenberg—UIG via Getty Images
Ross Stores recently announced plans to open 100 new stores in 2019. Specifically, the off-price retailer says that it will be opening 75 Ross Dress for Less stores, which focus on women's clothing, and 25 new locations of its dd's Discounts chain of stores.
TJX: 125 New Stores
The IHL Group says that it expects about 125 new stores to be opened this year by TJX, the retail company that owns low-price "treasure hunt" stores like T.J. Maxx, Marshalls, and HomeGoods. In the first few months of 2019, there are at least 23 Home Goods grand openings in the U.S., as well as 11 new T.J. Maxx stores and 12 new Marshalls locations.
Ulta Beauty: 80 New Stores
Frazer Harrison—Getty Images
In its latest earnings report, Ulta Beauty said that net sales increased 14% for fiscal year 2018 — and that it plans to expand this year, with 80 new stores slated for the U.S. Ulta sells hundreds of beauty products priced from $3 to over $100 and it currently operates around 1,100 stores, with the vast majority located in suburban strip malls.