11 Retail Jobs That Pay More Than $10 an Hour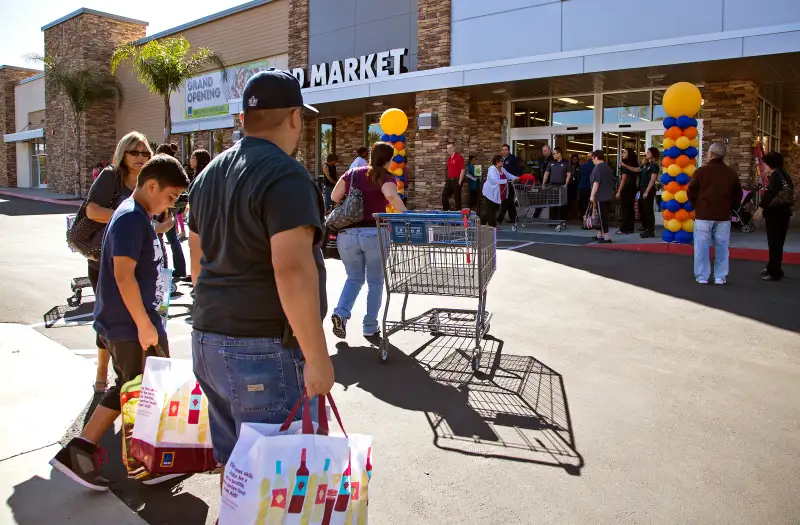 Gina Ferazzi—LA Times via Getty Images
I always find the correlation between good hourly pay and and strong customer service to be interesting. It seems the better taken care of the employees are (making decent wages and getting good benefits), the happier they'll be at work. With that in mind, here are 11 places to work that not only have an average hourly pay rate over $10, but also offer pretty nice perks to boot.
1. ALDI Grocery Chain
The ALDI grocery chain offers a very competitive salary and benefits package. According to Glassdoor.com, associates make on average $11.88 an hour, with store managers making in excess of $60,000 annually. They also offer a very good medical and dental plan for all full-time employees. The 401K contribution match at ALDI is dollar for dollar match on the first 5%. Additionally, part-time employees with at least 25 hours are eligible for medical/dental benefits.
2. Costco
A job at Costco Wholesale has always been in high demand, and when you delve into their salary and benefits package, you start to understand why. The average cashier at Costco earns a very competitive $14.63 an hour and a stocker earns $13.34 hourly. Their excellent benefits package, which includes dental, vision, and medical, is available to both full and part-time employees. Full-time workers are eligible after 90 days of employment and part-timers after 180. More cool perks include Sunday overtime which starts at about $17.50/hour and a 401K program which matches your contribution at $0.50 for every dollar, up to $1,000, for your first year. Throw in a stock purchase plan that waives all fees and commissions and Costco can be a very lucrative place to work.
Read More: 7 Employer Benefits That Can Leave More Spending Money in Your Pockets
3. H&M Fashion
H&M hourly employees come in at about $10.95 per hour with a strong benefits package to both part-time and full-time employees. The fact that they offer medical and vision plans to ALL employees is what makes H&M stand out from other clothing retailers. They then go one step further and offer perks like pet insurance, 401Ks with company match, life insurance, Metlife auto insurance, plus a liberal 25% employee discount on all in-store purchases. You'd be smart to add H&M to your "must-apply" job list.
4. IKEA
The Swedish furniture and home décor company known as IKEA can be a financially rewarding place to work. Their average pay for sales associates averages a solid $11 per hour. Also, if you work more than 20 hours per week, you'll qualify for health benefits. All employees will qualify for a 401K plan (5% match), paid time off and a generous 15% employee discount even on clearance and "as-Is" products.
5. & 6. Lowe's and Home Depot
I think it's fair to group both Home Depot and Lowe's together, as their salary and benefit packages are quite similar. The average customer service associate at Lowe's earns a respectable $11.05 an hour, while Home Depot pays about $11.40 per hour. Both home improvement warehouses offer benefits packages that are fairly solid for full-time workers, but are quite expensive for part-time workers. As a matter of fact, part-time employees at Lowe's have to pay for their entire first year health plan and 40% thereafter.
Read More: 8 Terrible Work-From-Home "Jobs" You Should Avoid
7. Nike Store
Nike Store employees are paid on average slightly above $10 an hour. Their benefits package is what makes them stand out. While full-timers are offered medical and dental shortly after employment, part-timers with at least one year of employment under their belts are offered a very competitive health coverage with a reasonable $1,000 deductible. Once your deductible is met, Nike will pay for 80% of any accrued medical costs. All employees are also offered a 15% discount toward the purchase of Nike stock. They also encourage their employees to buy Nike gear as they offer a 30% discount at the Nike Outlet and 20% off all purchases at NikeTown.
8. Nordstrom
The average sales associate at Nordstrom makes about $11.70 an hour plus commission, which starts at 6.75% but can vary by department. Some savvy Nordstrom sales employees have even earned upwards of $1 million dollars annually. While it appears Nordstrom offered health benefits to part-timers at one point, this no longer seems to be the case. Only full-time employees are eligible for medical and dental these days. Also, all employees score a 20% discount on Nordstrom merchandise, and 33% when you reach management level. Not too shabby. Throw in a competitive 401K plan with company matching, and they are one of the most solid retail jobs going today.
9. REI Co-Op
Hourly sales associates at REI make $11.40 on average, but it's their commitment to employee satisfaction that's remarkable. For example, on Black Friday last year, REI was one of only a couple large retailers that closed their doors and told their employees to stay home and spend time with family. They even offer workers two paid days off per year, called "Yay Days," to get outside and enjoy the great outdoors. They also offer a competitive benefits package that both part-time and full-time employees are eligible for. On top of that, all employees get a 50% discount on REI-branded products and 30% on all other brands. Toss in one of the better employee 401K plans, with 6% matching, and REI might be a smart place to apply.
Read More: 22 Websites That Will Pay You to Write for Them
10. Trader Joe's
Right off the bat, Trader Joe's is a highly desirable place to work as hourly employees make around $13.50 an hour. They are also one of the only grocery chains that offers health and dental benefits to part-time workers who work at least 30 hours a week. Work less than 30 hours a week, and they'll cut out the medical coverage. Throw in a free gym membership after six months of employment, a 10% employee discount, and it's no wonder that Trader Joe's employees typically have smiles on their faces and a kind word to exchange with shoppers.
11. Whole Foods
The average hourly rate for Whole Foods employees is a couple dollars less than Trader Joe's at about $11.50 an hour. While expensive for part-timers, if you work at least 20 hours a week, you'll be eligible for a high-deductible medical plan. They do beat Trader Joe's when it comes to their 20% employee discount, which is a nice money-saving perk. Also, they have some cool employee perks like paid time-off, massage therapy, language classes, and even yoga classes.
Update: This story has been updated with information on part-time worker benefits at Aldi.