Fantasy Camps Capture Hearts and Dollars of Retirees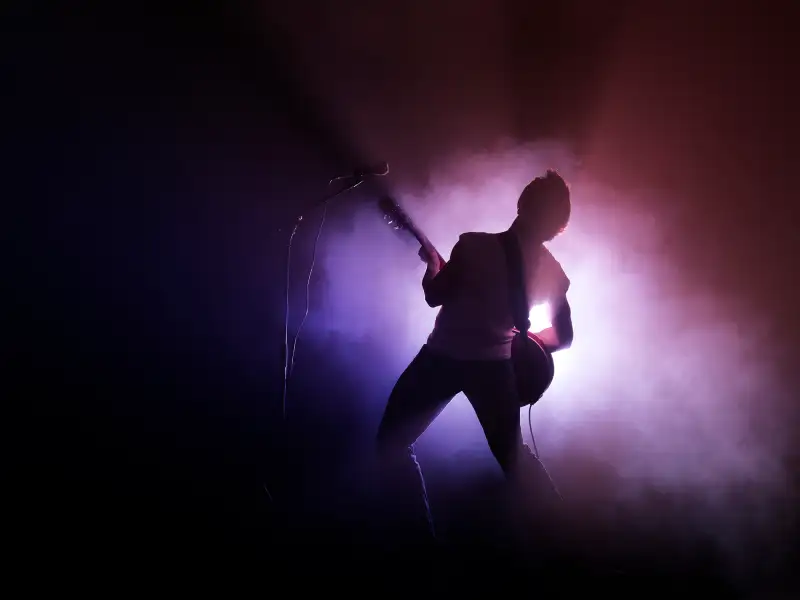 Henrik Sorensen—Getty Images
Rey Moré was on stage at Foxwoods Casino in Connecticut, playing the memorable opening of The Who's famous hit "Baba O'Riley," when lead singer Roger Daltrey looked over at him, and started screaming the opening verse:
"Out here in the fields ..."
Haven't heard of Moré? That's because the former Motorola executive, now 61, is just a regular Joe, but found himself in the spotlight as a participant in Rock 'n' Roll Fantasy Camp.
"I almost dropped my guitar, it was so cool," remembers Moré. "For me, that moment is frozen in time."
For $4,999—other pricing options are available as well—participants in the camp can be temporary rock stars, jamming all day and partying all night with their childhood idols.
Moré is part of a growing army of fantasy-camp fanatics. Instead of spending down time on a beach or visiting some tourist trap, they prefer hanging out with someone they admire, in a field they're enthusiastic about.
"People want choices for their time off, where they can immerse themselves in an activity they are passionate about," says Tom Holland, chief executive officer of the American Camp Association.
Indeed, Moré loved the fantasy Rock 'n' Roll experience so much, he has done it five times.
"I know people who have gone to these camps 18 or 19 times," says Moré. "Sure, it's expensive, but you can't have this much fun anywhere else."
Next up for him: Rock camp with David Crosby (of Crosby, Stills & Nash) and Ginger Baker (of Cream).
"That's bucket-list stuff, right there. I can well and truly say I am addicted," he says.
As the latest happiness research from thinkers such as Tom Gilovich at Cornell University shows, what makes people truly happy is not things, but experiences.
Instead of acquiring more stuff, for instance, Moré prefers holding onto the memory of former Journey frontman Steve Perry coming over and telling him he "killed" a song rendition.
There is no shortage of choice for others like Moré.
For baseball enthusiasts, there is a weeklong New York Yankees fantasy camp ($4,950, where fans can toss the ball around with former Yankee greats like Darryl Strawberry, Ron Guidry and Bucky Dent.
There are tennis camps with Lindsay Davenport ($3,895), basketball camps with famed Duke University Coach Mike Krzyzewski at his K Academy ($10,000), or hockey camps with Wayne Gretzky ($14,999).
There are poker camps with former World Series of Poker champs like T.J. Cloutier and Chris Moneymaker (three days for $2,700), or Bear Grylls Survival Academy in locations like the Catskills or Yosemite National Park ($2,199).
While the programs aren't cheap, there are ways to save as fantasy camps increase in popularity and compete with each other on pricing. It is also now standard for programs to offer multi-tiered options.
"The best thing I've seen clients do is pay call to negotiate a price in advance," says Scott Hammel, a financial planner in Dallas. "They typically find there are other options when paying, whether that be a discounted camp that doesn't provide all the bells and whistles, or a discount for paying far in advance."
Jim Jessee of Naples, Florida gets his annual fantasy chef interactions as a present from his daughter.
The 78-year-old could be living the life of a more typical retiree, lounging at the shuffleboard court or taking advantage of early-bird dining specials.
Instead, he enjoys trading cooking tips with super chefs like Jean-Georges Vongerichten, Anita Lo and April Bloomfield, as a six-time attendee of the New York Culinary Experience, a fantasy camp for food lovers.
Participants get their own cooking stations, watch live demos by dozens of the world's best chefs, and then take a stab at the recipes, while getting critiqued by the great chefs themselves.
It's not exactly a bargain—$1,695 last year, for a couple of days—but he says the experience, which usually culminates in a meal whipped up in David Bouley's test kitchen, is sublime.
And how did Jean-Georges Vongerichten like Jim's "Organic Fried Chicken in Buttery Hot Sauce"? "He loved it," Jessee says. "He said I could come and cook for him."