The 23 Richest Female Athletes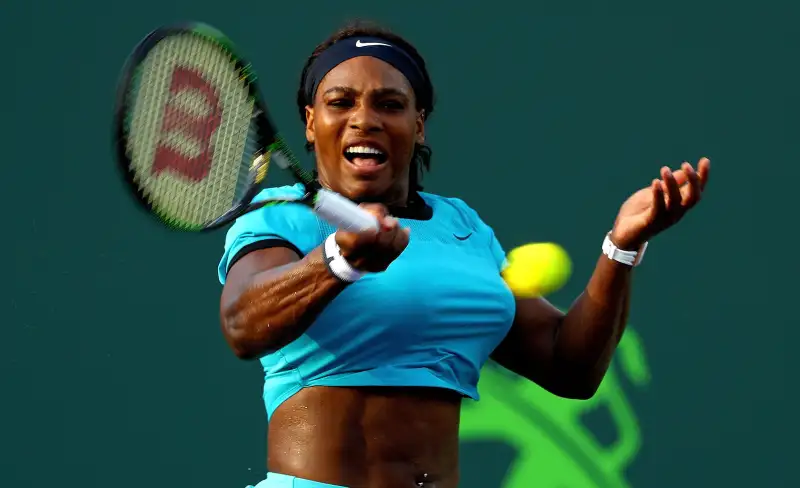 Mike Ehrmann—Getty Images
The sad truth is that some professional female athletes earn less than their male counterparts in the same sports. However, this fact doesn't stop women sports stars from giving their hearts and souls to the game–and in some cases, their efforts pay off. Between yearly salaries and endorsements, these 23 women are among the richest female athletes in the world. Here is the net worth information for the highest-paid female athletes.
23. Paula Creamer Net Worth: $8 million
A professional golf player, Paula Creamer boasts a net worth of $8 million. Early in her career, she was a top-ranked female junior golfer in California, and at 18 she became the youngest winner of a multi-round event in LPGA history. Since her rookie year in 2005, the athlete's career earnings total $11,581,872. Additionally, Creamer earned $363,485 on the golf course in 2015 and an additional $4.7 million from endorsements and other off-course money.
Jeff Bottari/Zuffa via Getty Images
22. Ronda Rousey Net Worth: $9 million
At the age of 17, mixed martial arts competitor Ronda Rousey was the youngest judo competitor at the 2004 Olympic Games in Athens. According to Celebrity Net Worth, between June 2014 and June 2015 she earned about $6.5 million, which included $3.5 million from endorsements with Reebok, Carl's Jr. and Monster Headphones.
21. Stacy Lewis Net Worth: $10 million
A professional golfer, Stacy Lewis has amassed $6.4 million in earnings. This impressive sum includes $2.4 million from winnings and $4 million from endorsements with Bridgestone, Omega and Marathon Petroleum, among others. Lewis also won two LPGA Player of the Year awards in a three-year span and was named Golf Digest's Amateur of the Year in 2007.
20. Simona Halep Net Worth: $14 million
Halep won her first Grand Slam final in 2014 and now earns $6.8 million — $5.3 million in prize money and $1.5 million from endorsements. The Romanian professional tennis player has earned more than $9 million in prize money throughout her career, which began in 2008. According to Celebrity Net Worth, the athlete ranked No. 3 in the world as of August 2015.
19. Karrie Webb Net Worth: $15 million
An Australian golfer, Karrie Webb had four tournament wins in her rookie year and was named the LPGA Rookie of the Year in 1996. Further, she was the first woman to bank $1 million in a single year for golfing. Webb's professional career spans 20 years, and her total earnings reach $19,740,620. She was included in the World Golf Hall of Fame in 2005.
18. Victoria Azarenka Net Worth: $15 million
Victoria Azarenka began her professional tennis career in 2003 and won two junior Grand Slam titles in 2005. As of March 2016, the athlete's total career prize money totaled $26 million. She was also a gold medalist winner at the 2012 London Olympics, where she competed for her home country. According to AthletePromotions.com, Azarenka is the seventh highest-earning tennis star in the world.
Read More: 11 of the Richest Athletes of All Time
17. Jelena Jankovic Net Worth: $15 million
A Serbian professional tennis player and former World No. 1 player in singles, Jelena Jankovic experienced her first win at the 2001 Australian Open. Throughout her career, she has earned $18,262,595 in prize money, which includes endorsement deals with companies such as Fila.
16. Lorena Ochoa Net Worth: $15 million
Lorena Ochoa has been called one of the best Mexican golfers of all time. The athlete won her first state championship at the age of 6 and a national championship at 7. When she retired from golf in 2010, she chose to leave at the top of her game. Ochoa has 27 victories and two major championships under her belt.
14. Ana Ivanovic Net Worth: $16 million
Ivanovic began playing tennis at the age of 5, when she received a tennis racket as a birthday gift. She went on to win the French Open in 2008 and, because of her good looks, has also been named one of the sexiest female tennis players and best looking tennis players of all time. Currently, Ivanovic earns $8.3 million a year, including $1.8 million in prize money and $6.5 million from endorsements.
13. Lindsay Davenport Net Worth: $20 million
Former American tennis player Lindsay Davenport began her professional career in 1991. She went on to win a gold medal at the 1996 Atlanta Olympics, as well as other championships including the Australian Open, the U.S. Open and Wimbledon. Throughout her professional career, Davenport earned a total of $22,166,338 in prize money.
12. Caroline Wozniacki Net Worth: $20 million
Caroline Wozniacki has been playing tennis since the age of 7. Over the years, she has won several junior tournaments and 20 Women's Tennis Association singles titles. Currently, Wozniacki earns $14.6 million a year, which includes $3.6 million in prize money and $11 million in endorsements. According to Forbes, she is Godiva's first athlete sponsor.
Read More: U.S. Open 2015: Serena Williams Net Worth Vs. Venus Williams Net Worth
10. Martina Hingis Net Worth: $25 million
A former Swiss tennis player, Martina Hingis went professional at 14 and has won nine Grand Slam titles over the years. Additionally, she's the youngest Grand Slam champion of all time, according to Celebrity Net Worth. Hingis announced her retirement from the sport twice — once in 2003 after an ankle injury and again in November 2007, after testing positive for cocaine. The sports star denied the charge. Her career prize earnings total $22,622,979.
Robert Laberge—Getty Images
8. Danica Patrick Net Worth: $30 million
Danica Patrick isn't just a race car driver; she's also a very successful spokesperson and model. Additionally, Patrick holds the distinction of being the first female NASCAR driver to win a NASCAR Sprint Cup series. She has a sponsorship with Go Daddy, and viewers might have caught glimpses of her in one of several Super Bowl commercials. Currently, Patrick earns $7.9 million in winnings and $6 million from endorsement deals yearly.
7. Annika Sorenstam Net Worth: $40 million
The retired Swedish professional golfer is one of the most successful female golfers of all time; in fact, Sorenstam has more wins to her name than any other female golfer, according to Celebrity Net Worth. In total, the athlete boasts 72 LPGA wins, and her career prize earnings total $22 million. Additionally, she was the first player in LPGA history to earn more than $20 million.
6. Li Na Net Worth: $40 million
As a child, Li Na's plan was to become a professional badminton player like her father. However, she changed her focus to tennis at the age of 8 and became a pro player in 1999. Currently, Na holds the distinction of being the only Chinese player to ever win a Grand Slam singles event.
Celebrity Net Worth reports that, in 2013 Li Na was one of the highest paid athletes, earning $18 million in salary and endorsements. She earned more than $15 million through endorsement deals with Rolex, Nike and Mercedes-Benz. In total, her career prize earnings are $16,709,074.
5. Anna Kournikova Net Worth: $50 million
Anna Kournikova is one of the most famous female tennis players of all time, winning two Grand Slam doubles titles in 1999 and 2002. Unfortunately, back and spinal problems cut her tennis career short, but not before she won $3,584,662 in prize money. Kournikova earned a large portion of her wealth through endorsement deals with Adidas and Berlie. In 2002, she earned $10 million a year in endorsements, even though she had not won a professional singles tournament.
4. Venus Williams Net Worth: $75 million
Venus Williams is a former World No.1 tennis player with career prize money totaling $32,750,021. Since becoming a professional player at the age of 14, Williams has won 43 singles titles, 19 doubles titles and four gold medals. Additionally, this Williams sister has endorsement deals with Wilson, Kraft, Ralph Lauren and Electronic Arts.
3. Alexis DeJoria Net Worth: $100 million
DeJoria began drag car racing in 2005, and she recently made her 100th career NHRA (National Hot Rod Association) start in February 2016. In her personal life, the athlete drives a Toyota Camry sponsored by Patron Tequila, her father's company.
2. Maria Sharapova Net Worth: $125 million
Maria Sharapova started her tennis career when she moved to the U.S at the age of 16. Since then, she's won four Grand Slam events at Wimbledon, the U.S. Open, the Australian Open and the French Open. Additionally, the attractive athlete has appeared in Sports Illustrated's Swimsuit Edition and received more than $35 million in prize money. Sharapova also earned $6.7 million from winnings in 2015 and $23 million from endorsements with Avon, Porsche and Evian, among other companies.
1. Serena Williams Net Worth: $140 million
This top-earning pro tennis player has won an impressive 18 singles Grand Slam titles and 13 doubles titles with her sister, Venus Williams. Not only is she one of the highest-paid athletes, but she's also earned gold medals at three different Olympic games. Further, Williams has received a total of $73 million in prize money. In 2015, she earned $24.6 million, with $13 million from her endorsement deals with Chase and Gatorade, among others.
This article originally appeared on GoBankingRates.