The Richest Presidential Candidates Who Never Got Elected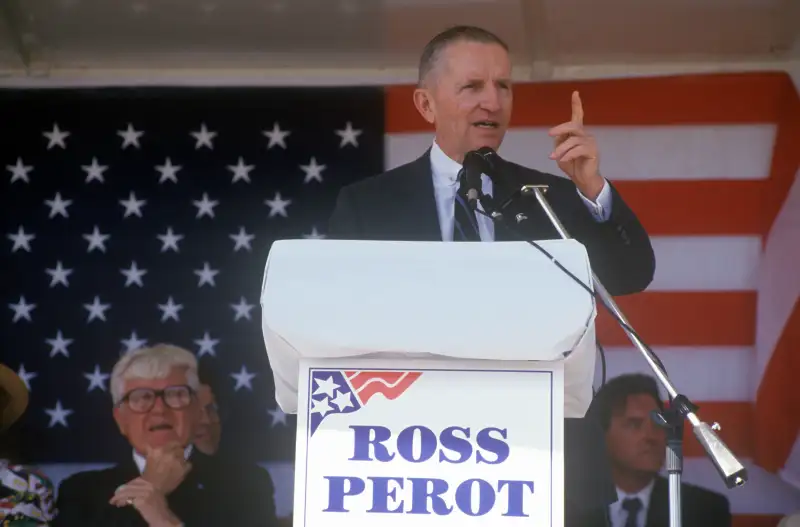 Visions of America—UIG via Getty Images
Every four years, a Democratic nominee and a Republican nominee run for president. Ultimately, just one can be elected. Although the losers never get to know what it's like to be commander-in-chief, many of these failed presidential candidates have managed to amass impressive personal fortunes.
Find out the individual net worth of many of the richest presidential candidates who never quite made it to the Oval Office. Unless otherwise noted, each of the net worth figures come from CelebrityNetWorth.com.
1. Mitt Romney Net Worth: $250 Million
In 2012, Mitt Romney was the Republican presidential nominee, but he ultimately lost the race to President Barack Obama. Romney served as governor of Massachusetts from 2003 to 2007. From 1999 to 2002, he served as the CEO of the Salt Lake Organizing Committee for the Olympic and Paralympic Winter Games of 2002.
Prior to that, Romney co-founded Bain Capital — a private multi-asset alternative investment firm — in 1984 and stayed there until 1999.
Read: How 2016 Presidential Candidates Compare to President Obama in 2008
2. John McCain Net Worth: $10.5 Million
John McCain was the Republican nominee during the 2008 presidential election, but lost to President Obama. He has served as an Arizona senator since 1987.
McCain is currently the chairman of the Senate Committee on Armed Services and is part of the Senate Committee on Homeland Security and Governmental Affairs, and the Senate Committee on Indian Affairs. Prior to entering the political arena, McCain was a Naval aviator for 22 years.
3. John Kerry Net Worth: $194 Million
John Kerry faced off against President George W. Bush in the 2004 election, but the Democratic candidate lost the race. Since 2013, he has served as secretary of state.
Like many other presidential candidates, Kerry was a U.S. senator prior to his presidential run. He continued to serve in the Senate after his defeat and served Massachusetts from 1985 to 2013. He has been married to Heinz Co. heiress Teresa Heinz since 1995.
Read: The Best Presidential SNL Impersonators vs. Real-Life Candidates
4. Al Gore Net Worth: $300 Million
In the 2000 presidential election, Democratic nominee Al Gore secured the popular vote by a small margin. However, his Republican opponent — George W. Bush — won the Electoral College vote, which ultimately secured Bush's spot as commander-in-chief. Gore's run for presidency followed an eight-year stint as vice president to Clinton from 1993 to 2001.
Since making his departure from politics, Gore has become a leader in the push for stricter climate change regulation. He serves as chairman of The Climate Reality Project, and has written several books on climate change, including "An Inconvenient Truth." He was the co-recipient — along with the Intergovernmental Panel on Climate Change — of the 2007 Nobel Peace Prize.
5. Bob Dole Net Worth: $5 Million
If Bob Dole had won the 1996 election, the Republican candidate would have been the oldest president to ever take office — at 73. Instead, President Clinton was re-elected.
Prior to his presidential run, Dole served as a Kansas senator from 1969 to 1996. In 2005, Dole wrote the book "One Soldier's Story." In it, he recounted his time serving in World War II, where an injury left him with a permanently paralyzed right arm.
6. Ross Perot Net Worth: $4 Billion
Ross Perot ran against Democratic nominee Bill Clinton and incumbent Republican President George H.W. Bush in the 1992 election. However, the businessman didn't quite make it to commander-in-chief status. Running independently, he ultimately lost the race to Clinton, but not without a fight. Perot made the ballot in all 50 states and garnered nearly 19 percent of the vote.
The billionaire businessman tried again for the presidency in 1996, representing the Reform Party, but lost to Clinton again, earning just over 8 percent of the vote.
Perot founded Electronic Data Systems in 1962 and earned approximately $1.5 billion from its 1984 sale to GM. Marking an even bigger gain, he sold his company Perot Systems to Dell for $3.9 billion in 2009. Estimates of his net worth are according to Forbes.
7. Gerald Ford Net Worth: $7 Million
It's true that President Ford held the most powerful office in the world, but he wasn't elected — as president or as vice president. Ford was nominated by President Nixon to replace Vice President Spiro Agnew, who resigned amid an investigation into whether he accepted bribes or evaded taxes. Ford was sworn in as vice president on Dec. 6, 1973.
After Nixon's involvement in the Watergate scandal forced the president to resign, Ford became the 38th president of the U.S. on Aug. 9, 1974.
Read: First Jobs of Billionaires Like Oprah and Donald Trump
He ran for re-election on the Republican Party ticket in 1976, but lost to President Carter. In the years following his presidency, Ford remained a prominent figure in the Republican Party and received the Presidential Medal of Freedom from President Clinton in 1999. That same year, he earned a Congressional Gold Medal.
This article originally appeared on GoBankingRates.