Rihanna's Net Worth Reaches $160 Million on Her 28th Birthday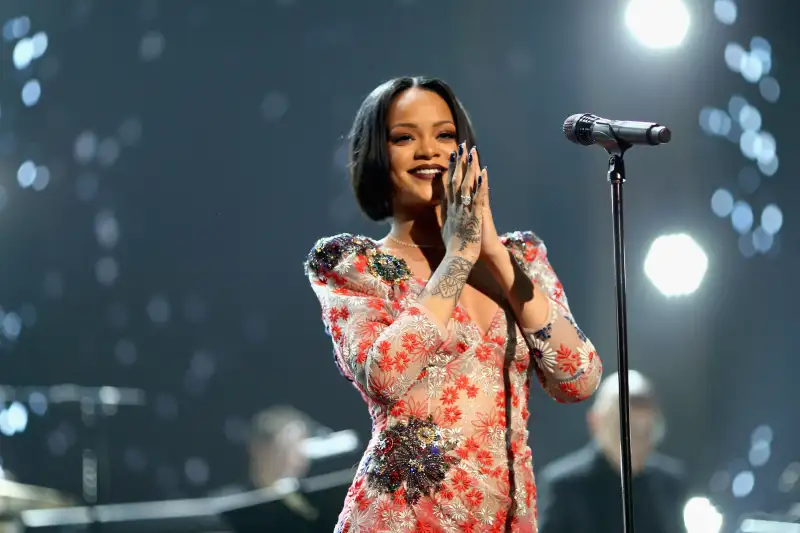 Christopher Polk—Getty Images
Rihanna's birthday is Feb. 20 and the "We Found Love" singer will be blowing out 28 candles this year. It's unclear how Robyn Rihanna Fenty is spending her special day, but the singer, actress, fashion designer and businesswoman certainly has a lot to celebrate. Rihanna's net worth is $160 million — including $26 million she earned in 2015.
For her 27th birthday, Leonardo DiCaprio helped throw Rihanna a star-studded bash at a private residence in the Hollywood Hills in Los Angeles. Her birthday soiree was attended by famous friends, including Naomi Campbell, Mick Jagger, Beyonce, Jay Z, Jim Carrey and Bill Murray.
Rihanna Early Career
Def Jam Records released Rihanna's first album "Music of the Sun" in 2005. It sold 1 million copies and earned her a $1 million paycheck, according to TheRichest. The following year, she released her sophomore album "A Girl Like Me," which sold three million copies and resulted in a $4 million payday.
She kept the momentum going by releasing "Good Girl Gone Bad" in 2007, which to-date reigns as the most successful of all Rihanna albums. The record sold 7 million copies and earned her $15 million. RiRi released her fourth album "Rated R" in 2009, which sold 3 million copies and added another $5.5 million to her net worth.
Read More: Nicki Minaj Net Worth vs. Beyoncé Net Worth — Which Music Icon Swept BET Awards 2015?
Rihanna Albums
By 2010, Rihanna music had become mainstream and the singer was receiving $410,000 per show for her "Last Girl On Earth Tour." She also released "Loud Album," which sold 5.7 million copies and earned her $12 million. Her next hit album "Talk That Talk" debuted in 2011 and sold 4.5 million copies, earning her $10.5 million.
Rihanna released her "Unapologetic" album in 2012, which sold 3 million copies and earned her $6.3 million. By this point she was making $800,000 per performance. Some of the best-selling Rihanna songs of all-time include "Love the Way You Lie" — performed with Eminem — "We Found Love" — featuring Calvin Harris — and "Disturbia."
In 2014, she left Def Jam Records to move to long-time friend and mentor Jay Z's Roc Nation Label. She released her first album "Anti" with the new label in January 2016, initially making it only available to stream on Tidal. Sales totaled less than 1,000 during its first week, but the album soon reached the number one spot on iTunes and went platinum.
Read More: Happy Birthday Jay Z — Net Worth on This Rapper's 46th Birthday
Rihanna Movies
The multitalented Rihanna has also proven she can act. In 2012, she made the transition to the silver screen in "Battleship," which earned $303 million at the box office worldwide. Other Rihanna movies include "This is the End" — which brought in $126 million worldwide — "Annie" — which garnered $133.8 million worldwide — and "Home" — which amassed $386 million worldwide. She is currently filming the sci-fi film "Valerian and the City of a Thousand Planets," which is scheduled to hit theaters in 2017.
Rihanna has also forayed into television. In 2015, she guest starred in an episode of "Love Thy Neighbor."
Rihanna Endorsements
Market research company The NDP Group named Rihanna the number one most marketable celebrity in 2016. This is great news for the singer, as she has a long history of endorsements with many big-name brands.
Rihanna served as the face of a Vita Coco advertising campaign in 2011 and helped the company launch a new flavor of coconut water. That same year, she was signed as the face of skincare company Nivea, but was ultimately fired in 2012 due to her racy image. Instead of letting the Nivea deal get her down, she joined forces with Armani Jeans and Emporio Armani Underwear in 2012 to design her second collection — in addition to serving as the face of the brand for two seasons.
In 2013, she partnered with UK fashion retailer River Island to create the Rihanna for River Island collection. The next year, Rihanna signed on as the creative director of Puma and was reportedly paid just over $1 million. She also signed a three-year stint as contributing creative director for Stance socks in 2015.
The "Diamonds" singer has also partnered with MAC and in 2015, the company tweeted that her "Viva Glam" collection sold $50 million in a one-year period — the highest annual sales a collection for the brand has ever reached. Also in 2015, the Rihanna Dior "Secret Garden IV" campaign and short film was released, which served as a fitting follow up to her spring 2014 Balmain campaign.
Read More: Dr. Dre's Net Worth: How the Rapper Built His $810 Million Empire
Rihanna Business Ventures
Many companies have benefited from a Rihanna clothing line or two, so it was only a matter of time until she started her own. In 2015, her company Roraj Trade, LLC filed the trademark "$CHOOL KILLS" with the U.S. Patent and Trademark Office. Products have yet to hit stores, but the brand is rumored to be an accessories line that will later include clothing.
Rhianna took another step toward achieving full mogul status in 2015, when she founded the beauty and stylist agency Fr8me. The firm is based in Los Angeles and works to book commercials, editorial shoots, advertising campaigns and red carpet events for clients. If the success of the $30 million "Reb'l Fleur" is any indicator of her business acumen, $CHOOL KILLS and Fr8me are likely to be immensely prosperous.
Rihanna Personal Life
Throughout the years, Rihanna has been linked to a number of love interests — San Diego Padres outfielder Matt Kemp, Leonardo DiCaprio, Drake — but none have been as high-profile as her relationship with Chris Brown.
The pair made their romance public in 2008, but in February 2009, Brown assaulted her in his car and left her bloody and beaten on the side of a street. The couple broke up and briefly reconciled three years later. During the period when they were back together, Rihanna celebrated her 25th birthday and Brown gifted her a pair of $65,000 Neil Lane chandelier earrings.
Just as she has a penchant for expensive jewelry, Rihanna also enjoys luxury homes. In 2012, she purchased an 11,000 sq. ft. mansion in Pacific Palisades, Calif., for $12 million. Two years later she put it back on the market for $15 million. The singer has been renting a $36,000 per month duplex in Manhattan since 2014, but has been spotted checking out real estate in the area.
Rihanna has a lot going on for 2016, so her net worth is likely to rise even higher than $160 million. Stay tuned to see what this eight-time GRAMMY winner achieves during the next year.
This article originally appeared on GoBankingRates.