Amazon Has Valentine's Day Home Decor You'll Want to Keep up all Year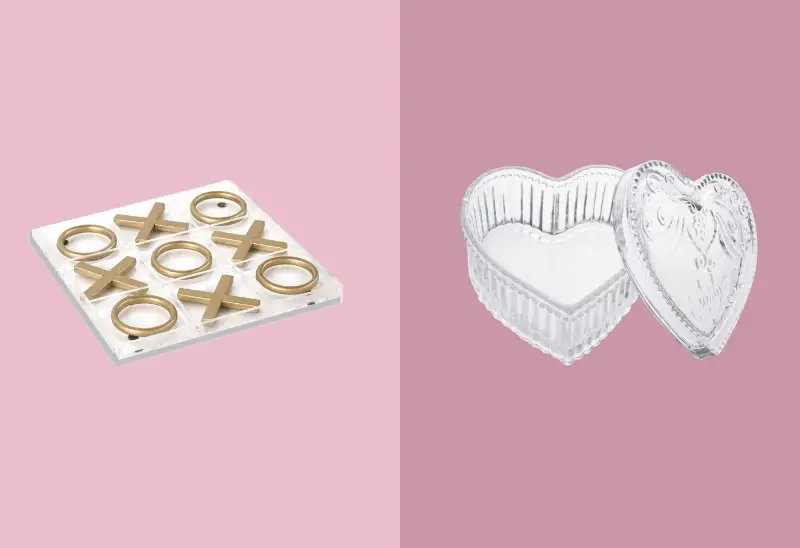 Love is in the air! Valentine's Day may come and go in a flash, but that doesn't mean you have to give up the festive home decor — you can keep the romance alive all year long. Amazon is here to help you decorate your home with sweet little touches that will make you smile every day.
Whether you're looking for a little something to add a hint of love to your living room, bedroom, or bathroom, Amazon has the perfect Valentine's Day-inspired home decor that you'll want to keep up all year.
Faux Fur Throw Pillow Covers:$17.26
Start with the Amazon Basics faux fur pillow covers that are perfect for adding a little bit of warmth and love to your living room, bedroom, or any other space. The soft, shaggy faux fur is super cozy, and the delicate peach blush color will bring a hint of romance to your décor.
Decorative Gold Tic Tac Toe Set: $59.99 (was $69.99)
Next, add a bit of love to your coffee table with this acrylic tic tac toe game set. This fun game is a great way to bring some lightheartedness and fun to your home. The board is made of beautiful acrylic and the gold color adds a touch of sophistication that will go with any aesthetic.
Chenille Reversible Baby Blanket: $24.99
Make sure your little ones stay warm and comfy with this adorable printed blanket — perfect for babies and toddlers. The soft chenille fabric will keep them cozy all year long and the reversible design allows you to display any side depending on the nursery's theme.
Vitruvi Blush Stone Diffuser: $104.55 (was $123.00)
Spread the romance throughout your home with the Vitruvi stone diffuser. This luxurious diffuser is perfect for adding the subtle aroma of essential oils to any room. It has 7 LED light settings and runs up to 6 hours in low mist mode, so you can enjoy the relaxing aroma of your favorite essential oil blend all year long.
Modern Matte Ceramic Donut Vase: $19.99
Add a bit of whimsy to your home with this unique piece. This adorable donut-shaped vase is made of modern matte ceramic and features a hollow center that's perfect for holding fresh flowers or greenery.
Pink Glass Candle Holder Set: $13.49
Set the mood with these candlestick holders that create a romantic atmosphere in your home — perfect for Valentine's Day! The pink glass adds a hint of blush to any room, and the classic shape makes them perfect for any décor style.
Le Creuset Shallow Cocotte: $165.00
For a truly unique piece of Valentine's Day home décor, check out this limited edition cocotte. It's made of beautiful stoneware and features an embossed heart design — perfect for adding a touch of love to your kitchen or dining room.
Crystal Glass Heart Box: $14.99 (was $15.99)
This gorgeous heart-shaped storage box will hold your most treasured items, from precious trinkets to jewelry, in style. It's made of crystal glass and its heart-shaped design makes it the perfect Valentine's Day gift.
No matter what your decor style is, Amazon has the perfect Valentine's Day home décor that you'll want to keep up all year. From cozy pillows and blankets to luxurious diffusers and candle holders, they have something to suit everyone's tastes. So get ready to snuggle up and enjoy your romantic home all year round!