$1,500 Might Get You the Most Bizarre Item in Russell Crowe's Divorce Auction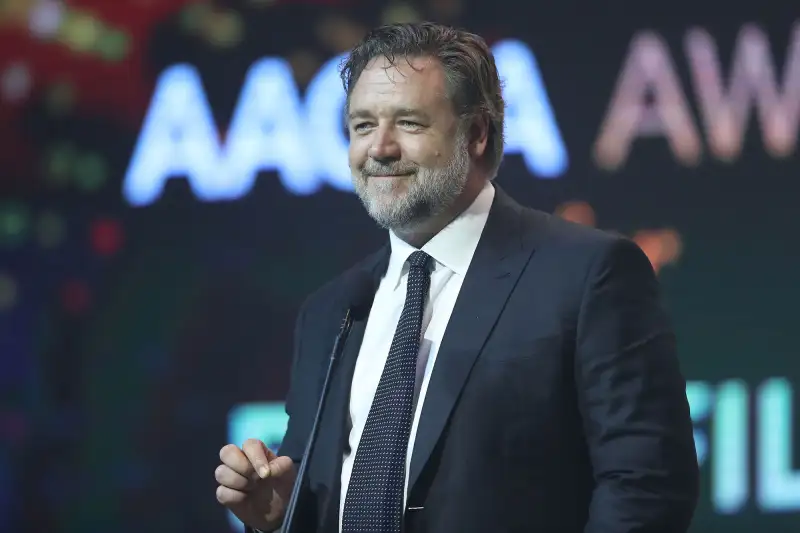 Mark Metcalfe—Getty Images for AFI
People have made a fuss about Russell Crowe's leather jockstrap, which is coming to auction with an estimate of A$500 to A$600 ($384 to $461), but probably the most esoteric lot in a sale of the actor's belongings is a dead horse.
To be clear, it's a prop horse from Crowe's 2000 movie Gladiator, but it's life-sized, and "realistically rendered in rubberised material with a textured chestnut faux fur mane," according to the lot notes. The horse is one of two from that movie that are coming up for sale; it carries an estimate of A$2,000 to A$4,000 ($1,535 - $3,070). It will be sold with a letter from Russell Crowe "stating his ownership."
The auction, which made up entirely of Crowe's property, is taking place at Sotheby's Australia in Sydney on April 7. Titled "The Art of Divorce," it pictures a smiling, tuxedo-clad Crowe brandishing a whiskey tumbler on the catalog cover and came about, he explained in an interview with a Sydney morning TV show, because he decided "to turn something that was a little bit bleak into something joyful."
A Mixed Bag
The 227 lots are a hodgepodge of movie memorabilia, fine art, antique weapons, motorcycles, musical instruments, watches, and a 2001 Mercedes S class with 101,661 kilometers, estimated to sell for A$15,000 to A$25,000. (A mildly excruciating lot note explains: "One of Russell Crowe's personal cars, this vehicle also served as one of the wedding cars on the day of his marriage to Danielle Spencer on 7 April 2003.")
There is also, however disconcerting, a range of women's jewelry, which Crowe presumably kept after the divorce. There are seven rings, for instance, ranging from a relatively modest-looking white-gold, diamond-encrusted ring with a ruby at its center, to a colossal platinum and diamond ring that features a 5.13 carat fancy yellow diamond. It's estimated to fetch A$70,000 to A$100,000 and lists its provenance as "Ms Danielle Spencer, Sydney."
Many of the lots will interest a general audience. There are 28 watches up for auction, including a stainless steel watch from Tiffany & Co. which is selling for a relatively modest A$800 to A$1,200. ("This was the first watch I bought in the U.S. after making The Quick & the Dead (1995)" notes Crowe in the lot notes.) A much gaudier gold rolex Cosmograph Daytona carries an estimate of A$40,000 to A$50,000.
Similarly, some art, including a 17th century Flemish tapestry estimated at $25,000 to $35,000 and a 1921 landscape by the well-known Australian painter Penleigh Boyd, estimated to sell from A$60,000 to A$80,000, would appeal to a buyer who'd never heard of Crowe and his many blockbusters.
Memorabilia Seekers
Other items will presumably go to devoted Crowe fans and memorabilia seekers.
Aside from the rubberized horses and leather jockstrap (which was used in the 2005 film, Cinderella Man), lucky buyers will go home on Saturday with a pair of lovingly used Bauer ice skates (estimate: A$400 to A$800), a full outfit worn by Captain Jack Aubrey in the 2003 movie Master and Commander (A$25,000 to A$35,000), and a leather sketchbook used by Crowe's character Ben Wade in the movie 3:10 to Yuma (2007). While it's unclear if the sketchbook has been used, it carries an estimate of A$350 to A$450.
Other lots might be incomprehensible to an audience not steeped in the sport of cricket. In the same TV interview, a jocular Crowe leads a camera crew into a room full of cricket players' jerseys, which he has framed, and which are also for sale. Walking past a massive, life-size bronze statue of Donald Bradman ("The Don"), an Australian cricketer known for his batsmanship (estimate: $50,000 to $60,000), Crowe comes to a wall-mounted collection of memorabilia.
"This is the killer," Crowe says. "This is Bert Oldfield's Baggy Green." (The camera is still on Crowe, but you hear a sharp intake of breath from the TV hosts.) "It is," Crowe continues, "the cap that Bert Oldfield was wearing when Howard Larwood struck him on the head."
At this point an American viewer might be confused, but the TV hosts almost lose their minds. "Stop it," says one, audibly moved. "This is massively historical." Another chimes in: "This is sensational."
That collection is estimated to sell for A$40,000 to A$60,000 and probably won't end up in the U.S. (For the record, a "baggy green" is a cap used by Australian Test cricketers; Bert Oldfield was a famed Australian cricketer whose skull was fractured in 1933 by a ball thrown by Harold Larwood.)
Collecting Passion
Given the popularity of movie memorabilia—and Crowe's own star power—the auction will surely be a success. Still, it's an open question as to whether his celebrity can induce someone to spend up to A$140,000 on a violin used by Crowe in Master and Commander.
"I don't collect for the sake of collecting, I collect because I'm passionate about a particular subject," Crowe says in the interview. "Part of that collector's passion is actually an excitement—that the next person who comes along and has the custodianship of a particular item is going to enjoy it and love it as much as I do."