Don't Use Your Samsung Galaxy Note 7 Phone "Under Any Circumstance"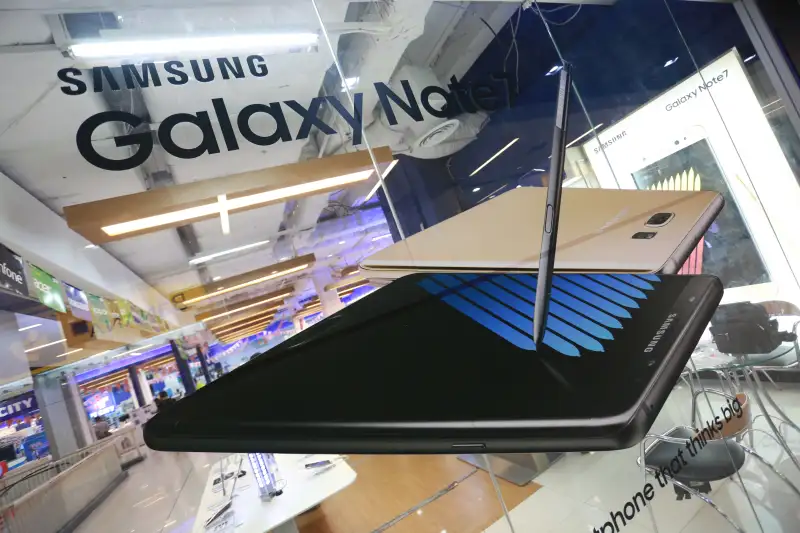 Pacific Press—LightRocket via Getty Images
Top airlines globally have banned the use of Samsung Galaxy Note 7 smartphones after a U.S. regulator advised travelers not to charge or turn on the devices in flight due to faulty batteries.
The world's three largest carriers by passenger traffic, American Airlines, Delta Air Lines and United Airlines, said on Friday that employees will tell passengers at the gate and on board aircraft to keep the phones switched off until they deplane.
Last week, Samsung Electronics Co Ltd recalled the Note 7 in 10 markets including the United States, saying the phones' batteries were prone to catch fire. The U.S. Federal Aviation Administration late on Thursday said travelers should not charge the phones while in the air or stow them in checked luggage.
"We plan to expedite new shipments of Galaxy Note 7 starting from this week in order to alleviate any safety concerns and reduce any inconvenience for our customers," Samsung said in a statement in response to the FAA advisory.
Shares of the South Korean company fell 3.9 percent on Friday. The U.S. Consumer Product Safety Commission has cautioned against using the phones under any circumstance.
For months, pilots and plane makers have raised concerns about lithium-ion batteries, which are used in many consumer devices ranging from phones to laptops to toys. Top airlines banned hoverboards during the Christmas holiday season, and the U.N.'s aviation agency prohibited shipments of lithium-ion batteries as cargo on passenger aircraft.
A January report from the FAA said at least 171 incidents of smoke, fire, extreme heat or explosion involving batteries have occurred since 1991.
In some instances, they have caused emergency landings, as when a camera short-circuited and started a small fire in the overhead bin of an American Airlines flight in September 2013. The report rarely cited events with injuries.
Outside the United States, airlines including Singapore Airlines Ltd and Qantas Airways Ltd have prohibited travelers from powering up or charging the Galaxy Note 7 phones on flights, though they still can bring the devices on board. Canada's transport ministry made a similar recommendation on Friday.
Air France KLM SA said it instituted a ban "to limit our exposure to this risk."
Industry experts said such guidelines may be difficult to enforce because it was hard to distinguish the faulty Galaxy Note 7 from other smartphones.
"Can anybody tell that particular model of phone by sight?" said consultant Robert Mann, noting that flight crew will have trouble verifying if a customer has a faulty Note 7 or a replaced version.
"It's going to set up a persistent issue over time," he said.
Increasingly, airlines have made movies and TV shows available free for streaming on smartphones and tablets in flight, to avoid the cost of installing new screens on seat-backs.
Because of this, TECHnalysis Research President Bob O'Donnell said the ban may discourage would-be customers of the Note 7, just as the recall was an annoyance forSamsung's existing clientele.
This is "a huge black eye for Samsung," he said.