20 Ways to Save Money at Costco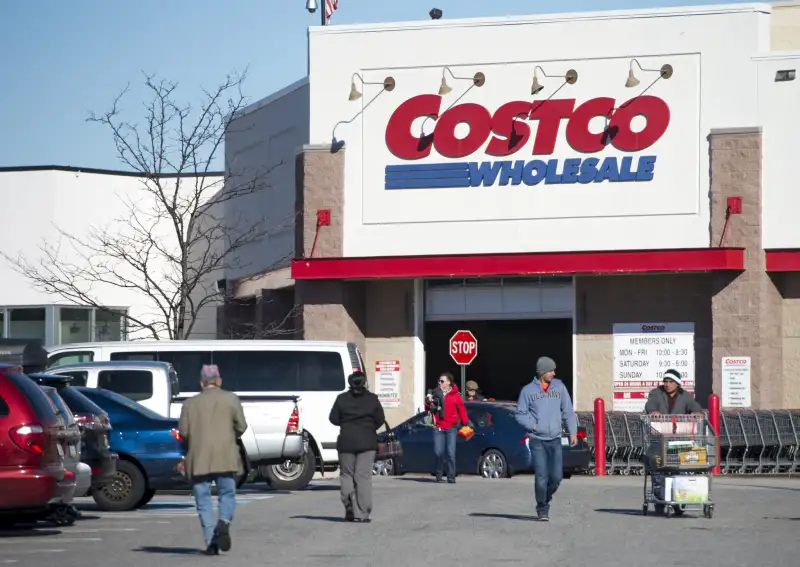 SAUL LOEB—AFP/Getty Images
Costco is one of the best retailers out there for low prices and savings, but wouldn't it be better if you could save even more money at Costco? Of course it would, and thankfully, you can.
Sure, scoring free food samples might save you a few bucks, but there are other ways you can save money at this major warehouse superstore. Click through to discover 20 nifty tricks that can help you pay less at Costco.
1. Split bulk items with a friend.
If you are single or live in a small space, it's probably hard to justify purchasing and storing a package of 30 rolls of toilet paper, even if it is only $19.50.But listen: That stuff is even more expensive in regular grocery or big box stores. Head to Costco with a friend to split up bulk packages of essentials and the costs — it's absolutely worth the savings.
2. Know the secret Costco pricing codes.
Costco's pricing codes indicate whether an item is specially priced, discounted or will not be restocked. Here is a general breakdown of the codes, according to HubPages:
Prices that end in $0.97 have been marked down from their original prices, which usually always end in $0.99.
Other odd pricing, like $0.49, $0.79 or $0.89, typically means the product is regular-priced merchandise.
An asterisk (*) in the upper right corner of the pricing sign means the item won't be reordered. So if it's a favorite, you should stock up.
Prices ending in $0.88 or $0.00 could mean the store's manager marked it down to move the product faster.
3. Look for Costco coupons.
You can find a number of coupons and discounts for various items in Costco's monthly coupon book as well as the Costco mobile app, but don't worry about clipping coupons. Costco cashiers keep copies of the coupons at their registers and will scan them for you when you purchase a qualifying item.
4. Shop summer closeouts before the season is over.
Costco does massive markdowns on large summer items like patio furniture and pool toys before the season is over because stores need to free up room for the next season's merchandise. You can get great deals on merchandise like barbecues, beach chairs and camping equipment that can be used right away. End-of-seasons deals can also be found year-round, however, including after Christmas.
5. Non-members can access Costco discounts, too.
Those who aren't Costco members can still buy alcohol in certain states, use the pharmacy and immunization services, eat at the Costco food court if it's located outside of the store, and access the store's eye and hearing exams, reports Cheapism. You can also get around the membership requirement and shop the store as usual by paying with a Costco Cash Card, though you'll have to enlist the help of a Costco member as these can only be purchased and reloaded by a member.
6. Buy discounted gift cards and movie tickets.
Costco's deals go way beyond bulk goods. Members can get discounts on movie tickets, store or restaurant gift cards, and local attractions like theme parks. For example, you might be able to snag a Coffee Bean gift card worth $100 for only $79.99 or a similar deal to your local movie theater.
7. Take your lunch break at the Costco food court.
Eating lunch on the go is a huge budget buster, so if you left your sack lunch at home head to a Costco food court. You can buy the signature $1.50 hot-dog-and-soda combo, a $10 whole pizza or other reasonably priced fare. Plus, buying and eating at the food court doesn't require a Costco membership.
8. Buy the Kirkland Signature brand.
Kirkland Signature is Costco's in-house brand, but products offered by the brand are far from generic. Products carrying the Kirkland label tend to be high quality at a good value, and some even come straight out of the same factories where name-brand goods are made. Consumer Reports lists bacon, car batteries and regular batteries, ice cream, toilet paper, organic foods, and dish and laundry detergent among the top-rated Kirkland products.
Read More: 5 Best and Worst Things to Buy Generic
9. Make a list (and stick to it!).
This isn't really top-secret information, but we know all too well how running into Costco for "just a few things" can devolve into multi-cart shopping overkill. Make a list to keep your spending under control and on track.
10. Fill up on free samples.
Don't let anyone shame you out of eating your weight's worth of Costco's free samples. The company actually encourages distributors to give out as many free samples as people will eat.
11. Keep your Costco receipts.
Costco is famous for its incredible return policies, which doesn't include a time limit. But there are some exceptions to this policy. For example, if you bought a TV, computer or another type of electronic from Costco, the retailer will only accept returns within 90 days. The retailer also offers membership refunds, stating on its website, "We will refund your membership fee in full at any time if you are dissatisfied."
12. Put on your blinders.
Every entrance to Costco is the same: A narrow path lined with shiny new things looking to find a forever home with you. Put your head down, stick to your list, and if you really just have to buy something, at least make it a Tommy Bahama beach chair. Best impulse buy ever.
Read More: 35 Ways to Save Hundreds on Groceries
13. Book a vacation through Costco.
You might not know that your Costco membership gets you exclusive access to Costco Travel, a service that offers discounted vacation packages and planning. You can visit CostcoTravel.com to find deals on flight and hotel packages, cruises and rental cars for destinations from Las Vegas to Hawaii and Europe.
14. Compare Costco's per-unit prices against other stores.
Costco might have tons of discounted goods, but not everything there is a steal. For example, my Costco store's tilapia is about three times the price of that at my local grocery store. Also, many grocery stores offer coupons and discounts on name-brand items that Costco sells in bulk but does not markdown.
15. Avoid "action alley."
According to Lifehacker, the middle area of the store is named "Action Alley" because of the high traffic. Distributors sometimes pay to put their products there or hand out samples. The flashy signs and advertising can be deceptive — oftentimes, this is where the highest-priced items and non-bargains at Costco live.
Read More: 10 Best and Worst Deals at Sam's Club
16. Start at the back of Costco.
The best bargains at Costco are typically at the back of the store or hidden at the end of aisles. Start your shopping trip from the back of the store to get your staples and deals, and then work your way up to the front where the cash registers are.
17. Buy meat in bulk, and freeze it.
One of the best deals at Costco is bulk meat because you can portion it out and freeze it for later use. Even the late, great Julia Child was a fan of buying meat from Costco — she was especially fond of the hot dogs.
18. Fill up at the Costco gas pumps.
Some Costco stores also have gas stations on their lots, which offer members competitive per-gallon prices. You can check off grocery shopping and filling up on gas at the same time.
19. Take advantage of the Costco Tire Center.
Sometimes Costco discounts name-brand tires by $70 to $80, which is enough savings to cover the cost of a membership and then some. For customers who've purchased tires from Costco, the center also offers free tire balancing and rotations. I've even had one Costco Tire Center worker patch a small hole in one of my tires for free.
20. Shop online, and use Costco's app.
Going to Costco doesn't top everyone's list of favorite things to do. Skip the crowds, and avoid the hassle by shopping the Costco website or through the Costco mobile app — you can even find web-only deals that aren't offered in the stores.
The Costco app is also a great resource that highlights current deals and offers, so checking it before heading to your Costco can help you pre-plan and have a smoother trip while still hitting the best deals. You can even use it to create your shopping list.
This article originally appeared on GoBankingRates.