Sears Just Narrowly Escaped Death. Here's What the New Owner Has in Store for Shoppers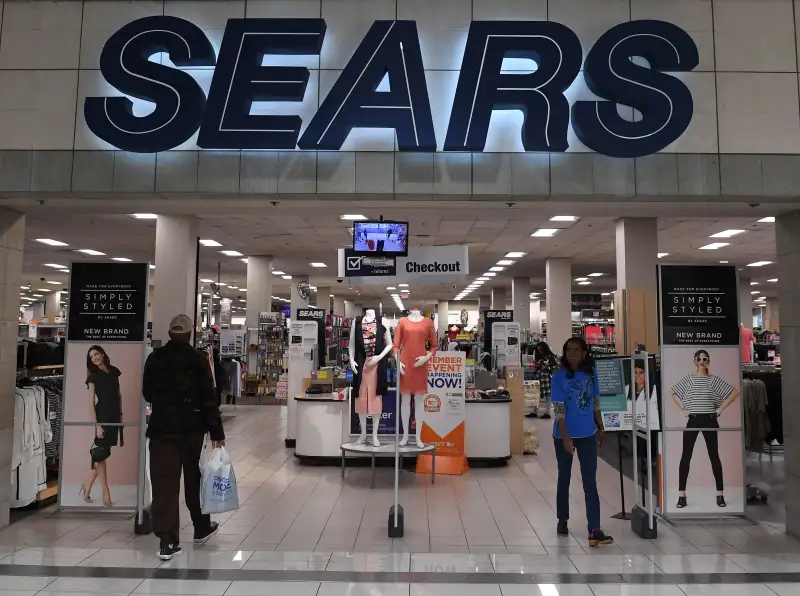 MARK RALSTON—AFP/Getty Images
It looks like Sears is still alive.
Late on Wednesday, Sears Holdings—which owns Kmart as well as its flagship Sears stores—accepted a $5.2 billion takeover bid at bankruptcy auction, according to a person familiar with the matter. The bid came from ESL Investments, the hedge fund run by 56-year-old billionaire Eddie Lampert, who is also the current Sears chairman.
Sears Holdings filed for bankruptcy last fall, and many expected the company to close down entirely and liquidate all stores in early 2019.
What this appears to mean instead, as Reuters reported, is that roughly 425 Sears and Kmart stores in the U.S. will remain open, and that 45,000 company employees will keep their jobs. Before it becomes official, Lampert's takeover must be reviewed by a bankruptcy judge, which is reportedly expected to happen later this week.
The company that remains will be a shell of what it once was. When Sears filed for bankruptcy last October, it had roughly 700 stores, compared to around 2,000 five years prior. Many more Sears store closures have followed over the past few months, including 80 new closures in early 2019 around the country: Right now, for example, Florida and Texas each have seven Sears and Kmart stores hosting going-out-of-business sales.
As CNN noted, when the current round of Sears store closures is finished, the company will have very little presence in the middle of the country — including not a single Sears store in Minnesota, Kansas, Kentucky, Mississippi, Montana, Nebraska, North Dakota, Oklahoma, or South Dakota, among other states.
The company that Eddie Lampert is buying will operate over 400 Sears and Kmart stores, mostly along the West Coast and in the Northeast. Many retail analysts and other observers have been surprised that Sears isn't simply closing all stores — in fact, Sears creditors and landlords appeared to favor this option during the latest negotiations. And there is immense skepticism that Sears will be able to survive much longer amid competition from the likes of Home Depot, Walmart, Best Buy, and Amazon, no matter who the owner is.
Here's what else shoppers can expect from Sears and Kmart in the weeks and months ahead.
Are Sears Stores Closing? Are There Liquidation Sales?
For now at least, there are no more Sears store closures on the horizon.
Sears began the year by announcing a new round of 80 store closures, and these Sears and Kmart locations are hosting liquidation sales right now. These stores are expected to close by March 2019, and when they are closed there will be roughly 425 Sears and Kmart stores left in the U.S.
Beyond that, there is no immediate plan for more Kmart or Sears store closures.
How Long Will Sears Be Open?
Lampert's ESL Investments has been trying to buy out Sears for quite some time, and it has maintained that its intentions are to save jobs and run a profitable business. In a statement sent in early December related to ESL's potential acquisition of Sears Holdings, Lampert wrote:
But many are puzzled about why Eddie Lampert wants to buy Sears given its years of struggle, and think that it is especially difficult for Sears to compete in today's retail landscape with a shrinking number of locations.
"What is it about having fewer stores—which doesn't allow you to spend as much on marketing or have supply-chain efficiencies—that suddenly makes it a successful strategy?" Steve Dennis, a consultant and former Sears executive, said to the Wall Street Journal.
What Will Happen to Sears Warranties, Gift Cards, and Shop Your Way Rewards Points?
When a retailer goes out of business, its gift cards and rewards points generally become worthless. Warranties are trickier to figure out: They are sometimes honored even after a company disappears, because the warranty is operated by a third-party. Manufacturers warranties remain valid even after the retailer that sold the item goes out of business as well.
But for the time being, none of these concerns relate to Sears, which is staying open after Eddie Lampert's bankruptcy auction bide was accepted. While Sears is in business, its gift cards and Shop Your Way rewards program will remain active and valid. Even if there is no Sears store near your home, you can use gift cards and rewards points online.
But because Sears' long-term prospects are shaky, and because some changes are to be expected under new ownership, it may be wise to use whatever Sears gift cards and reward points you have sooner than later. You may also want to think twice before buying any Sears gift cards.
Jennifer Calfas contributed to this story.