Oregon Takes Matters Into Its Own Hands, Gives Residents $500 Stimulus Checks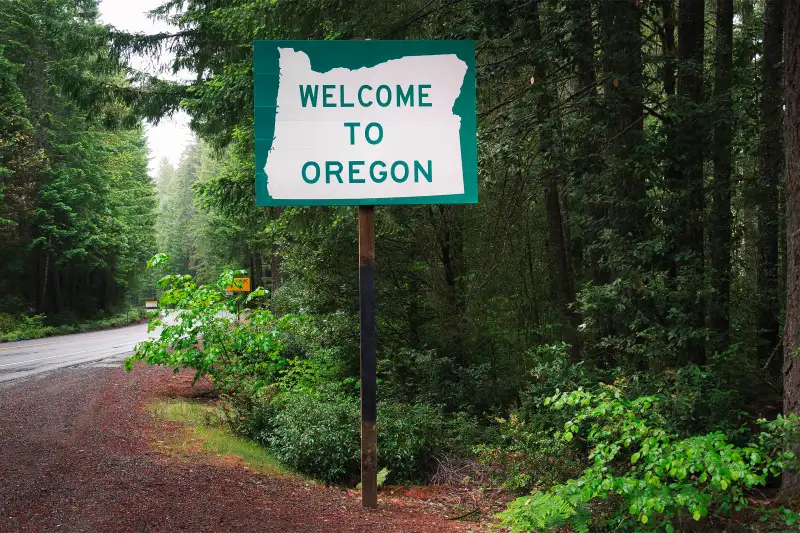 With the long-awaited coronavirus relief package on hold in the Senate, millions of Americans are missing out on extra $600 federal unemployment payments — and they're struggling to get by without a second stimulus check.
This week, though, one state began helping out residents by dishing out $500 stimulus checks to thousands of people who qualify. On Wednesday, participating banks and credit unions throughout Oregon started accepting applications for the $500 relief checks. Unsurprisingly, there were huge lines outside banks when the program launched.
The good thing, for those in dire need of assistance, is that many applicants have been able to hand in their forms and walk away with their $500 checks right away. Not counting the wait outside the bank — which could last hours in some cases —the whole process for handling paperwork and receiving payment can take as little as 10 minutes, the Oregonian reported.
How to Get a Second Stimulus Check in Oregon
Who qualifies for a $500 check? The details are spelled out at emergencychecks.oregon.gov, where you can also find a list of participating banks and download an application form.
To qualify, you need to be an Oregon resident age 18 or over, with ID or other documentation to prove it. There are also rules related to income: The checks are only available to those who earned $4,000 or less monthly before the coronavirus pandemic, and you must demonstrate that your income has taken a hit and you're suffering some financial hardship. (The application asks you to describe the financial impact of statewide coronavirus measures on you and your employer, including "date of closure, description of reduced operations and impact on your employment, or how COVID-19 has otherwise substantially affected your income.") The other big rule is that you won't qualify if you've already received an unemployment benefit payment in the last week.
To be clear, these $500 checks from Oregon are not unemployment benefits. In fact, you don't necessarily need to be unemployed to qualify. The state website says, "You may be eligible if you are not current on unemployment benefits but have since returned to work."
Oregon says it has allocated enough money to hand out checks to up to 70,000 residents, on a first-come, first-serve basis.
Will other states follow Oregon's lead and also begin giving residents stimulus checks? We'll have to wait and see. After the first round of $1,200 stimulus checks from the federal government was issued in mid-April, a select few cities and counties around the U.S. have handed out additional stimulus checks up to $1,000 to local residents who qualified.
Separately, according to CNBC, at least 11 states have recently been approved to pay an extra $300 in federal unemployment benefits in accordance with an executive order on coronavirus aid from President Donald Trump.
As for the prospects of a second stimulus check for $1,200 or some other amount from the federal government, nothing official has been decided, and the situation appears murkier than it had earlier in the summer.
The White House, Democrats, and many Republican leaders in Congress have all said they support a second round of stimulus checks, and everyday Americans of all political persuasions say that another $1,200 payment would be necessary or at least helpful for paying the bills. When Senate Republicans released their coronavirus relief plan in late July, the package not only included a second round of stimulus checks, but also the possibility that many Americans would receive higher stimulus payments because the eligibility rules for children were changed and more people would qualify.
Since then, however, there appears to have been much wrangling behind the scenes in Congress — but no actual action on a second major coronavirus relief package. Most members of Congress have left Washington, D.C., for August recess as well. The latest is that this week, Senate Republicans circulated a new "scaled-back stimulus bill," as the New York Times put it, which would add back some federal unemployment benefits and funding for schools and COVID-19 testing.
But it appears as if this most recent plan had no specific provisions for more stimulus checks. Some are speculating that Republicans are perhaps abandoning the second stimulus check measure, or at least using the issue as leverage for negotiating what is and isn't included in the final bill.
More From Money:
Second Stimulus Check Update: Are We Still Getting Another Round of COVID Relief?
Why Your Second Stimulus Check Could Be Higher (or Lower) Than the First One
Trump Supporters and Critics Agree on Need for a Second Stimulus Check in New Money Survey