Why Shake Shack's Slide Was No Surprise
Money is not a client of any investment adviser featured on this page. The information provided on this page is for educational purposes only and is not intended as investment advice. Money does not offer advisory services.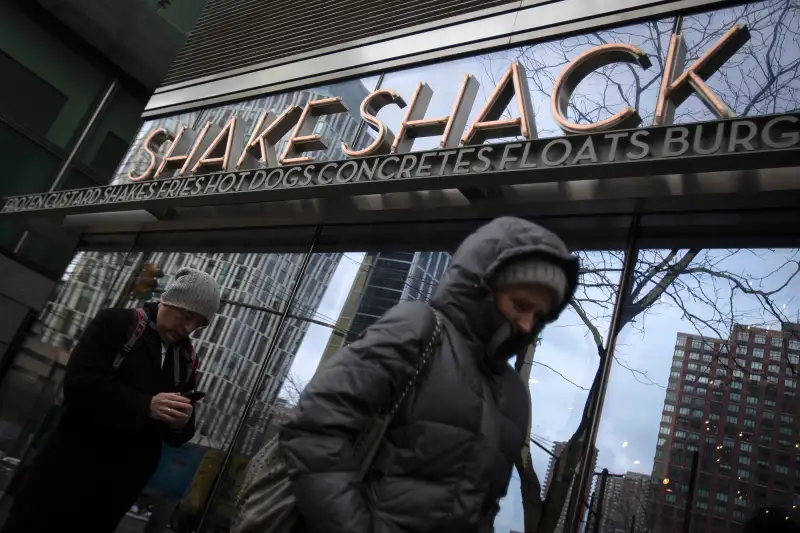 On Tuesday, shares of the popular burger joint Shake Shack went limp like a soggy french fry, falling as much as 9% in early morning trading Tuesday after the chain's first financial report as a public company failed to satisfy earnings-hungry investors.
The company — which made a stunning Wall Street debut in late January — reported a net loss of $1.4 million, or 5 cents a share. Some analysts had been expecting a 2-cent-a-share loss.
In announcing the news, Shake Shack CEO Randy Garutti said "we are witnessing a seismic shift in people's understanding and expectations of food and, for the last decade, Shake Shack has helped lead the change in consumer behavior through our fine casual approach."
That may be true, but Wall Street's expectations for earnings remains the same.
What was surprising about Shake Shack's results?
The fact that the company posted a quarterly loss is no big deal. This is a new chain and investors were not expecting a big profit.
What was surprising was that management did not better prepare analysts for the results.
That's because normally, newly public companies try to orchestrate their performance as much as possible. Jay Ritter, a finance professor at the University of Florida who specializes in IPOs, noted that in the first six months, newly public companies "neither out or underperform."
That's in part because companies work at making sure there are no surprises early on. "When a company goes public, analysts working for the underwriters that took the company public tend to forecast fairly conservative estimates for the first couple of quarters," Ritter said. Meanwhile, "companies don't want to disappoint in the first couple of quarters," so management tends to work hard to make sure that analysts in general know what to expect.
That didn't happen here.
What wasn't surprising about Shake Shack's results.
As Money pointed out recently, Shack Shack's stratospheric rise on its first trading day — the stock more than doubled to $45.90 a share — set the stock up for trouble.
Before the stock dropped, the shares were trading at a price/earnings ratio of around 650. At such a lofty valuation, it's no wonder investors were willing to punish the stock at the first sign of worse-than-expected news.
But Shake Shack is not alone on this front. In an effort to ride the red-hot "fast casual" dining trend, investors dramatically bid up the recent IPOs of The Habit Restaurants , Potbelly , and Noodles & Co. .
All three stocks doubled on the day of their recent IPOs. Yet today, all three are trading well below the closing price at the end of their first day of trading.
For food stock investors, that's a hard lesson to swallow.
Read next: Why Shake Shack's Slide Was No Surprise