Treat Yourself to a New Set of Sheets and Save up to 50%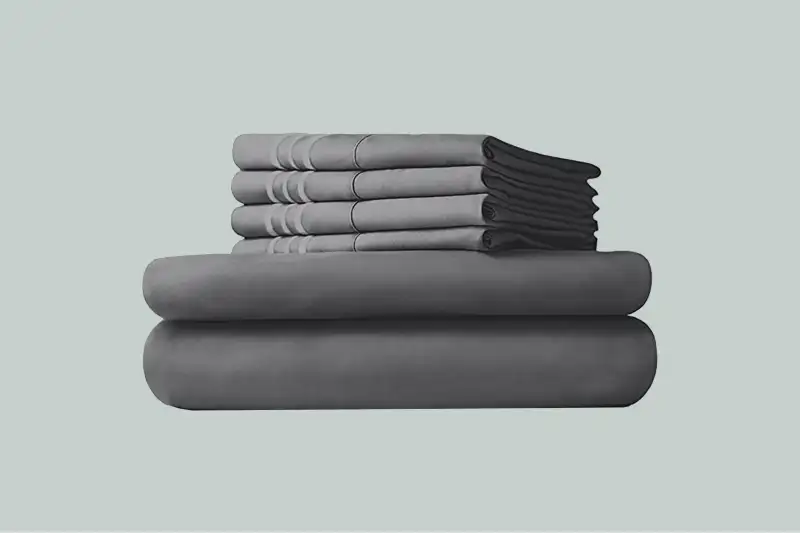 A good night's sleep is essential for overall health and well-being. Invest in your well-being by investing in a new set of sheets. Quality bed sheets drastically improve your quality of life by making sure you're properly energized to tackle whatever the day throws your way. With the right sheet set, you can enjoy a luxurious sleeping experience without breaking the bank.
When it comes to shopping for sheets, the quality is as important as the price. Different types of bed sheets offer different levels of comfort. For example, cotton sheets are lightweight and breathable, while flannel sheets are warm and cozy. Fortunately, there are a number of ways to save money on a new set of sheets without compromising on quality. We understand the importance of having comfortable bedding for a good night's sleep, so we've put together this list to help you find the perfect set of sheets for your bedroom while saving up to 50% off!
100% Organic Cotton Sheets: $36.99 (was $44.99)
This cotton sheet set from Lane Linen is the best way to get a comfortable night's sleep. It is made with 100% organic cotton that is both cool and crisp to the touch. Unlike silk bedding, it doesn't require as much washing and its long cotton fibers make it tear-resistant even after multiple washes. Using this bed linen is gentle on your skin. It's easy to care for, too — simply machine wash in cold water with non-chlorine agents, then tumble dry on low heat.
Cooling Hotel Luxury Bed Sheets: $29.99 (was $39.99)
The hotel luxury sheet set by CGK Unlimited includes two pillowcases, a flat sheet, and a fitted sheet to perfectly fit your queen-size mattress. The sheets are made with the highest quality double-brushed microfiber, making them as light as air while still providing exceptional comfort and luxurious softness. They're softer than Egyptian and organic cotton sheets, yet for a fraction of the price — at 45% off, this set is a total bargain! The ultimate combination of value and comfort makes these sheets truly unique.
Breathable Organic Cotton Bedding Set: $50.96 (was $69.99)
This cotton bedding set by Shabby Chic offers a unique and stylish experience for home décor. These sheets have been crafted with 100% organic cotton that keeps you comfortable year-round. A fully elasticized fitted sheet helps prevent it from slipping off the mattress while ensuring the perfect fit. Not only luxurious in feel but stylish in design as well. The vintage-inspired pattern adds a beautiful touch to any bedroom décor.
Breathable Hotel Luxury Bed Sheets: $27.98 (was $59.99)
This king-sized sheet set by CGK Unlimited is a great way to upgrade your bedroom — or any other room in your house — with a luxurious set of sheets that won't break the bank. These sheets bring comfort, style, and quality all-in-one package, making them an ideal choice for anyone looking for a great set of bedding.
100% Cotton Certified Natural Bed Sheets: $39.99 (was $52.99)
California Design Den is offering luxurious linens that provide optimal comfort for 25% off. This fitted sheet has deep pockets to ensure a snug fit and a fashionable sateen weave to add glamor to any bedroom. This bedsheet set is ultra soft, refreshingly cool, and incredibly comfortable — a great way to relieve stress after a long day and guarantee a good night's sleep.
Eco-Friendly Wrinkle Free Bed Sheets:$37.95 (was $61.99)
The LuxClub sheet set offers an incredibly luxurious and comfortable sleeping experience that is sure to please. A blend of microfiber and elastic gives the fabric an unbeatable softness and strength and makes it wrinkle-resistant so that your bed looks perfect all the time. These stunning sheets are machine washable, making cleaning a breeze. Not only do they look great in any bedroom, but they also make the most delightful gift.