The Death of the Shopping Mall Has Been Greatly Exaggerated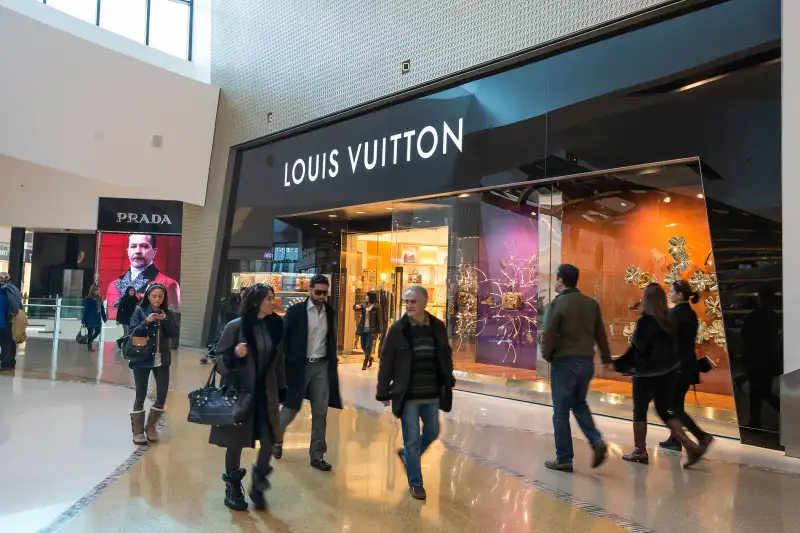 Even as the rise of online retailers such as Amazon.com leads analysts to predict the eventual death of the American shopping mall, real estate fund managers are betting some will prosper – if they can lure the right kind of consumer.
Simon Property Group, the largest high-end mall operator in the country with properties including Palo Alto, California's Stanford Shopping Center and suburban Philadelphia's King of Prussia Mall is the top holding in 53 of the 71 U.S. real estate funds tracked by Lipper. The average real estate fund devotes 8.8% of its portfolio to Simon, a bigger average bet than the 7.6% that tech funds invest in Apple and almost one percentage point more than the weight of Simon in the benchmark S&P U.S. REIT index.
Still a symbol of a car-based, middle-class suburban America, malls are increasingly seen as viable only if they attract the affluent. Fund managers are bullish on so-called Class A malls, anchored by department stores like Bloomingdale's and featuring retailers like Apple, reflecting how better-off consumers have thrived since the end of the financial crisis while middle and lower income consumers have struggled.
"Class A malls are repositioning themselves to be destinations, with more restaurants, which is making them more resilient to what's going on with the Internet," said Rick Romano, a portfolio manager of the $3.8 billion Prudential Global Real Estate fund, who holds 4.5% of his portfolio in Simon, his top holding.
Class A malls are also the only shopping centers able to attract an Apple store, which can post annual sales of more than $5,000 a square foot – the highest of any U.S. retailer – and boost sales growth for other retailers throughout the mall, Romano said. As a result, Simon has been able to post rent increases of 18.9% for new leases over the last 12 months, according to Paul Morgan, an analyst at MLV & Co.
Simon's average rent per square foot – which includes ongoing and new leases – rose 4.5% in the first quarter compared with the year before, or about six times the 0.8% pace of inflation in the U.S. Bloomingdale's is the most frequent anchor store at the highest-rated malls in the country, followed by Nordstrom.
Those Americans in the top 20% of income – or Class A mall shoppers – have seen their household assets jump from about $15 trillion in 2010 to $25 trillion in 2014, according to Green Street Advisors. Household assets for Class B and lower mall customers rose from about $7 trillion in 2010 to a little over $10 trillion in 2014.
Class B malls are often saddled with struggling department stores such as Sears or J.C. Penney as anchors, making them less attractive to prospective tenants. Some 24 such malls have closed since 2010, and an additional 60 are on the brink of closure, according to Green Street Advisors.
No REIT fund hold Class B or lower mall operators as their largest holding, according to Lipper. J.C Penney and Sears are the most frequent anchor stores at Class C and lower malls, according to Green Street.
There are about 1,000 enclosed shopping malls in the U.S. Foot traffic at malls during the November and December holiday shopping season fell from approximately 35 billion visits in 2010 to 17.6 billion in 2013, according to an October Cushman and Wakefield report. Online commerce now accounts for 15% of retail sales – just 5 percentage points less than the percentage of retail sales that come from malls and gaining, according to a report from Green Street Advisors.
DEMAND FOR HIGH-END RISING
Investor demand for high-end malls will rise even if consumer spending overall flattens or starts to slow, said Jason Ko, a co-portfolio manager of the $2.1 billion J.P. Morgan Realty Income fund who has 7.8% of his portfolio in Simon, his largest position.
Macerich, the third-largest mall owner in the U.S., rejected a $16.8 billion takeover offer from Simon Property on April 1, a merger that would give Simon an even larger hold of the high-end mall market. Simon is not expected to come back with a higher offer, analysts and fund managers said.
"What that attempt signifies is that high quality malls are irreplaceable: difficult to build and difficult to buy," Ko said.
Shares of Simon Property are down 5.5% since Macerich rejected its takeover offer, while shares of Macerich have fallen 2.2% over the same time. Over the last 12 months, shares of Simon are up 5.7%, or about 2 percentage points less than the 7.9% gain in the benchmark index.
Simon shares closed Wednesday at $181.31, compared with the average target price of $217.05 among analysts tracked by Thomson Reuters. At that price, Simon is selling at 39 times trailing 12 month earnings, slightly below the average 45 times earnings among its peers, according to Thomson Reuters data.
Class B malls, meanwhile, will not only feel the effects of sales declines at J.C. Penney and Sears, but will see increased competition from so-called power centers – suburban developments that are often next to a major highway and include a Home Depot or Best Buy alongside a traditional strip mall, said Ian Goltra, who helps oversee $2 billion in real estate investments at San Francisco-based Forward Funds.
Goltra has several short positions for Class B mall operators in his funds, yet expects shares of Simon to rise, even with its high percentage of fund ownership. He has been adding shares of Simon as it has traded in the $180s, down from a high of $205.31 on Jan 28th.
"They have the largest portfolio of blue-chip tenants, and that's something their competitors have not been able to replicate," he said.