These 5 Myths Keep Women From Starting Small Businesses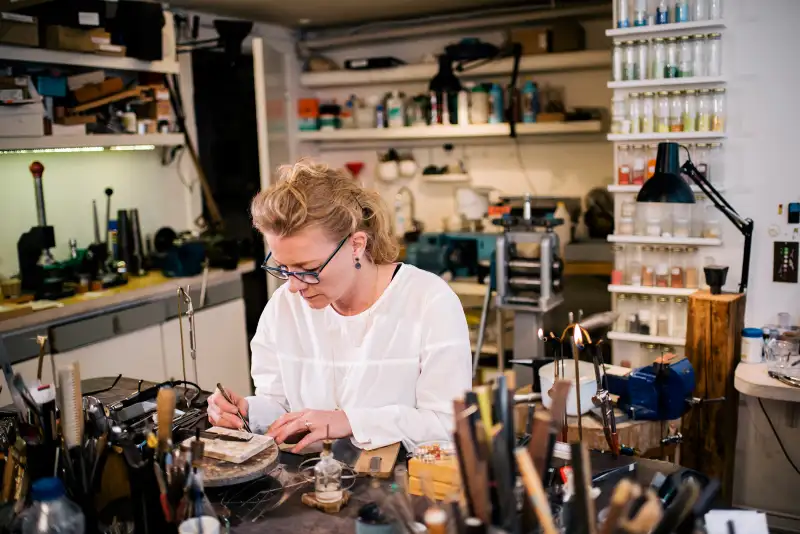 Deborah Sweeney owns a small business that helps launch other small businesses. She's noticed an interesting trend in the last five years: Her clientele has changed from 10% women to 25%.
It would be more, says Sweeney, whose MyCorporation.com helps entrepreneurs deal with paperwork and legal hurdles, except for what she says are misconceptions that keep women out of the small-business world.
Women playing a bigger role in small businesses is no longer big news, of course. In 2014, there were roughly 9 million women-owned businesses in the U.S., employing nearly 8 million workers and recording nearly $1.4 trillion in sales that year, according to data from the National Association of Women Business Owners.
But Sweeney thinks more women would give entrepreneurship a shot if not for these five major myths:
1. It's impossible for a woman to succeed as an entrepreneur.
When she tells people that she runs her own small business, Sweeney says, they assume she's talking about something, well, small. They don't imagine her being at the helm of a company that posts nearly $9 million in annual revenue.
"Oh, are you doing that out of your garage?" is a common question she's asked, she says.
Some people just assume that when you're a female small-business owner, you're "making beaded necklaces or making nursing products for children," she tells NerdWallet.
In Sweeney's case, the false assumptions can be comically sexist.
Her husband, Tor, is also a small-business owner, and she says it's not unusual for people to ask "if we work together at my business."
People "have this mindset that I would not run it alone," she says, "that I am a business owner, in essence, because I married a man who is a business owner. It's funny."
Coincidentally, Tor Sweeney's company is called Dresses.com. It's a clothing manufacturer that makes prom dresses and wedding dresses.
And yes, she says, people often also ask if she owns that company, not MyCorporation.com.
2. Women just aren't as entrepreneurial as men.
"Women have a difficult time conceptualizing for themselves what entrepreneurship is about," Sweeney says.
That's because they don't have enough role models, she says. Sweeney has met young women who say they want to be entrepreneurs but eventually pivot to another career, working for a company.
Sweeney notes that many of the women coming to MyCorporation.com are venturing into entrepreneurship for the first time, whereas many of the men are serial entrepreneurs who have used her company's services multiple times.
3. Women don't achieve as much success as entrepreneurs as they do in the corporate world.
Facebook executive Sheryl Sandberg sparked a national discussion in 2013 on how women can reach their goals in corporate America with the release of her best-selling book, "Lean In."
"Many women who 'lean in' can be successful," Sweeney says. "That's what they want. I wanted more. I wanted not to have to hire a nanny to be with my kids. The way I could do that was to run my own business."
Besides, she says, she simply was not happy in the corporate world. "You can be extremely successful, but I was going crazy," she says. "You can forge your own path as an entrepreneurial woman," and "compete on your own playing field."
"I always say 'reach up' instead of 'lean in,'" she says.
4. Running a small business is more time consuming than working in the corporate world.
Most people assume running your own business means working outrageously long hours. For female entrepreneurs, that has typically meant added pressure, given the traditional, if outdated, roles they're often expected to play in the home.
But outrageous hours are another misconception, Sweeney says. She quit a corporate job six years ago to become an entrepreneur and says it "actually presents a fabulous opportunity" for achieving a better work-life balance.
For one thing, she stresses, "you're not mandated by corporate America to work certain hours."
5. Your children and family will suffer because of your small business.
Her work certainly keeps her busy, and she admits "you never stop thinking about your business when you're a business owner."
There are certain things she's not able to do with and for her two sons. "We don't do play dates in the afternoon," she says.
But being a small-business owner has made her a more effective parent, she says.
"Some say, 'I can never be an entrepreneur as a mom.' And I say, 'It has given me flexibility.' You can find the right balance when you're the master of your own destiny."
Yes, her schedule can get hectic. "At 2 p.m., I run and pick my kids up and take them to work with me," she says.
But that's been good for her children, she says. When they're with their friends, she says, "I hear them talk, 'There's my mom's office and she has 30 employees.'"
"There's something about engaging your family in your career," Sweeney says. "They see an example of work ethic and believe in it."
More From NerdWallet: