The Government Is Coming After Social Security Overpayments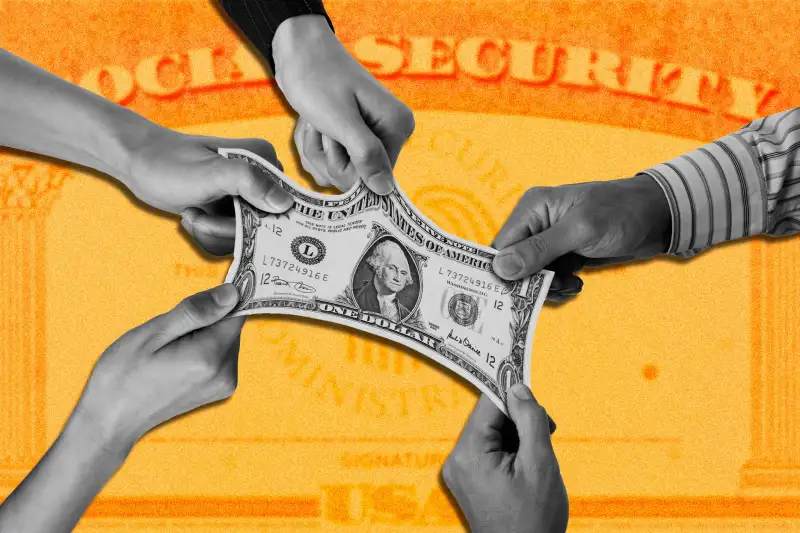 The federal agency that administers Social Security benefits is making new efforts to reclaim overpayments, and it may try to claw back money if you've been receiving too much.
About 1 million people per year received overpayment notices from the Social Security Administration (SSA) in the 2022 and 2023 fiscal years, Kilolo Kijakazi, acting commissioner of the SSA, said in recent testimony to Congresss. The agency began a "top-to-bottom" review of overpayment issues last month, Kijakazi said.
Roughly 0.5% of Social Security payments are overpayments, according to the agency. Overpayments can either be the government's fault or the result of a mistake by the beneficiary. Either way, the result is that beneficiaries owe money back to the government.
A new 60 Minutes report found that some overpaid Social Security recipients have been told they need to pay back tens of thousands of dollars. For example, a 73-year-old woman told the program she was notified that she owed $72,000 in overpayments because her benefits were based on incorrect salary information.
Government to track down Social Security overpayments
It is unclear how much money the government is trying to collect in Social Security overpayments. Officials denied that the agency is trying to collect $21 billion in Social Security overpayments, as some media reports suggested.
"This figure was derived from the total amount of overpayments that have occurred over the history of the programs," the SSA explained in a statement last month. "Each person's situation is unique, and the agency handles overpayments on a case-by-case basis."
The news of the overpayment review could be concerning for Social Security beneficiaries who are unsure if they are being paid the correct amount — or for anyone who suspects their checks are larger than they should be.
The SSA said the overpayment problem occurs "given the number of people the agency serves, the number of changes in their circumstances and the complexity of the program."
The SSA collected $4.7 billion in overpaid Social Security in 2022, per an inspector general report. (The agency notes that Social Security benefits total $1.4 trillion per year.)
Social Security benefits help supplement income in retirement for 70 million recipients. The annual cost-of-living adjustment (COLA) was 8.7% in 2023 based on high inflation, bringing benefits to about $1,700 per month on average. Another 3.2% increase in payments is slated for 2024.
What happens if you were paid too much in Social Security
If you've been overpaid, it's possible to get on a plan to repay the government gradually. However, according to KFF Health News, these plans are stressing the budgets of some affected beneficiaries as the agency is collecting from "poor, retired, and disabled people who have spent the money and are unable to repay it."
When someone is overpaid Social Security, years could pass before the issue is detected, and by that time the mistake may have amounted to a massive sum, according to the health news publication.
The government is required by law to try to recover Social Security overpayments, officials said, but recovery can be waived in some scenarios.
You can file an appeal or make a request that the Social Security Administration not seek the money back. The agency also said it's working to reduce overpayments in the future and make relief more accessible to overpaid beneficiaries seeking waivers.
How to avoid Social Security overpayments
Experts are encouraging Social Security beneficiaries to calculate how much they should be getting paid to see if it aligns with their benefits. Doing this calculation can reduce the chances of a surprise overpayment notice from the SSA.
The AARP has an online tool that can help you estimate your benefits. You can also access your "my Social Security" account to check if the information the agency has on file is accurate. Benefits are partially based on the Social Security taxes you've paid in your lifetime, so it's important to make sure the earnings history is accurate.
If you have a government pension, your Social Security benefits can be more complicated to calculate. According to 60 Minutes, there's a risk of overpayment if you don't properly report your pension information to Social Security.
Working disabled people should also be aware of the income limit for Social Security, which is $1,470 per month in most cases. Overpayments can be avoided by promptly notifying the SSA of changes in your employment or your income.
More from Money:
5 Best Tax Relief Companies of 2023
Millennials vs. Boomers: Who's Doing a Better Job Saving for Retirement?
Retirees Are Not Confident They'll Be Able to Afford Long-Term Care: Pol