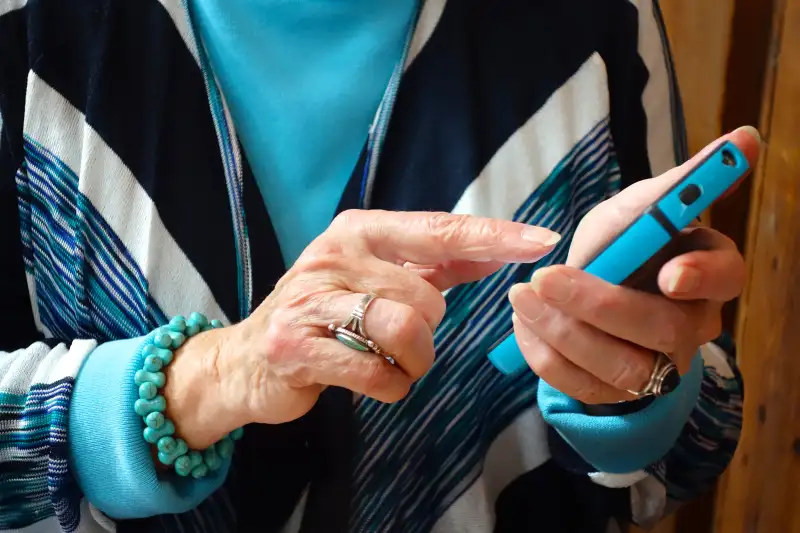 Lisa Werner#121365—flickr Editorial/Getty Images
Now is the summer of our discontent with Social Security's customer service - and fall and winter could be worse.
The Social Security Administration (SSA) stumbled this month when it added a mandatory extra layer of website log-on security requiring customers to receive a code via text message. But the agency's customer service problems go much further than just text messages.
The technology snafu started when the SSA added "multifactor authentication" to log on to MySSA customer accounts. It was a well-intentioned move to satisfy an executive order by U.S. President Barack Obama that federal agencies take steps to protect sensitive financial data.
But critics pointed out that many older Americans do not use text messaging, and customers at one major mobile phone service - Verizon - inexplicably found themselves unable to use the new security layer.
Two weeks later, the SSA backpedaled, admitting that the authentication process had restricted site access for some customers and saying it will look for other ways to bolster its online security. For now, account holders can log on with a username and password.
But the texting misstep is part of a broader customer service challenge the SSA faces.
Read More: Social Security Drops Its Texting Requirement
Budget cutting has handcuffed the agency's capacity to serve the public at a time when customer demand is rising. Baby boomers have aged into their peak years for retirement and disability.
Yet after adjusting for inflation, the SSA's core budget has shrunk by 10 percent since 2010, according to a recent report by the Center on Budget and Policy Priorities (CBPP). The cuts stem mainly from the 2011 Budget Control Act, better known as the sequestration law, which ended the debt ceiling crisis that threatened to shut down the government.
CBPP found that the average caller to the SSA's toll-free line now waits more than 15 minutes, and nearly 10 percent of callers receive busy signals. Since 2010, more than 60 field offices and 533 mobile offices have been closed, and hours at remaining offices have been cut. Backlogs on hearings for disability insurance applications are at an all-time high, with more than 1 million applications awaiting processing, the report found.
"One would expect that if funding goes down while workloads continue to rise, there would be a noticeable effect on the quality of customer service," said Paul Van de Water, senior fellow at CBPP.
Online Migration
Further cuts proposed by Republican lawmakers for next year are raising more concerns about erosion in customer service. The SSA recently warned that underfunding in proposed House and Senate appropriation bills could lead to "extreme cost saving measures, such as furloughing employees, reducing service hours to the public and closing service locations."
For its part, Republican leadership in the U.S. House of Representatives questions spending choices that the SSA has made in recent years, especially in the area of technology. "As the authorizing committee responsible for overseeing SSA and making sure taxpayer dollars are effectively serving Americans, we have questions about the choices the agency makes," said a spokeswoman for the House Ways and Means Committee.
"The recent issues with MySSA are a perfect example of costs the agency didn't anticipate," she said.
The agency has been pushing to shift traditional support services from field offices and via telephone to online. In 2011, the SSA stopped mailing annual benefit statements in 2011 in a cost-cutting move. Instead, it has been encouraging workers to sign up for online MySSA accounts, which let users download their statements, receive benefit verification letters and handle other routine account management chores.
The paper statement mailings were resumed in 2014 on a limited basis, but the online push continues, and more than 26 million accounts have been created. And a report issued last year by the SSA, called Vision 2025, laid out a plan to further shift service delivery to the internet and mobile platforms in the coming decade.
But the recent online authentication misstep underscores a key problem in pushing services online: Social Security is a nearly universal program that touches the lives of most Americans. We are not all digitally savvy, and not everyone can afford mobile phones with text messaging service.
Read: Changes to Social Security Website Will Lock Some Seniors Out
Cell phone usage falls off sharply with age - nearly a quarter of U.S. adults over age 65 did not have one in 2014, according to the Pew Research Center. And just 27 percent of adults over age 65 used a smartphone last year, Pew said. That is far lower penetration than younger age groups, the research group said. Tellingly, just 50 percent of adults earning less than $30,000 annually use smartphones.
"The agency is putting all its eggs in the online basket, but it hasn't dealt effectively with the potential for fraud online and for databases to be hacked," said Eric Shulman, legislative representative for the American Federation of Government Employees, which represents nearly 25,000 field office employees.
Shulman also argues that the Vision 2025 strategy is "fundamentally flawed" due to the complex questions that come up around timing of retirement benefit filings and spousal benefits. "There are too many questions that people have when they reach retirement age to be able to answer everything online," he said.