Software Boot Camps Are Getting Easier to Pay For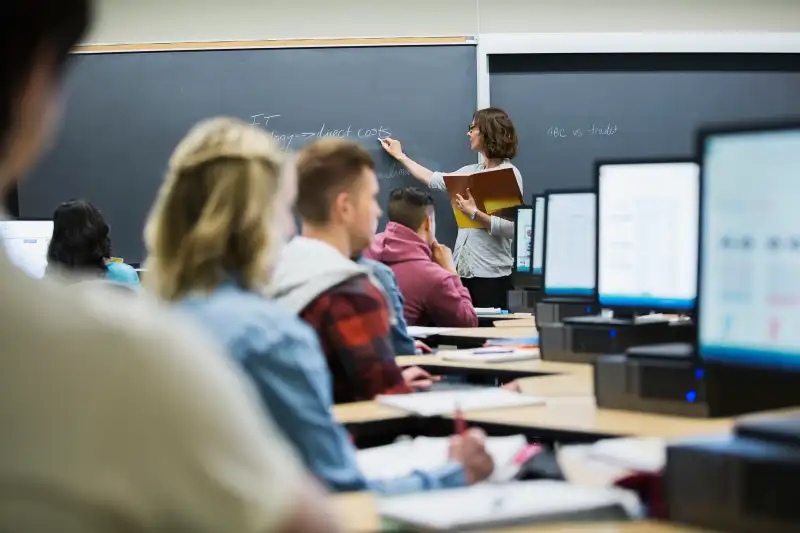 Amber Nash, a 28-year-old coordinator at a Bay Area child welfare organization, has two advanced degrees, a bachelor's in European history and a master of theology in interreligious studies.
As with many millennials, the years she spent in the academy didn't translate into the type of career she wanted, but they did translate into a mountain of debt: $100,000 in Nash's case.
So she did what increasing numbers of her generation are doing: enrolled in a software development boot camp. Boot camps are 12- to 20-week intensive software development training programs that promise students high paying jobs in the software industry upon graduation.
"I felt like I wasn't going to get the type of position I wanted in nonprofits without spending years and years climbing the ladder with crappy pay," says Nash, who expects to complete a web development program with DevBootcamp in January. "I saw becoming a developer as a way out of admin work, as well as a way to become financially secure."
Nash, who made $43,000 at her nonprofit job, has good reason to suspect that a boot camp could lead to a more secure financial future. The average U.S. boot camp graduate makes $67,000 a year after completion, according to Course Report, an industry tracking website.
Although boot camps are less expensive than a university degree, they still aren't cheap: The price for Nash's program was $12,450; some can cost as much as $20,000. But while the federal government provides plenty of loan options for enrollment at accredited colleges and universities, boot camps aren't accredited by the Department of Education. So their students are not eligible for the types of financing that typically help pay for post-secondary education.
Fortunately for Nash and others, new types of boot camp-specific financing options are beginning to flourish. Students using external lending partners to pay for the programs increased from 8% of all students in 2014 to 17% in 2016, according to Course Report co-founder Liz Eggleston.
"I think that's largely just because the availability is now there," Eggleston says. "Those companies actually exist and they are specifically targeting boot camp students."
Nash got an $11,450 private loan from SkillsFund, a year-old lender based in Austin, Texas, that exclusively serves software boot camp students.
Since there is virtually no accreditation system or regulatory body for this rapidly growing industry, SkillsFund carefully evaluates boot camps to make sure that students will be able to get jobs when they graduate—and pay back their loans. The company currently provide loans for 43 boot camps, with more on the way, but declined to work with roughly 30% of the programs it evaluated, O'Donnell says.
"We've aligned creditor, lender, and the school around student outcomes," says Rick O'Donnell, co-founder of SkillsFund and a former executive director of the Colorado Department of Higher Education. "We have skin in the game. If we do it wrong, we are doing a disservice not just to the students but to our investors."
SkillsFund offers both 36-month and 60-month loans, with interest rates typically between 7% and 9%, depending on the boot camp. While not exclusively catering to boot camp students, other lenders, such as Earnest, Climb Credit, and Affirm, have also started lending to them.
Related: How to Foot the Bill for a Boot Camp
Some boot camps offer deferred tuition and essentially double down on their commitment to placing graduates in jobs. There are six schools that offer deferred tuition, including App Academy, Viking Code School, and Coding House, Eggleston says. These schools take a cut of graduates' paychecks for their first year. If the students don't get a job, the school doesn't get paid. Admission to these schools tends to be very competitive, as they need to be reasonably certain a student will land a job.
The federal government recently launched a pilot program to partner boot camps with established schools. The Department of Education's EQUIP initiative offered funding for low-income students at eight different alternative education providers partnered with community colleges and universities, and five of the providers were software development boot camps.
Related: Find a Skills Boot Camp That Fits Your Job Needs
Some universities are also starting partner with boot camps outside of the EQUIP program. Sabio Coding, a Los Angeles-based boot camp, recently partnered with Antioch University. Students can earn college credit while completing Sabio's program.
Still, most students pay for boot camps through savings or with family support. And even for those who do secure loans to pay the bill, there's still the matter of surviving while devoting more than 40 hours a week to a program. For Nash, that means leaning on her mother for day-to-day support while she learns to code. "I'm lucky to have a mother that can float me," she says. "Without her, there would be no way that I could afford it."
Josh Keefe is a journalist from Maine. You can follow him on Twitter at @thejoshkeefe.