10 Supposedly Irish Things That Aren't Remotely Irish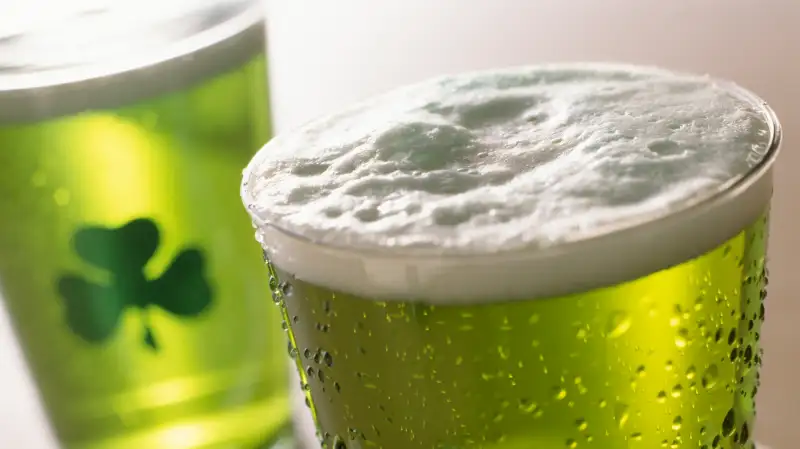 In honor of St. Patrick's Day, millions of Americans get their Irish on and partake in all sorts of seemingly Irish practices. They sing "When Irish Eyes Are Smiling" and drink Guinness-infused concoctions with colorful names. Heck, some even start the day off with a bowl of magically delicious Lucky Charms because, you know, there's a leprechaun on the box and all.
We hate to it break to you, but many St. Patrick's Day mainstays are pure Americanized nonsense, including the following:
Shamrock Shake
Let's hope you didn't think this fast food favorite actually had Irish roots. The artificially green, mint-flavored McDonald's Shamrock Shake first appeared in 1970—in the U.S., of course—and it's been a periodic limited-time-only menu cult hit every year around St. Patrick's Day ever since. For a brief time in the mid-1970s, McDonald's used an obese furry green character named Uncle O'Grimacey, who looks like a mix between Grimace and Oscar the Grouch, to promote the Shamrock Shake. The 550-calorie product wasn't available nationally until 2012, and McDonald's Ireland lists the Shamrock Shake as "NEW" on its menu.
Killian's Irish Red
Like a few other seemingly imported beers that are actually made in the U.S.A., Killian's Irish Red ale has been brewed exclusively in America for decades. Coors purchased the name in 1980, and the suds are made in factories in Colorado.
Lucky Charms
Um, no. Despite this cereal's magically delicious leprechaun mascot and his over-the-top brogue, Lucky Charms is made by the giant Minneapolis-based food manufacturer General Mills and has nothing to do with Ireland or Irish culture. The traditional Irish breakfast has sausages, pudding, eggs, browned bread, and cooked tomatoes, not colored marshmallows.
Female Leprechauns
If you run into a woman in a leprechaun costume—sexy or otherwise—on St. Patrick's Day, be aware that she probably isn't the genuine article. She probably has no pot 'o gold either. Shocking, right? According to A History of Irish Fairies by Carolyn White, there is no record of lady leprechauns, which makes you wonder how these tiny figures procreate. Leprechauns are known to be quite clever, but still. Also mind-boggling: Before Friends, Jennifer Aniston's career in Hollywood truly began with her role in the low-budget 1993 horror film Leprechaun. (She wasn't a leprechaun though—that would be ridiculous.)
"When Irish Eyes Are Smiling"
The beloved tune, memorably recorded by Bing Crosby among others, is often categorized as a traditional Irish folk song. In fact, it was written and composed by a trio of thoroughly American New Yorkers who were professional songwriters, for an extremely short-lived 1913 Broadway show called The Isle O' Dreams.
Black Velvet
Don't order this fancy cocktail concoction at a pub in Ireland if you want to make friends. Half Guinness Stout and half champagne, the black velvet was invented in the mid-nineteenth century not in Dublin or anywhere in Ireland but in London—as a tribute to the British royals no less. Specifically, the black velvet was created as an appropriately dark, mournful way to honor Prince Albert's passing away in 1861. Oh, and that late '80s hit song "Black Velvet"? It doesn't have anything to do with Ireland either; it was written by Canadians and performed by Alannah Myles, also Canadian.
Irish Car Bomb
Car bombs were one of the weapons of choice used for decades during the Troubles of Northern Ireland, when thousands were killed. The term would never be used in Ireland as punchline, or as the provocative name of a cocktail, as it is in American bars, where a "car bomb" is a shot of Irish whiskey and Irish cream that's dropped into a half-filled glass of Guinness.
Bennigan's, Beef O'Brady's, Tilted Kilt
None of these Irish- or Celtic-themed American bar-and-grill chains have origins in Ireland or are authentic to Irish pubs and cuisine. These restaurant concepts were born in Georgia, Florida, and Las Vegas, respectively, and none has locations in Ireland.
"St. Patty's Day"
It's still commonplace for the shortened version of the holiday to be spelled this way in America. However, spelling it so can get some people seriously fired up because in Ireland, "Patty" is short for Patricia, not Patrick. The true Irish spelling of "Patrick" is Pádraig, so the only way to shorten it is Paddy. One Irishman living in Canada went so far as to create the website PaddyNotPatty.com to hammer home that it should always be PADDY. How upset do the authentically Irish get when they see "Patty" used in place of Patrick? "It's "like nails on a chalkboard," the site explains. "It gnaws at them. It riles them up. It makes them want to fight… you know, more than usual."
Green Beer
The Irish don't bother with this foolish malarkey. As one Irish ex-pat living in America explained it when being interrogated about real St. Patrick's Day customs back home, "If you dyed beer green in Ireland, they'd punch you."