These Are The 10 Best and Worst Deals From Starbucks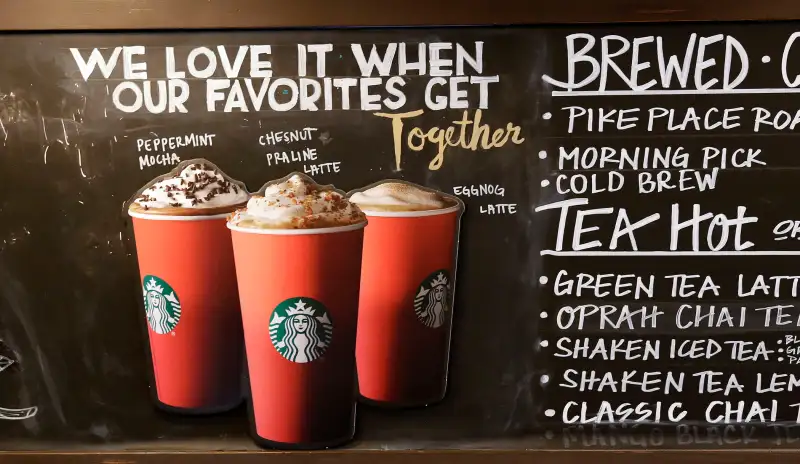 With annual global revenues surpassing $14.8 billion, Starbucks is the most lucrative coffee chain in the world with its specialty drink menu and inviting atmosphere. Depending on how strong your caffeine fix might be, daily visits to your local Starbucks can literally make you go broke. But there are some great money-saving deals to be found, too. Before ordering your next double-shot, no-whip venti latte, check out this list of the five best and five worst Starbucks deals.
The Best Deals:
Despite Starbucks' reputation for being overpriced, these deals can save you an impressive amount of money without curbing your daily or weekly visits. From discount refills to drink hacks, get the most bang for your buck while you're getting your caffeine fix.
Reduced-Price Refills: Many consumers are under the impression that a second or third pick-me-up of the day at Starbucks costs full price. Whether you ordered a basic brewed coffee or an espresso drink, you can get a second cup of joe for just 50 cents by hanging on to your original cup — no receipt needed. According to Kendal Perez, a savings expert for Coupon Sherpa, you can also receive 10 cents off your original coffee order by bringing your own mug or tumbler.
Rewards, Gifts, and Rebates: It pays to be loyal at Starbucks. Start by downloading the Starbucks app and preloading it with cash or pick up a gift card. Then, pay with your app to earn stars with every purchase; collect five stars within 12 months to reach "green" level status, which earns you free in-store refills, said Jeanette Pavini of Coupons.com.
"If you make 30 purchases (or earn 30 stars, one for each purchase), you'll be upgraded to a gold level rewards member," said Rachel Blank of The Day Tradette, a personal finance blog. "Then you get a free drink or food item every 12 stars." Rewards members can also become eligible for other offers and deals, like free birthday drinks, free apps and discounts on food, treats and other drinks.
Seasonal Savings: Starbucks frequently offers buy-one-get-one-free deals and other promotional savings throughout the year, especially during the holidays. Last month, the chain offered visitors a free holiday drink with the purchase of another holiday beverage. So, if you love the Peppermint Mocha but you're unsure about the Gingerbread Latte, it's a chance to give it a taste test without paying for it. But "read the fine print because those deals are usually only valid for select hours," said Pavini.Summertime is a great time for deals, too. "Starbucks' treat receipts in the summer are a great deal for people who visit the chain several times per day," added Perez. "Purchase any drink prior to 2 p.m. and bring back your receipt after 2 p.m. for a discounted beverage." Last year, she said, the July/August promotion saw any grande cold beverage reduced to $2.50; "a steal," she said, "considering the average grande Frappuccino costs $4 to $6."
Free Drinks and Food: Sometimes the best deals come down to timing. If you'd like to get your hands on a free coffee, wait until the baristas run out before placing your order; in most locations it's store policy to give you a cup on the house for the trouble of waiting for a new pot to brew.I once visited my local Starbucks right before closing time and the staff offered me several of their pre-wrapped breakfast sandwiches that didn't sell that day — free of charge. It was a nice surprise considering that, in all, the sandwiches would have cost around $20.
Drink Savings Hacks: A few clever tricks can save you money without sacrificing the quality of your drink order. One tip is to order a tall coffee in a grande-sized cup to avoid having to dump out coffee to make room for milk. Or in a tall cup, ask for the 8-ounce "short" size not advertised on the menu. If coffee's not your thing, order regular chai tea instead of a chai latte and add your own milk.Kerry Sherin, a savings expert at Offers.com, recommended that consumers pass on expensive syrup shots. "Skip adding additional flavors and hit the sugar and cream bar, where you can add your own flavors like cinnamon and chocolate for free," she said. Or save on the cost of an iced latte by ordering a few espresso shots over ice and adding your own milk.
Related: Should You Skip the Starbucks and Just Brew at Home?
The Worst Deals:
Starbucks might be your daily delight, but there are some deals you should skip out on. Here are purchases to avoid because they'll make your budget hurt more than caffeine withdrawal.
Premium Gift Cards: Would you buy a Starbucks gift card at four times the price of its redeemable value? That's one bad deal offered this season — the limited Swarovski card. Costing $200 for the real crystals encrusted on the face of the card, it's preloaded with only $50 to spend. Think about it: You're spending an extra $150 for crystals you can't wear or sell. It's a colossal waste of money. Buy a regular gift card and use the money you've saved toward some real jewels.
Lunch Boxes: Though made with quality ingredients, Starbucks' selection of bistro boxes are overpriced. At an average cost of $5 per box, you get a snack comprised mostly of cheese, fruit, nuts, a hard boiled egg and some crackers. A better deal is to make your own homemade bistro box. Buying the same items separately on your next grocery store trip will save you money and give you fresher ingredients at a fraction of the cost.The same goes for the cafe's expensive pre-wrapped sandwiches. There's a reason why Starbucks puts its food display case on the way to the barista counter. They want to hook you into buying food that costs as much, or more, than your drink order.
Bottled Water: Starbucks' selection of imported bottled water isn't just overpriced — it's unnecessary when you can get water for free. If your Starbucks doesn't have a pitcher of water and plastic cups at the milk stand, ask for a cup of water on the side and specify the size you'd like.When the alternative is a $3 bottle of Voss, Ethos or San Pellegrino — free water is a steal. Emily Co of PopSugar said Starbucks house water is triple filtered, making it pure for your body and your budget.
Coffee Beans and K-Cups: Brewing your own coffee at home is undoubtedly a money-saving alternative to buying Starbucks every day. You can buy Starbucks beans (whole, ground and pods) at its stores and online, but you can often find them cheaper at your local grocery store, Walmart or Target. Through Starbucks, one pound of whole bean House Blend or French Roast costs $11.95 per pound; at Target, the same bag costs $8.95.
Travel Mugs: TV host Conan O'Brien once joked, "Starbucks says they are going to start putting religious quotes on cups. The very first one will say, 'Jesus, this cup is expensive.'" From $40 for a standard refill 16-ounce cup to a $99 gold-plated Swarovski version, drinking your joe from one of these mugs won't make your coffee taste any better. Stick with a cheaper alternative that insulates and carries your caffeinated goodness just as effectively.
Related: 16 Holiday Shopping Tips from Top Couponing Experts
This article originally appeared on GOBankingRates.com