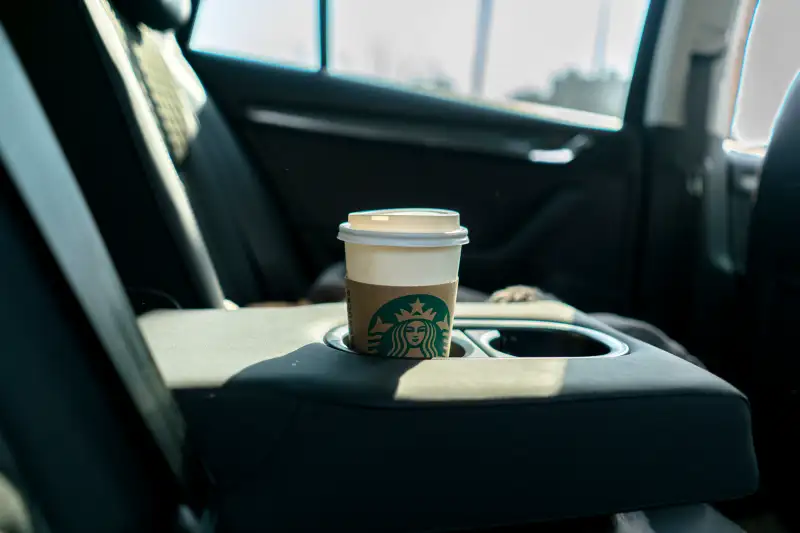 Zhang Peng—LightRocket via Getty Images
Starbucks offers plenty of healthy drinks and foods. (I've written about the healthiest beverages for Health—even hot cocoa made the list!) But there are also lots of decadent options on the menu. Here are six that may pack more calories or carbs than you expect, as well as better-for-you alternatives if you're looking to lighten up your order.
Sausage, Cheddar & Egg Breakfast Sandwich
While this sandwich does provide 15 grams of protein, it also packs 920 mg of sodium and 500 calories. A chunk of those calories come from 28 grams of fat, including 45% of the max recommended intake of saturated fat per day. The sandwich also provides just 1 gram of dietary fiber and 41 grams of carb, the equivalent of about three slices of bread. If you're an egg lover try the Egg White & Red Pepper Sous Vide Egg Bites instead. They clock in at 170 calories, with 13 grams each of protein and carbs, and 7 grams of fat, 5 as saturated fat.
Apple Fritter
It may contain some apple, but that scant bit of fruit is surrounded by a mound of refined flour, sugar, and fat. One of these fried goodies packs 460 calories, 56 grams of carb, including 22 grams of sugar (about five and a half teaspoons worth), and 23 grams of fat, including 55% of the recommended daily limit for saturated fat. I know it's not even close to the same thing, but for a healthier fruit-based snack or breakfast option, grab a banana and a pouch of Justin's almond butter. You'll save 170 calories and 24 grams of carbs, take in more nutrients, and bypass a sugar crash.
Cinnamon Roll Frappuccino® Blended Coffee
A grande made with whole milk topped with whipped cream will set you back 510 calories. With just 5 grams of protein the majority of those calories come from carbs, with a whopping 87 grams per serving, 85 of which come from sugar (over 21 teaspoons worth). Of the drink's 16 grams of fat, 10 are saturated, 50% of the daily advised cap. Switching to nonfat milk saves just 20 calories and doesn't slash the sugar content one bit. If you need a sweet fix in the a.m. along with your caffeine, pair a tall almond milk latte with a Barnana pouch, which you'll find with the packaged snacks.
Strawberry Smoothie
This blend contains strawberry puree, white grape juice concentrate, banana, and protein and fiber powders, along with ice and 2% milk. The 16 grams of protein and 7 grams of fiber (nearly a third of the daily target) are terrific, but at 300 calories and 60 grams of carb it's more of a meal than a beverage. Switching to almond milk saves just 10 calories and only bumps the sugar down one gram to 40. While it's certainly not the least healthy item on the menu, combining it with a panini can result in an 840 calorie lunch, about half a day's worth for many women. Order this as a meal substitute if needed on more active days, when you can afford the higher carb intake. Otherwise consider picking up a cup of seasonal fresh fruit for 90 calories and 24 grams of carb.
Venti Sweet Tea
I've had some clients tell me they pick up this jumbo-sized drink at lunch to help them get through the afternoon. The thinking is the sugar and caffeine combo will boost energy, and serve as a healthier option than soda. Trouble is you're mindlessly sipping 39 grams of sugar, the same amount in a 12-ounce can of cola. That's nearly 10 teaspoons worth, or the amount in 30 gummy bears—well over the American Heart Association's recommended maximum of 6 teaspoons of added sugar per day. For a better boost go for an unsweetened iced green tea, and spend your calories on an energizing whole foods afternoon snack, like an apple and whole almonds.
White Chocolate Mocha
It's probably no surprise that this hot coffee concoction is calorific, but did you know it's also a serious sugar bomb? A grande made with 2% milk contains 430 calories, 16 grams of fat with 12 grams as saturated fat (60% of the recommended daily limit), and 55 grams of carbs, 53 of which are sugar–over 13 teaspoons worth, or the equivalent of about five Tootsie Pops. For a healthier chocolate-caffeine combo, sip an almond milk latte while enjoying a few squares of dark chocolate.
Cynthia Sass, MPH, RD, is Health's contributing nutrition editor, a New York Times best-selling author, and a consultant for the New York Yankees and Brooklyn Nets.