How to Stay Calm in a Rollercoaster Market
Money is not a client of any investment adviser featured on this page. The information provided on this page is for educational purposes only and is not intended as investment advice. Money does not offer advisory services.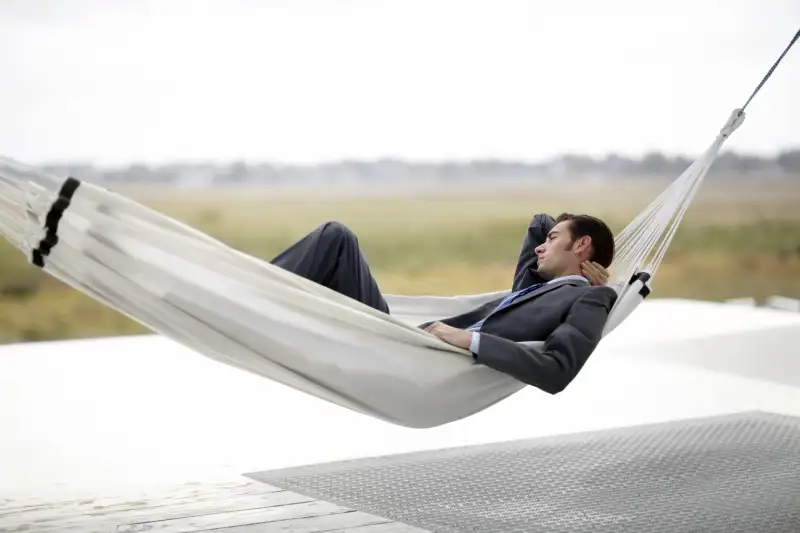 PeopleImages.com—Getty Images
Market swings are top-of-mind for people who still can't relax, five years after the 2008-2009 stock market meltdown. Investors worry that the five-year bull market in stocks could suddenly turn.
Clients of financial advisers worry about market swings even more than they fear running out of money in retirement, according to a Russell Investments survey.
The reason? Many investors can't erase memories of 2008, said Scott E. Couto, president of Fidelity Financial Advisor Solutions. The Dow Jones Industrial Average dropped 54% between October 2007 and March 2009. After that dive, the market has risen 133% from March 9, 2009 to Sept. 29, 2014.
"Losing hurts worse than winning feels good," Couto said. Many older investors are particularly cautious because they are taking retirement distributions, or will need to do so soon.
Relaxation Strategies
Advisers can ease clients' fears by describing market swings in a long-term context, Couto said. For example, advisers can share statistics with clients to show how long it typically takes for markets to rebound after a downturn, and how stocks have yielded decent long-term returns, despite fluctuations.
Other strategies include holding the equivalent of a "Back to School" night for advisers to tell clients what to expect for the year, said John Anderson, a consultant for SEI Advisor Network in Oaks, Pa., who counsels advisers on running their practices.
Advisers can also prepare clients for future risk, Anderson said. For example, advisers could show estimates of how much money clients would lose if the S&P 500 stock index dropped 20%, 30%, or 40%. That could prompt clients to switch to less volatile investments or at least assess their risks.
That type of groundwork is part of every first meeting with new clients for Robert Schmansky, a financial advisor in Livonia, Mich. Most clients, as a result, never ask about market fluctuations, Schmansky said.
Schmansky's strategy uses stocks to maximize growth, while balancing portfolios with less volatile assets such as Treasury Inflation-Protected Securities (TIPS) and short-term bonds.
The approach eases clients' minds because they know that part of their portfolio is safe from market swings and always available for income, he said.
Such strategies have grown more popular since the 2008 crisis, said Couto. Some advisers now pitch "outcome-oriented" investing that focuses on clients' objectives, such as having a certain dollar amount for retirement or putting kids through college, instead of returns. The adviser may speak of dividing assets into "buckets," each designed for certain objectives, such as achieving growth, hedging against inflation, or preserving capital.
Some advisers go even broader when adding investments to clients' portfolios. They may include commodities, such as gold or timber, which could move in a different direction from stocks, or market-neutral funds that claim to do well regardless of the direction of the market. Couto cautions, though, that the risks and fees associated with some such strategies may overwhelm the benefits.
He suggests advisers build stability into portfolios by adding less-volatile bonds, shares of dividend-paying companies and quality big companies with market values over $5 billion.
More importantly, having conversations about risk and volatility can separate the great advisers from the average ones, says Couto. "One of the best things advisers can do is help clients understand their long term objectivesand stay focused on their 'personal economy,'" he says.