8 Reasons to Stay Calm When the Market Tanks
Money is not a client of any investment adviser featured on this page. The information provided on this page is for educational purposes only and is not intended as investment advice. Money does not offer advisory services.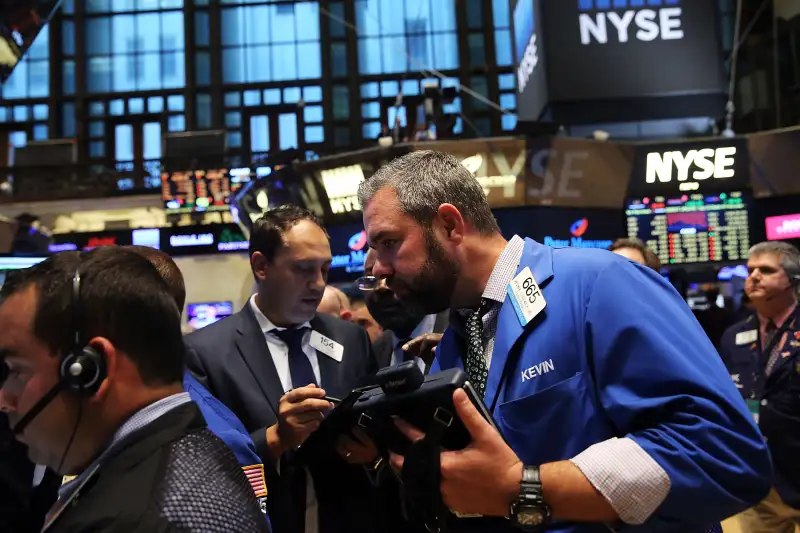 Spencer Platt—Getty Images
The month of August was no fun for investors, as news from a slowdown in the Chinese economy caused the U.S. stock market to have several of its worst days in years.
It seems likely now that 2015 will be a mediocre year at best for anyone who invested in stocks. But the stock market does take a tumble from time to time, so it's important to remember these reasons why you should not freak out when it does.
1. It Always Goes Back Up
If you're upset to see the market drop, you should be encouraged to know that it always has risen back up to new heights. In fact, almost every down year of the S&P 500 has been followed by a year with better-than-average returns, according to data compiled by NYU's Stern School of Business. A 3% decline in the S&P in 1990 was followed by a 30% rise in 1991. A 24% drop in 1974 was followed by a 37% rise in 1975, and another 23% rise in 1976.
And what happened after the market tanked in 2008 and 2009? Well, it took a while, but all losses from that drop would have been regained by 2012, and the market continued to rise for three more years after that. If you panic and sell when the market drops, you miss out on these gains.
2. Most Market Corrections Aren't That Bad
There's no doubt that some market crashes cause a lot of pain. But not all drops in the market resemble those of 2008-09 or the Great Depression. An examination of the top 20 one-day losses by percentage of the Dow Jones Industrial Average shows that nearly all took place around the financial crisis of the last decade, the Great Depression, or immediately after the market re-opened a week after the terrorist attacks of September 11. In other words, the big and painful drops only come around once in a generation or so. The rest are relatively modest and manageable dips.
3. It's Bargain Time!
Haven't you ever wanted to buy some shares of Apple, but didn't have the cash? Well now is your chance! Usually, when the market takes a dive, it's a chance to buy shares of some very solid companies at a great value. If a company's fundamentals are strong, you should not be wary of investing in that company simply because the broader stock market is down. Lower prices equal an opportunity for profits. (Note: At the time of this writing, Apple is trading about 18% off its 52-week high.)
4. Corrections Are Often Healthy
Big drops like the one we saw in 2008 can sometimes be the result of a major problem in the financial sector. But usually, the market dip comes because valuations of companies were out of line with earnings. When the market is "fully valued," it's hard for investors to find reasonable prices for stocks, and new investors are reluctant to enter the market. Any drop of less than 10% is seen as healthy under these circumstances, and it can help avoid a much larger and painful crash later.
5. You've Planned for It
If you're close to retirement, you likely already adjusted your portfolio to more conservative investments including bonds and cash. If you have many years before you retire, then you have plenty of time to make up losses and can benefit from buying low now. Don't stress. These types of market downturns were all factored in when you started investing.
6. The U.S. Economy Is Still Healthy
The stock market and the economy are two different things. Sometimes, the stock market will struggle due to underlying economic problems in America, but often a market dip is related to broader global issues, or even a bad news event. Consider that the most recent market correction took place at a time when the unemployment rate is at its lowest rate in seven years.
7. Bonds Prices May Go Up
When stock prices go down, bond prices usually rise. And this is good for bondholders who may be looking to cash out. Higher stock prices do hurt bond yields, but this is not an issue for current bondholders who have interest rates locked in.
8. It's an Opportunity for Tax Loss Harvesting
If you sold some stock earlier in the year and were expecting to pay some capital gains tax, there may be a chance to offset those gains by selling some securities at a loss. It's not always a great idea to sell stocks if you think they'll rise again, but this is one strategy to avoid too much tax.
More From Wise Bread:
Save Your Retirement by Avoiding These 10 Risky Investments
11 Investment Mistakes We All Make
158 Free Investment Classes From Morningstar: Earn Rewards While You Learn