Emerging Market Worries Prompt Wall St. Selloff, But Bulls Remain
Money is not a client of any investment adviser featured on this page. The information provided on this page is for educational purposes only and is not intended as investment advice. Money does not offer advisory services.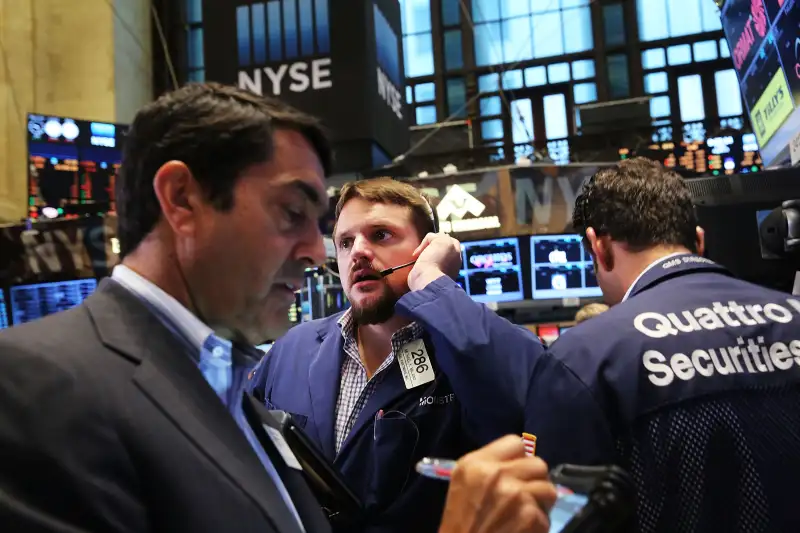 Spencer Platt—Getty Images
The steep selloff that pushed down the benchmark Standard & Poor's 500 index 5% over three days may say more about the outlook for emerging markets than U.S. companies in the fourth quarter, fund managers and analysts say.
China's economic slowdown, recessions in Latin American countries such as Brazil and Chile, and a breakdown in commodity prices - combined with a thinly-traded market as many investors become more focused on tide charts than trading terminals - are prompting traders to overlook improving U.S. economic data, said Alan Gayle, portfolio manager at RidgeWorth Investments.
"There's a great deal of nervousness around the weakness in China, and that's overshadowing the fact that the U.S. economy is sound and the European Union economy is firming," he said.
Sales of existing U.S. homes rose in July to their highest level since 2007. U.S. auto sales, meanwhile, are on track for their best year in a decade.
Attention will return to those domestic metrics as the Federal Reserve begins its annual meeting in Jackson Hole, Wyoming, next week. Investors will be looking for any signs that the central bank is increasingly worried about global issues or whether it is going ahead with what had been a widely-expected interest rate hike in September.
The Fed has said its decision to raise rates will depend on data such as an improving jobs market and housing market. Should the Fed signal that it plans to raise rates, investor sentiment towards the United States and emerging markets may further diverge.
Minutes released Wednesday of the central bank's most recent meeting revealed Fed officials were concerned about "recent decreases in oil prices and the possibility of adverse spillovers from slower economic growth in China," a detail which helped spark the selling.
At the same time, North Korea put its troops on war footing Friday after South Korea rejected an ultimatum to halt anti-Pyongyang broadcasts. The prospect of war, or signs of more global worries, could further dampen U.S. stocks in the week ahead.
The slowdown in China and other emerging markets such as Brazil is hurting commodity-related companies, but it is not enough to affect either 2015 or 2016 earnings estimates for the S&P 500 as a whole, said Gina Martin Adams, equity strategist at Wells Fargo. Second-quarter earnings rose 0.1% from a year earlier, an improvement from the expected decline of 3.4%.
Low energy costs should benefit consumer discretionary companies, which Martin Adams expects to grow earnings by 12% for the year, up from her previous forecast of 8%.
Mutual fund managers are also making bets on U.S. companies that get the majority of their revenues from the domestic market. The average large-cap fund is overweight in U.S.-focused companies, including JPMorgan Chase & Co, railroad Union Pacific,, American Express, and Comcast, according to research by Goldman Sachs.
Martin Adams estimates the S&P 500 will reach 2,222 over the next 12 months, an 11% gain from the 1,997 the index reached on midday Friday, after commodity prices bottom and earnings improve.
"The direction of the market is ultimately higher," she said.