Why Paying for a Storage Unit Is Almost Always a Terrible Idea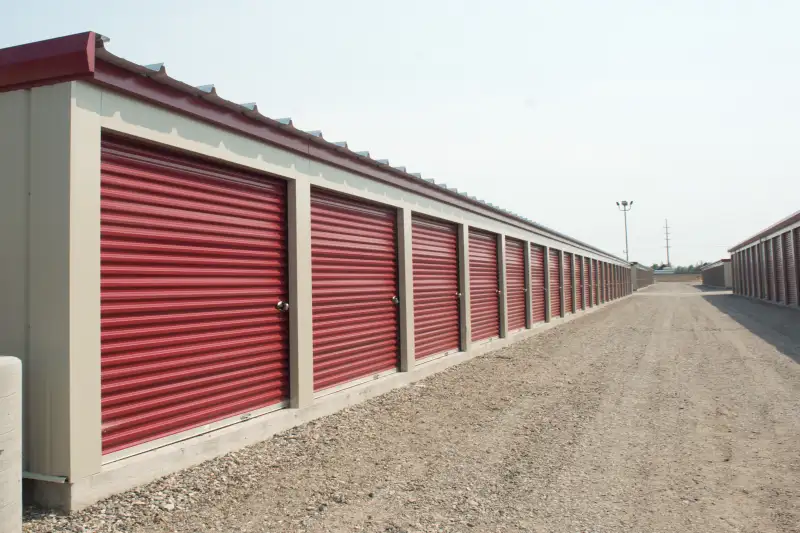 dina2001—Getty Images/iStockphoto
The comfort of consumption can push people to accumulate so much stuff that the median 2,500-square-foot U.S. home can no longer accommodate the stacks of books and DVDs, specialty kitchen appliances and IKEA furniture that has been amassed. Paying for storage facilities might seem like an easy solution when you're in dire need of short-term space.
But, typically, storage units aren't worth it. You should stop spending money on stuff you don't actually need.
Self-Storage Unit Prices
The common misconception is that by storing old furniture, clothing and other belongings, you can relieve your savings account by not having to repurchase these items when — or even if — you need them in the future. Unlike storing extra belongings in your home's attic or garage, though, keeping units at storage facilities costs you extra money.
The storage unit price is determined based on a few factors, including:
Size of the unit
Location of the storage facility
Other special features such as climate control and an indoor unit versus an outdoor unit
The average national storage unit costs are:
$40-$50 per month for a 5-by-5-foot unit
$75-$140 per month for a 10-by-15-foot unit
$115-$150 per month for a climate-controlled 10-by-15-foot unit
$95-$155 per month for a 10-by-20-foot unit
$170-$180 per month for a climate-controlled 10-by-20-foot unit
$225 per month for a 20-by-20-foot unit
These expenses combined are the equivalent of a car payment or monthly grocery bill for many households, which would offset any savings you might recoup by hanging onto this stuff in the first place.
Read: How to Turn Your Hobby Into a Business
Common Justifications for Using Storage Facilities
You might opt for paid self-storage units for a number of reasons. Ultimately, however, you pay for the convenience of being able to put years' worth of purchases into a dark hole. The scenarios under which you'd be compelled to endure high storage unit prices might vary, but they usually fall into the following categories.
1. I'm too attached to my stuff.
For some people, getting rid of things is difficult. A person who can't let go of things that others deem useless, such as old magazines or even newspaper flyers, might find it necessary to rent self-storage facilities in order to house all this stuff. This kind of attachment could be an indication that there's a problem and the person in question might be a hoarder.
The American Psychiatric Association outlines two types of treatment that help people with a hoarding disorder: cognitive-behavioral therapy and medication. CBT works with people to help them get rid of things without feeling overwhelming anxiety or stress. This type of therapy teaches people how to be better at organizing, making decisions and relaxing. Medication might help some people relieve or improve symptoms.
Even if you're not a diagnosed hoarder, you should learn to let go of more things to make room in your life — and your wallet.
2. What if I need that stuff later?
If you've moved into a smaller home, but feel the need to keep the dining-room set that doesn't fit in your new abode "just in case," you've probably considered paying for extra storage space. Unfortunately, keeping that outdated dining set from 10 years ago can end up costing you quite a bit of cash. If you rent a 10×15 unit that's on the low end of the national average — so, about $75 per month — you're spending $900 per year on a unit. And that price doesn't include any other taxes or fees the facility charges.
Unless your downsize is temporary, it's time to make money off the furniture and other items that don't fit in your new home, instead of spending money on them. Try placing furniture at consignment shops; oftentimes they will pick up larger items from customers. Places like Goodwill and other thrift stores will be happy to take items you're no longer using. And you should be happy to finally have them out of your life so you can avoid paying to keep them in storage.
3. I don't have time to throw a yard sale.
Everyone has reasons for not getting to their to-do list. You'd rather go out with friends than do the laundry, or hit up that new restaurant instead of mowing the lawn. In the case of putting off that yard sale, it's time to shelf your reasons for procrastinating and get moving.
Imagine the cost of storing your 15-year-old drum kit, hardly used bikes, the old golf clubs and whatever other items you cleared out of your garage. It's easy to see how you're wasting money on things you don't want. After a few months, you're looking at hundreds of dollars in storage fees rather than hundreds of dollars in your pocket.
That's not even the worst scenario. If you forget to pay for your unit, your automatic debit payments are somehow canceled or there's just a mix-up with the facility, your things could end up in a storage unit auction.
Read: 7 Times Being Lazy Costs You Money
Before you move, set up a date for your yard sale and start planning. Put together a price list, complete with research on comparable items for sale on Craigslist. For expensive stuff, even if it's outdated, you'll want to know the value in today's market. Consumer Reports suggested that sellers treat their yard sales like actual shop owners treat their merchandise. Offer buy one, get one free deals, for example. You might be surprised how much money these space-hogging dust collectors can make at a well-planned yard sale.
Another option is to list the items on eBay, Craigslist or a neighborhood community board. Even social media sites, like Facebook, have "For Sale" groups that members can join based on area or neighborhood.
Read: 20 Hidden Sources of Income Lying Around Your House
4. I'm too busy to get rid of my things.
By leaving your belongings in a storage unit indefinitely, you're wasting money month after month. Rates can rise or fall dramatically depending on your ZIP code, even a small unit can cost $100 or more per month. As the years go by, this unit can turn into a devastating financial loss.
Before more time passes, try making a plan. Whether it's setting aside a weekend to sort out your things or accepting that there might not be a place for some of your property and it's time to donate it, give it to a family member or sell it — action will yield savings and probably some relief, too. You just have to make time for it.
Feeling ill-equipped to perform a certain task is one reason people procrastinate, according to Psychology Today. Therefore, if you are finding it hard to imagine how you're going to get rid of a unit's worth of stuff — perhaps all by yourself — then it's easy to understand why you might want to put it off. It's overwhelming.
The solution is to just dive in and do it. You can use a cognitive coping self-statement, sort of like "The Little Engine That Could." Try giving yourself a pep talk in the vein of "I think I can." Positive affirmations like this can help take the fear out of the task and eliminate your need to procrastinate — and spend unnecessary money on storage fees.
This article originally appeared on GoBankingRates.