Don't Make This Huge Mistake With Store Credit Cards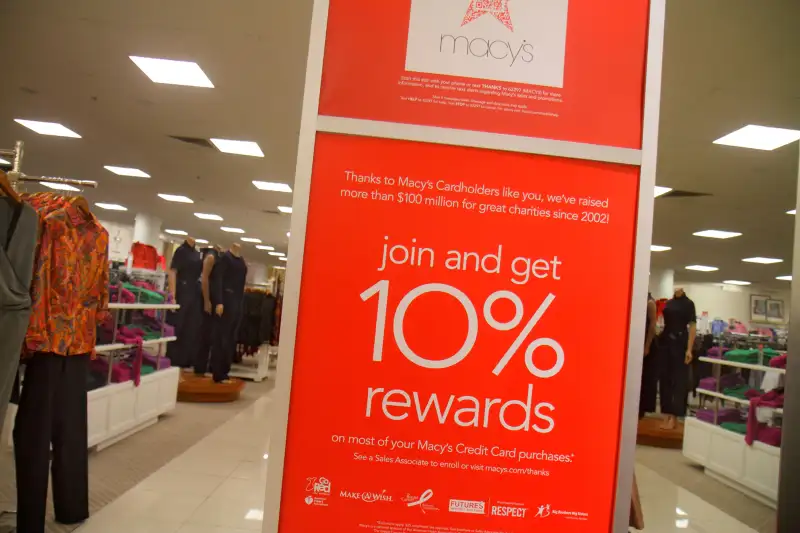 Rosa Irene Betancourt—Alamy
As the holiday shopping season nears, so also does the blitz of 0% financing offers stores will start rolling out as inducements to open retailer-branded credit cards. But before you sign on the dotted line, take a careful look at the fine print: A new study finds that there could be a potentially pricey catch to those promotions.
The website CardHub.com took a look at a practice called deferred interest. It's common, and it can be costly. While most regular credit cards that offer 0% interest promotional periods just start charging you the regular interest rate on any remaining balance you don't pay off before the teaser period ends, deferred interest cards are what CardHub's report calls "a wolf in a sheep's clothing" because they charge interest retroactively on the entire amount from the initial date of purchase.
Sound confusing? That's what the issuers are banking on — that people won't understand what they're getting into until they get stuck with a monster bill. Here's an example: Say you open a regular credit card with a 0% APR promotional period that lasts for 12 months and make a $1,000 purchase on it. If, at the end of those 12 months, you still have $50 to pay off, you'll start getting charged interest on that $50 at the regular purchase rate. Now let's say you opened a credit card with a 0% teaser rate and deferred interest for 12 months, made that same initial $1,000 purchase and had $50 left to pay off at the end of the promotional period.
Here's the difference, and it's a doozy: In this second case, you'd owe interest at the regular, non-promotional APR on the entire $1,000 you initially financed. In many cases, making a payment as little as a day late can also trigger all that retroactive interest coming due.
Read Next: 11 Store Credit Cards Not to Sign Up For
As if that wasn't enough of a bite, the store credit cards that tend to offer these tricky terms often have APRs that are much higher than ordinary general-purpose credit cards. Another recent study, this one conducted by CreditCards.com, found non-penalty rates ranging from roughly 27% to 29% at stores in categories ranging from toys to jewelry to sporting goods. (The top offender? Jewelry chain Zales, with a 28.99% interest rate.)
In its study, CardHub looked at nearly 50 different credit card offerings from major retailers, including Costco, Sears, and Amazon, to find out who offers these deferred-interest promotions, how upfront they are about explaining exactly how much you'll be on the hook for if you still have an unpaid balance at the end of the promotional period, and what — if any — other penalties can trigger the requirement that a cardholder pay retroactive interest.
Among the 49 retailers it studied, CardHub found that roughly three-quarters offer financing of some kind. Of those, nearly half have deferred interest plans. This is actually a bit of an improvement, says CardHub analyst Jill Gonzalez. Last year, about 60% of the retailers that offered financing had deferred interest.
Gonzalez attributes the shift to aggressive promotional offers issuers are rolling out for regular, non-store-branded cards. "We've seen a lot of these 0% APR plans on regular credit cards really stretch out," she says. "Some consumers have made that switch."
There are 15 stores that offer financing but don't tack on a deferred interest stipulation. An additional five retailers — GameStop, Victoria's Secret, Macy's, Meijer and AAFES Army & Air Force Exchange Service — don't have this clause but reserve the right to do so or, in the case of Macy's, have offered it in previous years.
For the stores that have deferred financing plans, CardHub found wide variations in how well they explain it. The good news is that, overall, companies have gotten more transparent. But a number of big retailers, including Apple and True Value, provide very little information about how their plans work and what they cost. And like CreditCards.com, CardHub also found that the regular interest rates many of these store cards charge are very high. Just over half had APRs or rate ranges that hovered around 25% or even higher.
If you think you want to finance your holiday spending (and if you're completely, totally sure you can pay off the balance before the promotional period expires), plan ahead and don't make the decision when you're already standing on line at the mall, Gonzalez says. "Instead of one of these co-branded or deferred payment cards, go with a regular credit card," she says.
Read Next: 3 Credit Myths That Can Cost You