How to Stretch Your Last $20 Until Your Next Paycheck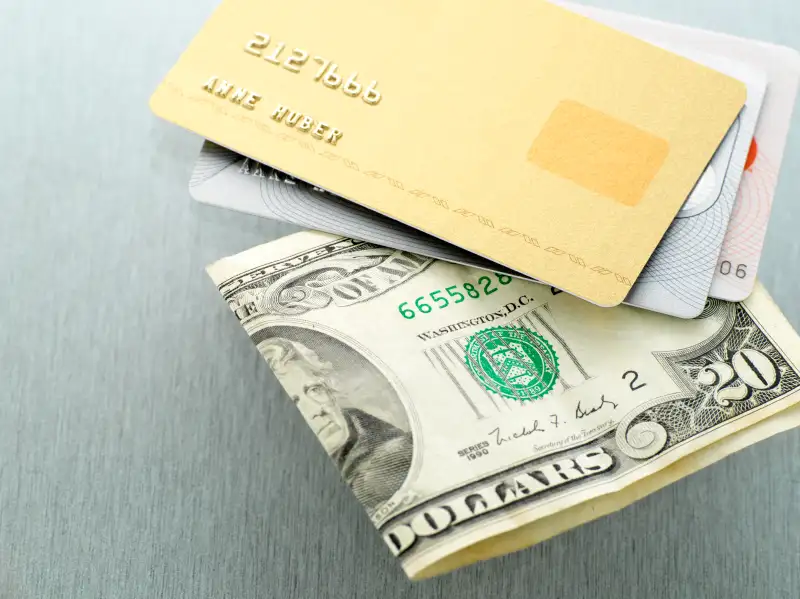 Image Source—Getty Images
Your next paycheck can't come soon enough. Unfortunately, it's not here yet and you need to stretch your last $20 until then. If you're trying to make extreme cuts to your spending, whether you're low on funds or because you want to save even more, there are ways to spend almost no money on food, gas and other important expenditures.
There are several important steps you can take to help cut your expenses down to almost nothing until your next paycheck arrives. Instead of panicking, try to make cutting your spending a game by following these tips.
1. Focus on Fixed Expenses First
Before thinking about anything else, make a list of all of your fixed expense payments that are due before your next payday. That includes things like your mortgage, electric bill, gas bill, water bill and any minimum payments on debt, such as credit card debt or student loans. If any are due before payday, focus on using your $20 here, or make arrangements with your creditor.
Some utility bills allow flexible payment dates. If possible, log into your account and move your payment date until after your next paycheck. Or consider calling your creditor and arrange for a little extra time to pay. If you typically pay on time, they might be willing to grant you one-time flexibility.
For bills that only require a minimum payment, consider making the minimum payment if that helps you stretch your last $20. If you do miss a payment or are late, be aware this can negatively impact your credit score.
Furthermore, late fees on utility bills can be anywhere from 10 to 15 percent of the bill, according to U.S. News and World Report. As an example, avoiding a late fee on a $50 electric bill can save you $5 to $7.50.
Read More: 15 Ways to Save $5 a Day
2. Avoid Paying at the Pump
Pretend that whatever gasoline is left in your gas tank must last until your next paycheck. This means avoiding any unnecessary trips or scenic rides. Perhaps you can even negotiate to work a day or two from home this week to avoid using gasoline to drive to work — or arrange to join a carpool.
If you have to go to the drugstore or grocery store, try to do so on foot or by bike so you don't spend any more money on gasoline. For every 25 miles you walk or bike, you save about $2.
3. Use Coupons Before Paying Full Price
If you absolutely must purchase an item before your next paycheck, use a coupon on top of a sale price to save the most money possible. Check out a printable coupon website, such as Coupons.com, before heading out the door.
It takes only a minute or two to print a coupon that could save you 25 cents or more. Pair that coupon with a sale by using an app, such as Favado, to find out what store has the item you need already on sale.
Read More: 7 Strategies for Growing Your Savings Account to $1 Million
4. Meal Plan Using the Pantry
In order to get your last $20 to make it to payday, try to avoid buying groceries entirely. Instead, raid the pantry and get creative. If you don't have all the ingredients for a recipe, be open to substituting ingredients and putting your own spin on things.
In addition to saving money, by using ingredients you already have, you'll whittle down the pantry and use up food that might be nearing expiration. There are plenty of meals that can be made on the cheap, such as "one-pot meals" for less than $10. They make multiple servings, and leftovers will help you cut your spending until it's payday again — when you can buy more food.
Read More: 16 Money-Savings Apps for 2016
5. Use the Library for Free Entertainment
Although going to the movie theater might be out of the question right now, there are ways to find entertainment for next to nothing. One of those outlets is the public library.
Rent movies on DVD and have a movie night at home. Pass the time until payday by reading a book, listening to music on a CD or skimming magazines. If you walk or bike to the library, you will spend absolutely nothing besides a little bit of your time.
6. Look for Free Items Online
Maybe your microwave or coffee maker died — something that maybe isn't a necessity, but it improves your quality of life in an immeasurable way — but you can't afford to buy one at the moment. Consider looking for it under the free section on Craigslist. There's a good chance someone is giving away the item you want or need. You might even be able to talk them into delivering it to you for free, or for a bartered item.
7. Get Creative With Social Commitments
Invites to a game, to the local watering hole or out to dinner can endanger your plans to stretch that last $20. Instead of saying no, or admitting to your friends you are almost broke or saving aggressively, reschedule the commitments for another time when your funds are more readily available.
Other options include saying yes to a commitment, but changing your role. Maybe instead of going to dinner and a game, eat at home and meet your friends at the ballpark. You could save $20 alone on the meal itself. Also consider suggesting a potluck dinner at your home, or inviting friends over for something less expensive, like coffee on the house — your house.
This article originally appeared on GoBankingRates.