New Student Loan Relief Plan Leaves Many Out in the Cold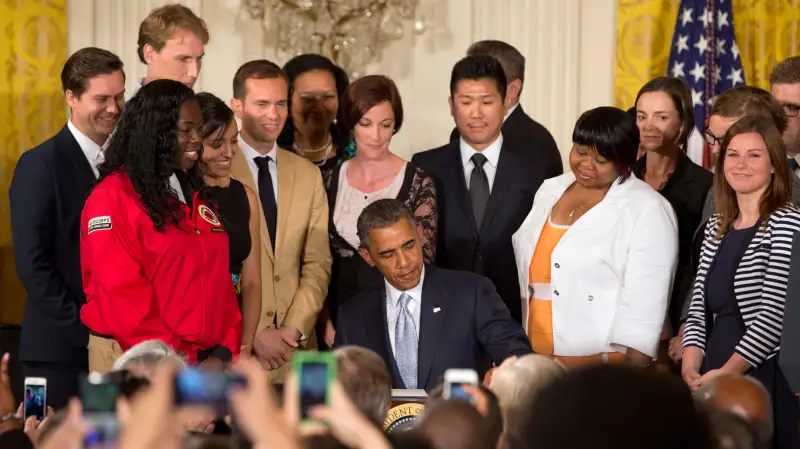 President Barack Obama's expansion of an income-based repayment program offers additional help for millions of Americans struggling with federal student loan debt. Some of the most burdened borrowers, however, will get little if any relief, financial aid experts said.
Private student loans and parent PLUS loans are not eligible for income-based options, and borrowers with huge debt loads can be shut out if their incomes are too high.
"You could really be struggling and still not qualify for one of these programs," said Deanne Loonin, director of the National Consumer Law Center's Student Loan Borrower Assistance Project.
Obama's executive order extends the Pay as You Earn repayment program to about 5 million more borrowers with older loans.
Pay As You Earn caps payments at 10% of the borrower's discretionary income, which is defined as the amount exceeding 150% of the poverty level for the household. The program is currently only available to those who were new borrowers as of Oct. 1, 2007, and who received a federal loan disbursement after Oct. 1, 2011.
The expansion to borrowers with older loans is expected by the end of 2015.
Those borrowers are currently eligible for another, older program called Income Based Repayment, or IBR. This program caps payments at 15% of discretionary income. Borrowers with public service jobs can have their remaining balances forgiven after 10 years, while those in other jobs are eligible for forgiveness after 25 years.
Pay As You Earn has the same 10-year requirement for public service jobs but allows forgiveness after 20 years for other jobs.
A third, less-generous option, the Income-Contingent Plan, is available for federal loan borrowers who do not qualify for the other two plans, including parents who shifted their PLUS loans into a direct consolidation loan on or after July 1, 2006. Payments are capped at 20% of discretionary income with forgiveness after 25 years.
In 2012-13, about 700,000 families borrowed nearly $10 billion under the parent PLUS program, which has minimal credit requirements, no underwriting to determine the borrower's ability to repay the debt and no cap on borrowing. Parents can borrow the full cost of a child's education, while the student's federal student loan borrowing is typically limited to $31,000 for an undergraduate degree.
Some students and parents turn to private loans to supplement or even replace federal loans. About $6.2 billion was disbursed in private student loans in 2012-13. Unlike federal loans, private student loans typically have variable interest rates and few repayment options.
Both types of loans allow borrowers to take on far more debt than they can comfortably repay, said Reyna Gobel, author of the book CliffsNotes Graduation Debt: How to Manage Student Loans and Live Your Life.
"Private loans can be a huge problem, depending on how much you owe," Gobel said.
Student loan debt has topped $1 trillion, with an average of $33,400 for a bachelor's degree recipient, said Mark Kantrowitz, publisher of Edvisors Network, an education and financial aid site.
With federal and state support of post-secondary education dwindling, students and their families are footing a bigger portion of college bills. As a result, 29% of young American adults, ages 22 to 33, say their biggest concern after covering day-to-day bills is paying off student loans, according to a survey to be released Tuesday by Wells Fargo & Co.
Divided Congress
In the press conference announcing the Pay As You Earn expansion, Obama endorsed a bill by Democratic Senator Elizabeth Warren of Massachusetts that would allow borrowers to refinance both federal and private loans into lower-cost debt. The bill's prospects are uncertain in a deeply divided Congress.
Obama also addressed persistent concerns that not enough borrowers know about their options and default unnecessarily. The president says he has asked the Treasury and Education departments to work with the two largest tax preparation firms, TurboTax creator Intuit Inc and H&R Block, to let borrowers know about their options during tax filing season.
In addition, Obama said the U.S. Department of Education would renegotiate its contracts with the private companies that service federal student loans. The object, according to a White House press release, is to strengthen financial incentives to help borrowers pay on time and lower their payments.
Servicers giving insufficient or inaccurate advice to struggling borrowers have contributed to delinquencies and defaults, the National Consumer Law Center's Loonin said.
"It's a huge problem," Loonin said. "Servicers are steering people to less optimal options, like forbearance, or giving inaccurate information, or making mistakes when people apply."
Reducing people's payments can help people cope with burdensome loans but does nothing to address the conditions that lead them to take on too much debt. Indeed, 47% of younger Americans are allocating half or more of their paychecks to pay off student loan, credit card, mortgage, medical and auto debt, the Wells Fargo survey says.
That is one reason why Edvisors' Kantrowitz would like to see Congress increase the availability of educational grants to students since they do not have to be paid back.
"The real problem is the amount of debt," Kantrowitz says, "not the cost of the debt."