How to Find TV Deals Before the Super Bowl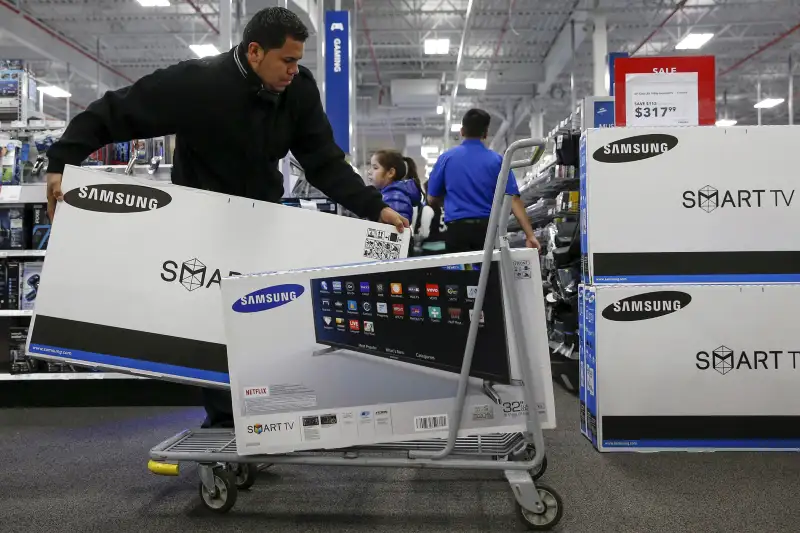 Shannon Stapleton—Reuters
When the Carolina Panthers face the Denver Broncos at Super Bowl 50 at Levi's Stadium on Sunday, February 7, it'll be a classic contest of experience (Peyton Manning) versus youth (Cam Newton). Until then, any football fan shopping for a new TV will witness another kind of play-making, as retailers try to promote great prices without encroaching on a prized NFL trademark. Go looking for "Super Bowl TV" deals and you'll come up as short as the Cleveland Browns' red zone offense this season. Instead, try shopping for a "Big Game TV."
That's because retail ads and promotions can't legally use the phrase "Super Bowl"—or even "Super Sunday"—unless the TV maker has shelled out a ton of money to the NFL. Once again, no TV manufacturer ponied up the cash to be the "official" TV of the NFL thus year. Since the league has no interest in joining the makers of aspirin, escalators, and yo-yos, whose once valuable trademarks gradually became genericized, it vigorously polices the use of these phrases. As a result, TV retailers have to be very creative about advertising a Super Bowl TV deal without using the words "Super" and "Bowl" together.
Read More: Best cars for making it to 200,000 miles
That's why over the next few days you'll see numerous ads announcing "super" sales in time for "The Big Game," but surprisingly very few that specifically tout a Super Bowl TV deal.
Walmart, for example is advertising that it's "Game Time," with expedited shipping that will get you a TV in time for "the Big Game." Best Buy says you can "Bring Home the Big Win" with its top "Big Game" TV sales. Crutchfield tells you to "Get Your New TV in Time for Game Day." Amazon has an "Ultra Game Plan" for getting a TV for the "Big Game." But no "Super Bowl TV deal."
Read More: The most reliable laptops
Even regional retailer H.H. Gregg, which in the past has flouted the NFL's Super Bowl advertising restrictions, is this year hewing to a more conservative approach, holding a "Super" sale, with special savings for those who enter the promotional code PLAYOFFS.
As we get closer to the actual game, we'll be looking for other retailers to adopt even more creative end-arounds to help promote football-oriented TV sales without violating the NFL's trademarks. Let us know in the comments section (below) whether you see any.
Read More: 12 hospitals you might want to avoid
And if you do plan on catching the big game at home this year, make sure you check out our Super Bowl 50 guide, where you can find everything from top TV deals to the tastiest treats you can serve to guests.
This article originally appeared on Consumer Reports. Consumer Reports has no relationship with any advertisers on this website.