How the Owner of the New England Patriots Made His Billions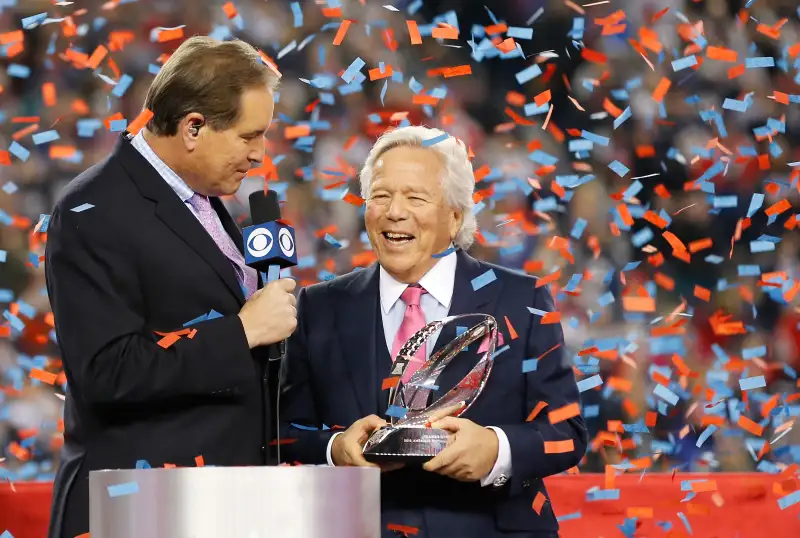 The New England Patriots are heading to the Super Bowl for the eighth time in 16 years.
The three constants behind that success are quarterback Tom Brady, coach Bill Belichick and owner Robert Kraft, whose net worth Bloomberg currently lists at $4.18 billion, making him the 501st richest person in the world.
Kraft's fortune was built in a seemingly less flashy fashion than other NFL owners'. According to the Patriots' website, he began his business career with Worcester, Mass.-based Rand-Whitney, a company that converted paper into packaging and containers for various products. Kraft would eventually buy that company out. In 1972, he founded International Forest Products, a paper goods merchant that now does business in more than 90 countries. Today, Kraft's private holding company, The Kraft Group, counts five different packaging companies under its umbrella, according to its website, and in 2016, IFP was the top U.S. packaging exporter in New England and ranked sixth in the U.S. according to trade magazine the Journal of Commerce.
The Kraft Group now also includes a real estate development team that has overseen more than $1 billion worth of projects, alongside approximately 100 different private equity investments according to CNBC. Forbes ranks The Kraft Group as the 90th-largest privately held firm in the country.
And, of course, there's the Patriots, which Kraft purchased in 1994 for a then-record $175 million. Today the Patriots are valued by Forbes at approximately $3.7 billion—the second-most-valuable team in the NFL behind the Dallas Cowboys.
In a commencement speech at Yeshiva University in 2016, Kraft, 76, said the key to his success was simple ambition.
"Think big. Make it a wildly improbable dream that motivates you, one that wakes you up in the morning ready to attack your day, to persevere and persist until you accomplish it," he told students. "Dream a big dream, a bold dream. Don't play conservatively between the 40 yard lines. Don't just play it safe."