Supreme Court Rejects Challenge to Seattle's Minimum Wage Law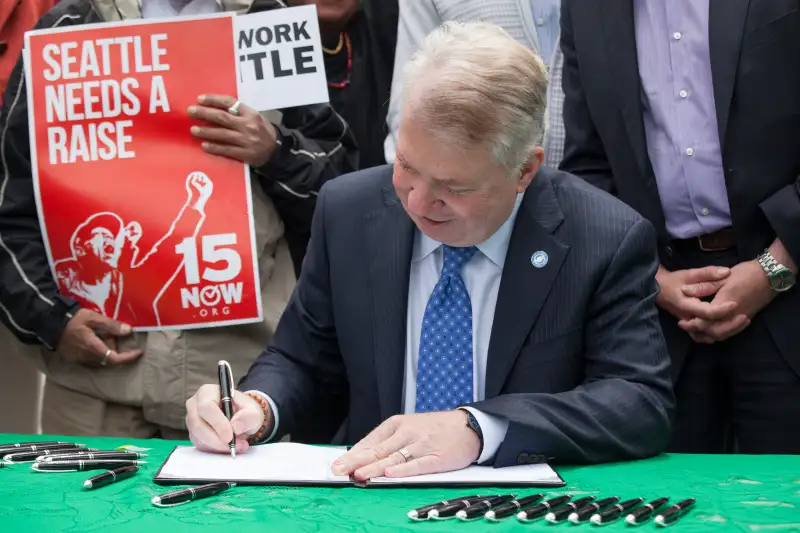 The U.S. Supreme Court on Monday declined to hear a challenge by business groups to a trendsetting Seattle law that will raise the city's minimum wage to $15 an hour, leaving in place a lower court's decision to uphold the statute.The law, which took effect in April 2015, requires businesses in Seattle with more than 500 employees nationwide to raise their minimum wage to $15 by 2018. Smaller companies have until 2021 to do so.
Seattle was the first major U.S. city to commit to such a high basic wage amid pressure from unions and workers' rights groups. The move has since been followed to varying degrees by cities such as San Francisco and Los Angeles as well as by state lawmakers in California and New York.
The International Franchise Association's 2014 lawsuit took issue with the Seattle law's treatment of local franchises as subsidiaries of brand parents such as McDonald's or Burger King rather than independent businesses, meaning they had to comply by the earlier deadline.
A federal judge in Seattle in March 2015 rejected claims that the ordinance was discriminatory, and the San Francisco-based 9th U.S. Circuit Court of Appeals last year agreed.
Seattle officials and the Service Employees International Union, which backed the city in the case, said franchises are not typical small businesses because franchising offers inherent advantages such as access to loans, brand recognition and bulk purchasing. But the franchise association countered that those perks come at a cost, namely royalties, fees and rent.
The case is International Franchise Association v. City of Seattle, U.S. Supreme Court, No. 15-958.