14 Smart Ways to Save Tons of Money at Target — Every Time You Shop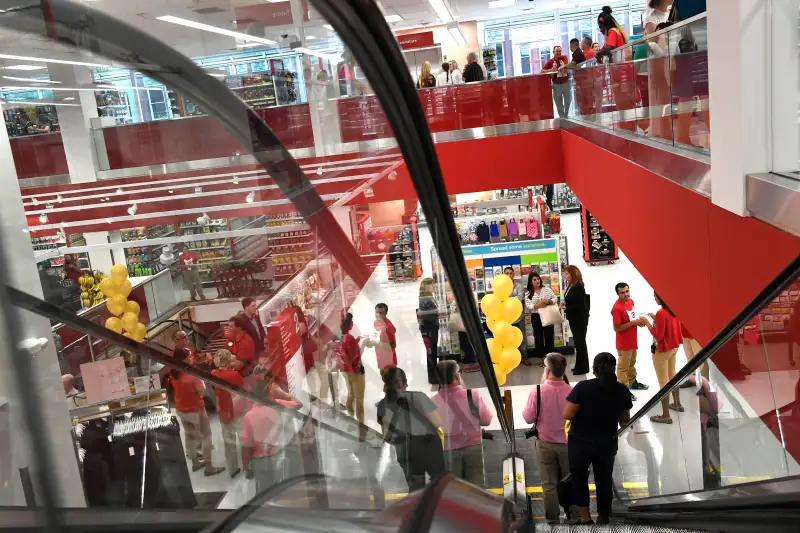 Helen H. Richardson—Denver Post via Getty Images
Attention Target shoppers: You may not be saving as much money as possible at your local Target store.
Target may have lost a bit of the chic "Tarjhay" reputation it once enjoyed, but it is still a go-to destination for shoppers seeking an optimal mix of style, quality, and decent prices. Everyone shops at Target, including celebrities: Beyonce, Jessica Alba, and Selena Gomez have been spotted on Target runs recently.
The problem with Target just might be that, what with the huge selection and generally low prices, it's too easy fill your shopping cart with items you never set out to buy. In fact, Target's social media team has made a habit of celebrating the fact that shoppers can't help themselves and wind up going overboard while perusing the store aisles.
Speaking of which, here's a shopping tip that will save you money at any store, but at Target in particular: Bring a shopping list, and stick to it. (Good luck!)
Here are some other ways to make sure you're getting the best deals and saving the most money possible shopping at Target.
Get a RedCard
Naturally, the best credit card for shoppers to use at Target is the store's own RedCard. It offers the simplest way to save — a flat 5% off nearly every Target purchase, in the store or online. You even get 5% off when you use a RedCard at Starbucks locations inside Target stores.
Portland Press Herald—Press Herald via Getty Images
There is no annual fee, and you get the 5% discount whether you elect for a debit RedCard or a credit card version. RedCards come with other perks too — like access to exclusive deals, an extra 30 days for returns, and free shipping on all orders (see below).
Just make sure that pay off your monthly balance in full if you have the credit card version of the Target RedCard. If you don't, whatever savings you might have achieved will probably be negated by interest payments and fees.
Take Advantage of Free Shipping
RedCard holders get free two-day shipping, with no minimum purchase required, for most purchases made at Target.com. It's an especially great deal if you prefer to make frequent small purchases online, as opposed to adding items into your virtual shopping cart to hit a minimum purchase threshold for free shipping.
It's also pretty easy for shoppers to get free shipping from Target without a RedCard. Nearly all Target.com orders of $35 or more come with free two-day shipping. What's more, during certain periods — namely, the winter holiday shopping season — Target has regularly offered free shipping and free returns to all online shoppers, including those who don't have RedCards, without a minimum purchase requirement.
Shop With Reusable Bags
Reusable bags are good for the environment. Shopping with them at Target saves you money too. Target will give you a 5-cent discount for every reusable bag you use at checkout, every time you shop. It's obviously not a huge savings, but the money can add up if you're a regular Target shopper — and it's totally free money in exchange for adopting a habit you should embrace anyway.
Helen H. Richardson—Denver Post via Getty Images
Check out Weekly Ads
It may seem old-fashioned, but Target's weekly sales brochure is still worth consulting to scope out the latest deals. New promotions are launched every Sunday, and you can check out the weekly ad online or in the store. Target will also send you a digital version of the weekly ad as soon as it's available if you sign up to receive marketing emails.
Weekly sales vary, but generally include a mix of discounts, coupons, and promotions — including free gift card bonuses with certain purchases. When we browsed the weekly ad in the middle of July, for instance, it was loaded with back-to-school deals, like 20% off backpacks and an 8-pack of pencils for $0.49 — half off the regular $0.99 price.
Download the Target App
For additional savings beyond what's in Target's weekly brochure, use the Target app, which incorporates the Cartwheel tool — regularly updated with limited-time deals (often 20% to 50% off) on select items. Just add the appropriate items to the app, and get your phone scanned at checkout for the discount to be applied.
Look for Other Coupons
Target also accepts manufacturer coupons, which you might get in the mail, online, or in the newspaper. Hang onto Target receipts too — they sometimes have coupons good for savings on future store visits.
And definitely look out for Target coupons in the mail; Target sends them out once every few weeks to regular customers, and they'll get your address in any number of ways — like when you sign up for a RedCard or e-mails, order anything online for delivery, or just make a credit card purchase.
Subscribe for Regular Orders
Instead of doing your regular Target run once a week — or even more often — you could sign up to receive regular deliveries of staples like toothpaste, coffee, laundry detergent, tea bags, or other goods. The Target Subscriptions program is similar to Amazon's "Subscribe & Save," and yes, you can actually save money shopping at Target this way.
When you sign up for Target Subscriptions, you'll get 5% off and free shipping on all orders. Then you'll get an extra 5% discount if you pay with a RedCard. New parents get an even sweeter deal: Register for Target baby subscriptions, with orders of diapers, formula, and such, and the discount rises again, for a total of 15% off.
Monitor Target's Special Sales Events
Occasionally throughout the year — and during the winter holiday season in particular — Target launches special across-the-board sales that amount to easy savings. On one Sunday last December, for example, Target offered 10% off all gift cards. Target has also been known to knock a flat 15% off all online purchases on Cyber Monday. And sometimes Target just decides to give 10% off everything in-store and online — say, on a random Sunday in August.
To make sure that you don't miss out on such sales promotions, sign up for weekly emails from Target, or follow Target on Twitter or Facebook. You can also read or follow the All Things Target blog, which obsessively covers the store and everything it sells.
Ask for a Price Match
Like many other major retailers, Target has a price matching policy. If, at the time of purchase, you find a lower price for an identical item at one of Target's online or brick-and-mortar competitors — there's an official list — Target will match the price at the register. If you've already made the purchase at Target but then find the item at a cheaper price elsewhere, Target will refund the difference.
There are a couple of caveats. Target will only refund the difference up to 14 days after the original purchase. Also, take note that the burden falls entirely upon the shopper to find lower prices and request a refund or a price match.
Here's the full list of competing online retailers Target will match on prices. It includes Amazon, Walmart, Costco, Best Buy, Wayfair, and Sears.
Buy Target's House Brands
Arguably the best way to save at Target is by buying the store's exclusive brands. These include clothing labels like Merona, Cherokee, and Champion's C9; food brands like Market Pantry, Archer Foods, and Simply Balanced; and the Room Essentials home goods line.
Target house brands generally boast solid quality. They are also frequently discounted during weekly promotions and are pretty inexpensive to begin with.
Register for Gifts
There are two reasons why you might want to create a gift registry at Target, for a baby shower, wedding, college, or just a basic wish list. The first is obvious: People will buy stuff for you. (That's how gift registries work.)
The second reason is that if people don't buy the items on your registry, Target will give you a 15% off coupon for buying everything that remains on the list.
Shop Clearance Sales in Stores, Albeit Carefully
Target regularly puts items on clearance sale, with special red-and-white price tags slapped over the original prices. But some clearance sale discounts are better than others, and it can be difficult to tell which offers are truly amazing deals.
The Internet is full of theories that supposedly reveal the secret codes behind Target price tags. The most widely proliferated one says that items with a price ending in .04 (like $4.34) is Target's absolute final and lowest clearance sale price. Another holds that Target clearance sale price tags have a tiny number in the upper right-hand corner, so that if you see a 30, 50, or 70 it means the item is 30%, 50%, or 70% off the original price, respectively.
Fact-checking sites like Snopes.com and Truth or Fiction say that these theories are not true — or at least that they're not always true in all stores. According to both Target shoppers and corporate spokespeople, Target's clearance sale discounting system and the coding on price tags can vary from store to store, sometimes with no apparent rhyme or reason.
Here's a better way to gauge how good Target's clearance sales are: Look at how many price tags have been placed on the item, and perhaps even peel them back to see how the discounts have been increased with each new price tag. You can also Google the item with your phone, to verify what the original price was — and perhaps see what other sellers are charging.
Shop Clearance Sales Online
You don't necessarily have to scour Target stores looking for clearance sections to find the best deals. You can also browse Target clearance sales online.
Like in-store clearance sales, the online version's selection is a bit random and heavy on items that are just past peak season. In mid-summer, we found loads of outdoor furniture deals, typically with discounts of 30% to 50% off. There always seem to be plenty of clearance sales on clothing at Target as well; if you think of it as a treasure hunt (and avoid getting frustrated by the limited selection), you can snag great deals.
One tip: Shoppers may get frustrated when they encounter items that appear in the online clearance section but aren't actually in stock and available for shipping. We found a Leapfrog Learning Tablet for kids at target.com at the clearance sale price of $47.49 (regular price: ($94.98), but it was out of stock online. You can switch gears at that point: Target lets you search the inventory of local stores, and will even tell you which aisle holds the clearance sale item you want.
Browse the Bullseye's Playground for Deals
Toward the front of most Target stores, there's an area called the Bullseye's Playground. This section, once known as the "One Spot" or the "Dollar Spot," has traditionally featured a mishmash of low-price impulse buys, similar to what shoppers find at the dollar store — in ways that are good (cheap prices) and bad (cheap stuff you don't need).
While some Target shoppers have characterized this section as a "wasteland of kiddie things like bargain stickers," others love the deals on home goods, trinkets, and toys. One good thing, if you'd rather not fish through the bins for truly good values, is that you can now browse through the Bullseye's Playground online.
We've included affiliate links into this article. Click here to learn what those are.