Tax Refund Season Is a Popular Time to Buy a Used Car — but Shoppers Will Have Trouble This Year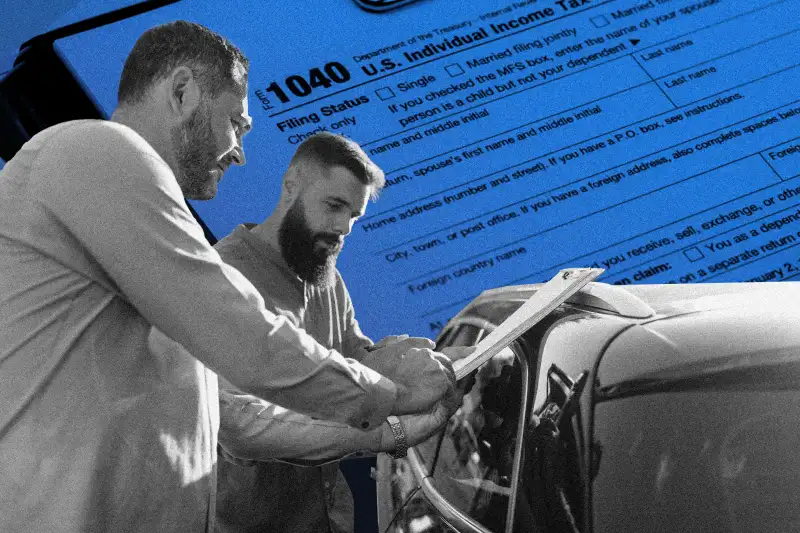 Eddie Lee / Money; Getty Images
Tax season is usually a peak period for buying used cars, but Americans who want to go car shopping with their refunds will find it more difficult this year.
Industry experts say the usual springtime bump in car buying could be smaller in 2023 because the average tax refund amount so far has been lower than it was last year, according to a Kelley Blue Book report.
Shoppers are also facing a tough market. The average auto loan rate for a used car purchase has moved into the double digits, while prices remain high and could rise again soon.
What experts say
Used car dealerships are already people shopping for vehicles and using their tax refunds to pay for them. But the average refund amount so far in 2023 has been $2,972, which is 11% less than last year.
Buyers might not be happy with the selection of used cars available for sale either. In 2023, the IRS has processed more tax refunds in the early part of the season. As taxpayers get money back, some are using it to buy cars, depleting inventory at dealerships.
With refunds coming in earlier than they did last year, tax season car shopping has gotten off to a quicker start, according to Cox Automotive, the parent company of Kelley Blue Book. Given that used supply is low, the market looks competitive right now.
"Used-vehicle sales have been up significantly, causing inventory to fall quickly in recent weeks and leaving dealers with especially tight inventories for the tax refund and spring selling season," Charlie Chesbrough, senior economist at Cox, said in the report.
Kelley Blue Book analysts say used car prices could be set to rise after new data showed that wholesale prices increased 1.8% in the first half of March. Those are the prices dealers pay at auction, and wholesale trends can indicate what's next for retail prices
Used car buyers are in a nightmarish situation for getting loans. Edmunds says the average loan rate is 11.3%, up from 7.8% a year ago, while Cox reports that the average used loan rate is 14%. These rates will likely rise even more after the Fed announced a 25 basis point interest rate hike Wednesday, according to Cox.
As a result of higher loan rates, the average monthly payment for a used vehicle purchase increased slightly last month, rising from $546 in January to $551 in February, Edmunds reports. Meanwhile, the average price of a used car price declined by 1.7% in February, falling to $26,068, according to Kelley Blue Book.
Bottom line
The used car market is getting especially competitive as people receive their tax refunds from the IRS. It could soon become even more difficult to afford a used car, as some experts are forecasting that higher loan rates and higher prices are coming.
More from Money:
60% of People Shopping for a New Car Are Worried About Affording It
Used Car Prices Are Down for the Fourth Straight Month — but Costs May Soon Rise Again