The 10 Richest People in America
Money is not a client of any investment adviser featured on this page. The information provided on this page is for educational purposes only and is not intended as investment advice. Money does not offer advisory services.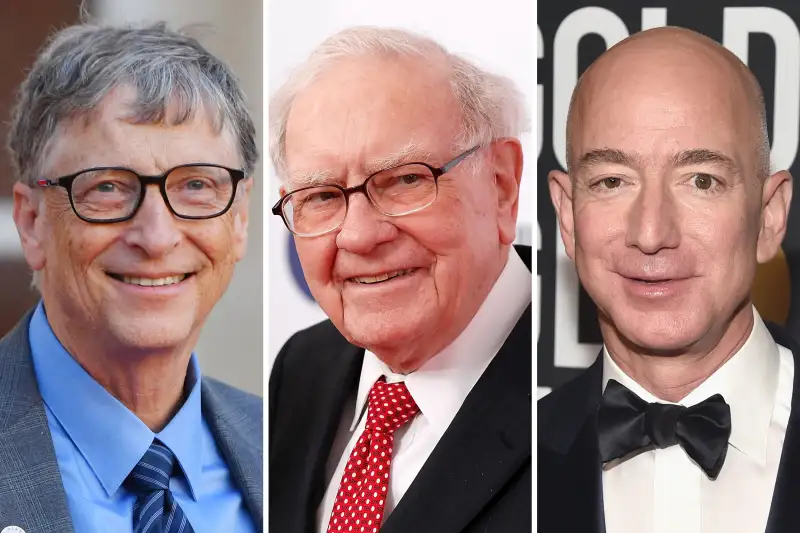 The richest people in America have a surprising amount in common.
For starters, they're all men who mostly work in tech. And almost all of them made their fortunes by starting their own companies and maintaining ownership as they soared to success, including Microsoft and Facebook. In fact, seven of the 10 richest men in America are also among the 10 richest people in the world.
These American billionaires also share a few quirks: Microsoft founder Bill Gates, Facebook CEO Mark Zuckerberg, Oracle founder Larry Ellison dropped out of college. Jeff Bezos, Larry Page and Sergey Brin all went to Montessori schools, where children are encouraged to think independently and creatively rather than following traditional rules. It seems, too, that billionaires really like houses in Hawaii.
As is the case with the richest women in America, the richest people in America donate a lot of money to causes they care about. Some of the men on this list have donated hundreds of millions into research designed to improve human lifespan and eradicate dangerous diseases, such as Alzheimer's disease and cancer. Warren Buffett, Gates, Zuckerberg, and Ellison have gone a step further and promised to give their fortunes away as part of The Giving Pledge, an initiative designed by Buffett and Gates to encourage billionaires to funnel their vast wealth to philanthropy.
Here's everything else you need to know about the richest people in America.
1. Jeff Bezos
Mandel Ngan - AFP/Getty Images
Industry: Tech
Net worth: $109.9 billion
Bezos, 53, recently became the richest person in history.
Before he started selling books online, a business that ultimately became e-commerce giant Amazon.com, he worked at a hedge fund in New York after graduating from Princeton. The beginnings of Amazon.com are typical start up lore – Bezos started the company out of his garage in Seattle in 1994, according to Forbes.
The Amazon.com founder is well-known for purchasing the Washington Post for $250 million in 2013, but his space startup, Blue Origin, is quickly becoming nearly as famous. The aerospace company is developing re-useable rockets to carry passengers into space, with the goal of one day moving industrial manufacturing off of Earth.
Bezos lives with his wife and four children in Medina, Wash. He owns five houses, as well as a 290,000-acre ranch in Texas where Blue Origin is headquartered, making him one of the largest land holders in the U.S. He was named TIME person of the year in 1999.
2. Bill Gates
Yana Paskova - Getty Images
Industry: Tech
Net worth: $93.3 billion
Gates, 62, is an iconic entrepreneur who co-founded the software company Microsoft in 1975. Gates made his fortune primarily through his shares of the company after dropping out of Harvard.
He was raised in Seattle and met his future business partner, Paul Allen, with whom he founded Microsoft, in high school. The two became obsessed with computers and even created their first venture, a traffic data system, while still in school.
Gates became a millionaire at age 31 after Microsoft went public in 1986. In the 21st century, he's become known for his commitment to philanthropy and established The Bill and Melinda Gates Foundation with his wife, Melinda, in 2000. The largest private charity in the world, the Gates Foundation aims to solve global problems like world hunger and empower people in poor communities.
Gates currently lives in Medina, Wash., in the same neighborhood as Jeff Bezos. He was a TIME person of the year in 2005 and awarded the Presidential Medal of Freedom by Barack Obama in 2016.
3. Warren Buffet
Industry: Finance and Investments
Net worth: $87.2 billion
Buffet, 87, is one of the only richest people in America not to have made his fortune in the tech industry. Known as the "Oracle of Omaha," Buffet is the chairman and CEO of the publicly traded investment firm Berkshire Hathaway. Most of his wealth is derived from an 18% stake in the business. Buffet is known for being a value investor who holds stocks over long periods of time.
He bought his first stocks at age 11, and at age $13 filed his first tax return with a $35 deduction for his bicycle.
On Jan. 10, Buffet appointed two of Berkshire Hathaway's vice presidents to its board as vice chairs, a move that sparked speculation he may execute his succession plan for Berkshire Hathaway sooner rather than later, but the billionaire said the decision is a "part of a movement to succession over time."
4. Mark Zuckerberg
David Ramos - Getty Images
Industry: Tech
Net worth: $77.5 billion
Zuckerberg, 33, is another Harvard dropout who is famous for starting his own tech company. There's even a movie about it. He is the co-founder and CEO of Facebook, the largest social media network in the world. When the company went public in 2012, it was the biggest tech IPO in history.
He owns an estimated $175 million worth of real estate across the country, with 700 acres of property in Hawaii alone. He usually calls Palo Alto, Calif. home, where he lives with his two daughters and wife, Priscilla Chan, whom he met at Harvard.
Together, the couple started the Chan Zuckerberg Initiative, pouring $3 billion of funding into an effort to cure diseases and develop new technology for researchers. The foundation also established a "Biohub" at the University of Calif. San Francisco to bolster collaboration among scientists.
5. Larry Page
David Paul Morris - Bloomberg via Getty Images
Industry: Tech
Net worth: $54.9 billion
Page, 44, is one of Google's co-founders and is now the CEO of its parent company, Alphabet. He met his business partner Sergey Brin, No. 7 on the list of richest people in America, while working on his doctorate at Stanford.
Most of Page's wealth comes from inventing one of the world's most valuable tech companies — through his stock he owns about 6% of Google. Under Page, who is known for his efficiency, Google has invested in hundreds of start-ups. He decided to rid himself of his assistants in 2007 so that anyone who needed him must physically find him in order to talk.
Page became fascinated with computers at a young age, picking up a passion for tech from his parents, who both taught computer science at Michigan State University.
Page resides in Palo Alto with his wife, a research scientist, and their two children.
6. Larry Ellison
David Paul Morris-Bloomberg via Getty Images
Industry: Tech
Net worth: $54.7 billion
Ellison, 73 — another college dropout — co-founded the software firm Oracle in 1977. In addition to owning about 25% of the company, he also owns the entire Hawaiian island of Lanai, a sailing team and even an entire tennis tournament, the New York Times reports.
While known for living large (the billionaire owns a 288-foot yatch), Ellison started out with modest ambitions. His parents, who adopted him when he was nine months old, wanted him to be a doctor, but he left school when he realized medicine didn't interest him. He moved to California and worked as a computer programmer and a rock-climbing instructor and river guide, according to the Times. At this point, Ellison said he was "pretty happy with his life."
But after a series of jobs, he became part of a company working to establish a new type of software database. That company would become Oracle, now one of the largest software companies in the world.
Ellison, like other titans on this list, is interested in extending human lifespan, and has given over $330 million for research into aging and related diseases.
Four-times divorced, Ellison has two adult children and calls his $70 million Woodside, Calif. estate home. However, Ellison's massive real estate portfolio means he never spends much time in one place. He owns additional properties in Japan, San Francisco, Malibu, Lake Tahoe and Rhode Island.
7. Sergey Brin
Tim Mosenfelder - Getty Images
Industry: Tech
Net worth: $53.3 billion
Brin, 44, also made his fortune in the tech industry as one of the storied co-founders of Google, along with Larry Page (No. 5). Born in the Soviet Union, Brin and his family, who is Jewish, came to the U.S. when Brin was just six-years-old after facing anti-Semitism in their home country.
At Google, the entrepreneur headed up Google X, a secretive division of the company, until becoming president of Google's new parent company, Alphabet, in 2015. While running the Google X labs, he was rumored to be building a secret airship in a massive airplane hangar in Silicon Valley.
Brin has donated around $50 million to Parkinson research after discovering he has a genetic mutation predisposing him to the disease. He also gave $1 million to the Hebrew Immigrant Aid Society, the organization that helped him leave Russia as a child.
8 (tie). Charles & David Koch
Industry: Conglomerate
Net worth: $48.6 billion each
The Koch brothers—Charles, 82, and David Koch, 77—tie for eighth place as two of the richest people in America.
Charles is the chairman and CEO of Koch Industries, a Kansas-based conglomerate with $100 billion in annual revenue. David is the vice president of the company, and both own 42% of the company.
The men both graduated from MIT with degrees in engineering and joined their family's business upon graduating, according to Bloomberg.
In 1976, Charles established a libertarian think tank called the Cato Institute, which the brothers later sued over a debate about ownership rights.
The Koch brothers are politically active, having donated hundreds of millions of dollars to Republican and conservative causes in their lifetimes.
(Money's parent company, Time Inc., is in the process of being acquired by Meredith Corporation in a deal financially backed by the private equity arm of Koch Industries.)
10. Rob Walton
Beth Hall - Bloomberg via Getty Images
Industry: Retail
Net worth: $47.9 billion
Walton, 73, is the eldest son of Walmart founder Sam Walton and the former chairman of the company. He stepped down from his role in 2015 after running the chain for 23 years, though he still sits on its board.
The majority of Walton's wealth comes from his shares in the company, and Bloomberg estimates he owns about 13% of the family business.
Before going to work for his father at the world's largest retailer, Walton played football at the University of Arkansas and graduated from Columbia Law School.
He owns multiple properties — including a home in Aspen, Colo. and another Paradise Valley, Ariz., and recently purchased 1,500 acres of land in Hawaii, reportedly to build a resort.
Walton currently lives in Bentonville, Arkansas, and is married with three children.