The 14 Most Beautiful Airports In the World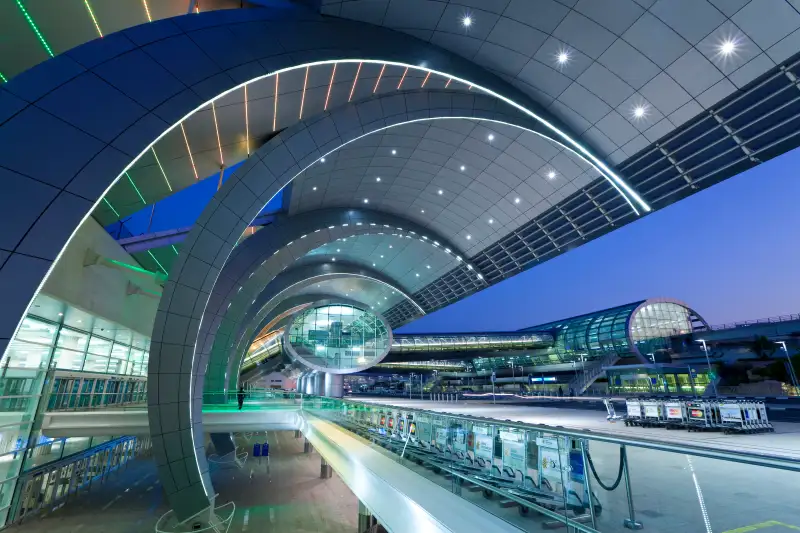 Gavin Hellier—Getty Images/AWL Images RM
Many major American airports have seen better days, but some of their global counterparts are seriously impressive. Whether they're in major global cities like Hong Kong and Tokyo, or stand out in less prominent locations, the world's most beautiful airports have stunning architectural features and amenities like golf courses and movie theaters.
These are the 14 most beautiful airports in the world.
---
Adolfo Suárez Madrid–Barajas Airport — Spain
Walter Bibikow—Getty Images
The airport saw its first commercial flights take place in 1933. A new terminal was unveiled in 2006, and the airport has seen over 50,000,000 travelers in each of the past two years.
---
Vancouver International Airport — Canada
Michael Wheatley—(c) Michael Wheatley
Vancouver International Airport is the rare airport you might want to visit even if you don't have a flight. In addition to its sculpture collection, the airport has multiple aquarium exhibits.
---
Singapore Changi Airport
Singapore Changi International Airport has been named the best airport in the world by the consumer-aviation website Skytrax for five years in a row. It's easy to see why, as the airport's amenities include multiple gardens, a movie theater, and a swimming pool.
---
Kuala Lumpur International Airport — Malaysia
Free Agents Limited—Getty Images
With over ten posh lounges and a massage center, Kuala Lumpur International Airport gives travelers plenty of opportunities to relax before their flights.
---
Munich Airport — Germany
Daniel Reiter / STOCK4B—Getty Images/Stock4B Creative
In addition to serving travelers, Munich Airport also has an event space. The airport has hosted surfing and biking events over the years.
---
Heydar Aliyev International Airport — Azerbaijan
Heydar Aliyev International Airport saw over 4 million travelers in 2016.
---
Shenzhen Bao'an International Airport — China
Shenzen Bao'An International Airport's Terminal 3 was meant to evoke a manta ray, according to architect Massimiliano Fuksas. Throughout the terminal, the ceiling is designed to look like a honeycomb.
---
Hong Kong International Airport — China
Wilfred Y Wong—Getty Images
Hong Kong International Airport appeals to business travelers with a nine-hole golf course that meets U.S. Golf Association standards. Those with long layovers can take advantage of the airport's IMAX theater.
---
Hamad International Airport — Qatar
Veronica Garbutt—Getty Images/Lonely Planet Images
Hamad International Airport took a decade and $16 billion to build. Some parts of its interior look like a modern art museum.
---
Dubai International Airport — United Arab Emirates
Gavin Hellier / robertharding—Getty Images/Robert Harding World Imagery
In 2016, Dubai International Airport was the busiest in the world with 83.6 million passengers.
---
Beijing Capital International Airport — China
Jeff Greenberg/UIG—Getty Images/Universal Images Group
While it's currently one of China's signature airports, Beijing Capital International Airport may be overshadowed by the upcoming Beijing Daxing Airport, which is set to open in 2019.
---
Marrakesh Menara Airport — Morocco
Martial Colomb—Getty Images
Marrakesh Menara Airport features a number of stunning architectural features, like the glass dome pictured above.
---
Incheon International Airport — South Korea
Bloomberg—Bloomberg via Getty Images
South Korea's Incheon International Airport has first-class amenities, including free showers, massage chairs, and sleeping areas.
---
Haneda Airport — Japan
DAJ—Getty Images/amana images RM
Haneda Airport in Tokyo is known for a variety of high-quality food options. The airport's ramen, sushi, and dessert vendors even attract customers who don't have flights.
This article originally appeared on BusinessInsider.com.