How Theme Parks Are Killing Spontaneous Fun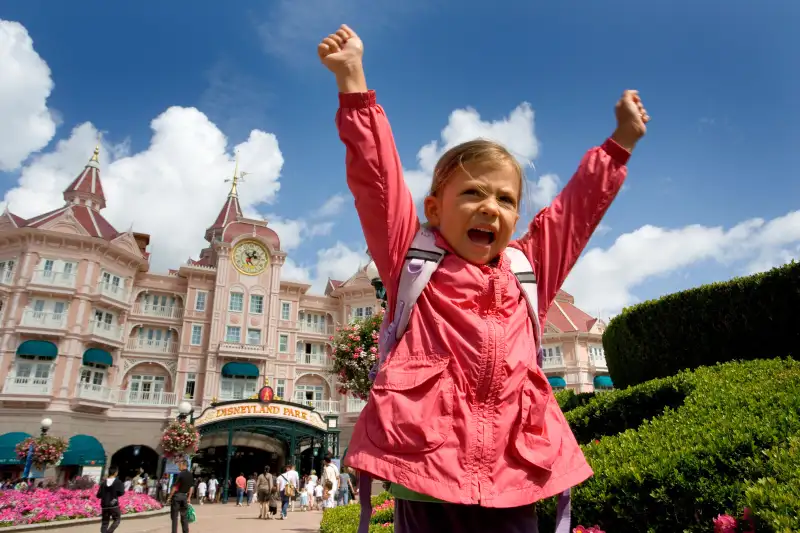 Carefree, spontaneous family fun? It's been a long time since a visit to a popular theme park fit that description. Nowadays, showing up out of the blue, with no prebooked reservations or admission tickets, to Walt Disney World's Magic Kingdom, SeaWorld, or pretty much any other major theme park is unwise, to put it mildly.
The savvy mouse-ear-hat-wearing enthusiast would laugh at the idea of arriving at a big theme park on a whim. At wdwinfo.com, one of dozens of unofficial Disney park web guides, the #1 rookie mistake (among a dizzying 20 possible mistakes listed) is the failure to plan ahead. To give you an idea of how seriously folks take this, another Disney-focused site calls itself wdwprepschool, where parents can study up and do reams and reams of homework on how to have a relaxed, leisurely vacation.
What's so bad about just crashing the gates of the Magic Kingdom? For starters, it will cost you. Earlier in 2014, Walt Disney World in Orlando raised its walk-up single-day price $99 ($105 after taxes), up from $89 a year earlier. Universal Studios followed up immediately with a price hike of its own. More recently, Disneyland in California raised its prices, hitting the $150 mark for a one-day Parkhopper pass good for entrance to Disney's two area parks.
While the price hikes usually affect all manner of admissions—multi-day, season passes, etc.—the promotional structure increasingly rewards travelers who buy multi-day tickets in advance with an array of discounts and benefits. (There's a good counterargument about the foolishness of spending a ton of money over the course of several days in order to cut one's average per-day costs, but let's not get into that now.)
The most recent example of theme parks pushing aggressively to make customers buy admissions ahead of time comes from SeaWorld, which raised its one-day walk-up price to $95, while also introducing a new advance-purchase discount that knocks off $15 (for weekends and holidays) or $30 (most weekdays) to guests buying online ahead of time.
One common argument in favor of raising theme park prices says that doing so benefits park visitors by providing them with more elbow room. SeaWorld, for one, says that it has deliberately lowered visitor numbers by way of higher admissions prices, in order to make the experience better for visitors who have paid top dollar to see Shamu and the rest.
Then again, price hikes can be explained in a simpler way: Theme park operators charge more because they can. Each year, prices inch up by a few bucks, and each year, the tourists keep showing up in strong numbers. Until theme park enthusiasts start staying away in droves, there's no business justification for slowing the rise of admissions prices.
While paying extra for a spontaneous theme park visit is annoying, visitors arguably pay a much steeper cost in terms of wasted time by doing what comes naturally on vacation: just wandering around, casually looking for fun. As the Orlando Sentinel reported, SeaWorld just added a new feature to its mobile app, allowing guests to buy its QuickQueue line-skipping service, for $19, via smartphone, even when waiting in a line at SeaWorld.
The app feature is one of a long line of services and guest options that not only make it possible to plan nearly every minute of one's theme park visit in advance, they make it seem foolish and wasteful to not plan nearly every minute of one's theme park visit in advance.
From line-skipping passes and wristbands, to dinner reservations and character breakfasts that must be booked months ahead of time, to the walk-up admission price premium, the goal of theme park companies is clear: They want guests to visit multiple days rather than one random day at a time, and they want guests to plan and pay for their big trips long in advance.
Is this what park guests want? The theme parks don't really care, so long as people keep showing up.