There's a Secret, Ultra-Luxurious Part of Disney World. Here's How Much You Have to Pay for Access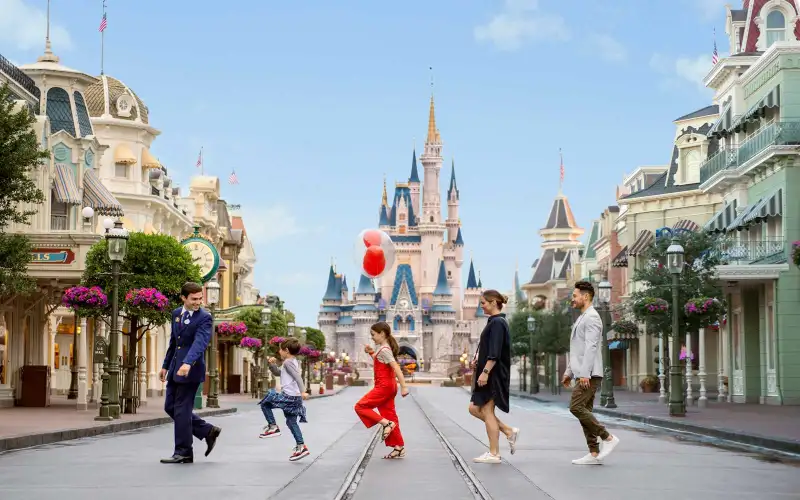 Most Disney World vacations are marked by Mickey Waffles, princess hugs and colorful parades, but not for long. With molecular gastronomy dinners deep within hotel wine cellars and members-only access to Magic Kingdom's secretive club, Walt Disney World is rapidly becoming a destination for the kinds of high-end, cuisine-focused vacations you'd often think to take elsewhere. From touring Cinderella Castle to renting a yacht for evening fireworks, all your lofty Disney dreams can come true — if you have the means.
What exactly is Disney luxury? Top-tier properties, chef's table meals and elegant experiences, but in reality, it's cutting a swath of ease across the entire complication of visiting here. Most Walt Disney World vacations require stealthy planning around 180-day booking windows and Fastpass+ reservations and early morning rope-drops, but things are different for guests who've decided to make a luxurious go of it. Upgrade your vacation and Disney World becomes a place where cold water bottles magically appear, ponchos are on-hand and your Magic Band whisks you up to a private concierge lounge just beyond your hotel room door. Slide into the backseat of a perfectly air-conditioned SUV and hop out as you're offered a choice of snacks, waltzing inside Disney's Hollywood Studios without hesitation for instantaneous fun, having utilized exclusive Disney roadways to travel between parks more quickly.
And for the crème de la crème guest for whom unfettered access to the Happiest Place On Earth is old hat, Disney has begun offering, well, whatever they'd like. A one-night-only celebration themed to their favorite Epcot attraction? No problem. A private in-park club for watching Magic Kingdom fireworks or chomping on truffle popcorn? All set. They've even found the cure for that "never want to leave" feeling at the end of any Disney vacation: not having to. Golden Oak offers magnificent custom homes in the vicinity of the Magic Kingdom — with select private residences built in tandem with the AAA Five Diamond Award-winning Four Seasons Resort Orlando at Walt Disney World Resort, a luxury hotel with incomparable pools.
From private residences and personal celebrations to princess weddings, it all falls within Disney's Crown Collection, a gathering of experiences ranging from manageable — treatments at Senses Spa, club-level rooms at Disney hotels — to out of this world, putting Walt Disney World on the map as a place luxury vacations can and, in fact, do happen.
The most quintessential form of cushy Disney travel comes from hiring one of Walt Disney World's renowned VIP Tour Guides. Often spotted touring small groups throughout the parks in signature red-and-green tartan, they're perhaps best known for providing unfettered access through FastPass queues — regular guests are limited to three-or-so per day — but that's not all. Hire a private guide and you'll never see the bus waiting zone, automatically secure perfect parade seating and hear every insider-y factoid about the parks while zooming from ride to ride. (I write about Disney parks for a living and still learned a half-dozen new details about Haunted Mansion.)
Services start at $3,000 per day — gratuity and admission not included — and most who hire a guide for the day or week would attest it's worth every penny. Making a complicated place to visit nothing short of seamless isn't the division's only specialty. Our guide Julia was but one of Disney's high-caliber professionals familiar with embedding themselves within a stranger's kooky family. Having someone there with a joke to lighten the mood or a trick to "fix the situation" — from a shortcut to reach Avatar: Flight of Passage more quickly or a hand-delivered coffee during evening fireworks once you start to fade — alleviates any worry.
All guests booking a VIP Tour, club-level room or suite at one of Disney's eight Deluxe resort hotels are given access to Disney Signature Services, an elite-level planning resource worth leaning into. But for those seeking to elevate their relationship with the mouse house to an entirely new level, Disney World offers higher-tier touches that require Scrooge McDuck-style disposable income.
Melanie Acevedo, Courtesy of Disney
Most guests don't even know about the Art Deco lounge hidden above Epcot's American Adventure or the Adventureland hideaway where a choice few can enjoying Beluga caviar just steps beyond a Dole Whip stand. Behind gilded MagicBand scanners exists Walt Disney World's private Club 33, a concept spun off from Disneyland's aged members-only hideaway offering refined dining and the only bar at Disney's original theme parks. (The two operate independently.)
A high-end retreat hidden in plain sight with the refinement and service of the world's best hotels, Club 33's trio of ornately detailed escapes are the perfect thing for well-heeled visitors with a soft spot for Mickey Mouse. Beyond its thematic ode to Walt Disney's worldwide travels and an inspired small plates menus, the dedicated staff has also been known to arrange once-in-a-lifetime experiences for members upon request — a perk for which the sky's the limit. Only the well-to-do need apply; initiation is rumored to cost around $30,000, with dues totaling $15,000 per year.
And then there's Golden Oak, where lucky enthusiasts can live like Disney insiders year-round. Free transportation to the parks, ticket packages and access to Extra Magic Hours comes standard with the custom-designed mini-mansions, which start at $2 million. (You'll never find them listed on AirBnb for a night or two, either — nearly all of the 300-or-so homes have been sold to residents who live year-round or visit frequently.) Buying here makes a quick trip to Space Mountain or Epcot festivals a breeze, if homeowners aren't instead relaxing by their private pools flanked by a woodsy nature preserve or dining at Markham's, the resident-exclusive restaurant featuring film props curated by Walt Disney Archives and an on-site garden in partnership with Epcot's The Land.
Non-residents can get a peek inside Markham's twelve times each year during Delicious Disney, a monthly dinner series in partnership with Walt Disney World's best chefs that's themed to a rotating facet of Disney lore. Our utterly delightful Ratatouille-themed dinner began with amuse-bouche under a smoky glass dome (reminiscent of the film's opening shotgun-wielding scene) and ended with a chocolate-sculpted Remy emerging from beneath a chef's hat. An added surprise: each was packaged up and given to guests as a keepsake.
Delicious Disney remains a bit of a secret, but at $349 per person, it's a taste of grandeur that can feasibly be added onto a vacation — just one of many "enchanted extras", as Disney calls it. Fine dining, like the award-winning Victoria & Alberts or chef's table meals at top-rated eateries like Citricos and California Grill, elevate a celebratory Orlando vacation to something special. You can also feel the breeze through your hair on a $350-per-hour chartered Grand 1 Yacht, which sails past the Magic Kingdom and its surrounding hotels. With an 18-passenger capacity, it's the ultimate evening event on a group trip.
You can eat Mickey ice cream bars for lunch before a Frozen sing along on your next trip to Orlando, dine on award-winning cuisine after meeting Elsa & Anna without waiting, or do a little bit of both. And if that isn't magic, nothing is.