This 54-Year-Old Mom Used Credit Card Points to Take a $12,000 Dream Vacation to Norway for Only $217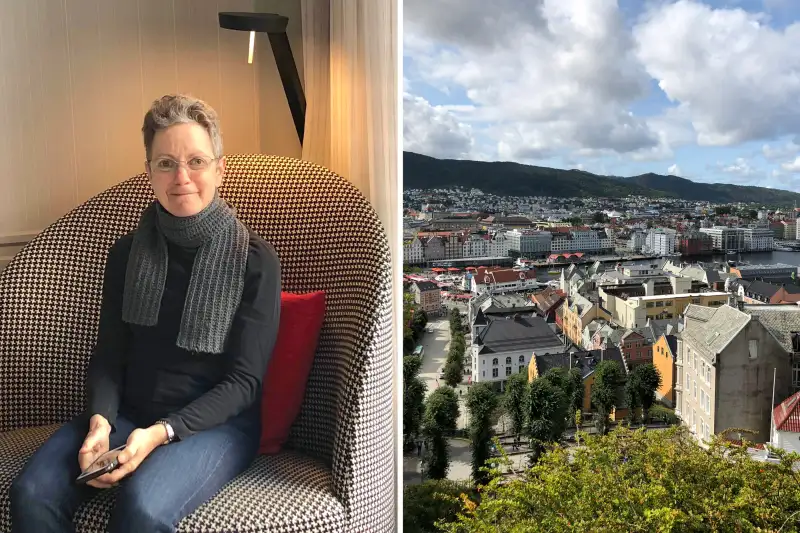 Courtesy of Lisa Phillips
Travel wasn't always in the picture for Lisa Phillips.
As a 54-year-old mom in Philadelphia taking care of a daughter with Lyme disease, she didn't have many plans for international trips. She did, however, go to San Diego every year with a group of close friends for an annual getaway.
"I was booking my ticket on American Airlines and an ad popped up for an American Airlines credit card offering $100 off the trip plus another 40,000 miles," she tells Money. "I had a lot of expenses and I thought, 'I'm a responsible person, I'm not going to spend more than I need to, but I can easily make the minimum spend. Wouldn't it be great for next year's trip to fly to California for free?"
The rest is (Google search) history. Phillips began her credit card rewards research the way many people do—hunting online for deals and advice. Soon she came across the website 10xTravel.com, an online community that shares travel-hacking know-how through a Facebook group and blog posts. She started soaking up knowledge about the basics of credit card churning, the practice of signing up for lots of credit cards for the singular goal of taking advantage of points and sign-up bonuses. She started by reading a free e-book by 10xTravel's founder Bryce Conway called "Take Off: How To Travel The World For Next To Nothing."
Courtesy of Lisa Phillips
In the points world, standard advice is to start building up rewards points for a specific trip, but Phillips didn't have a particular vacation in mind. She did, however, have a friend who lived in Norway. A few months after reading Conway's book and taking out two rewards credit cards, she decided to take the plunge.
"I said, I want to be there!"
Phillips quickly learned the ins and outs of redeeming credit card points and managed to spend just $217 total on her trip to Norway. If she hadn't used points? It would have cost her a whooping $12,492.
Phillips achieved her impressive savings by doing her homework. A common misconception about airline miles is that you can only use them for the airline affiliated with the credit card you have. But that's not true. Credit card companies have partnerships with airlines and hotels all over the world, so earning American Airlines points, for example, doesn't mean you can only use them to fly American Airlines. (Be careful, though. There are some airlines and cards that do not allow points transfers, so make sure you double check before signing up for a card.)
Courtesy of Lisa Phillips
The details can be head-spinning. "I transferred my American Airlines points to British Airways for my flight back from Norway," Philipps says of her strategy. "But on the way there, I used Chase points by converting them into United Airlines points—Chase has partnerships with a handful of airlines—and then converted the United points into Lufthansa points."
So even though she had been amassing American Airlines points on her rewards card, she was able to extract their maximum value by changing them into points that better served her trip. Some airlines and cards even give you bonus points for certain kinds of transfers.
Another benefit of booking flights with points? You can splurge on first-class or business since you don't have to spend thousands of dollars on a more expensive ticket. Instead of spending an extra $1,000 out of pocket for a pricier seat, you're using a few thousand extra points already accrued through your regular spending. On her Lufthansa flight to Norway, Phillips flew business class, where there are chairs that recline completely to become beds.
"Being able to sleep on the plane and not sit upright the entire time was just wonderful," she says. "I arrived in Oslo really refreshed."
Courtesy of Lisa Phillips"Wonderful."
Airport lounges are another perk Phillips discovered on her Norwegian vacation. Having access to the British Airways business class lounge meant that she could take a shower in Heathrow Airport during her layover in London, an experience most people don't get to have.
"It was one of the neatest things I experienced," she says. "Those things really make a difference."