This Banker Stole $100 Million From Clients. Now He's Living in Luxury on the Côte d'Azur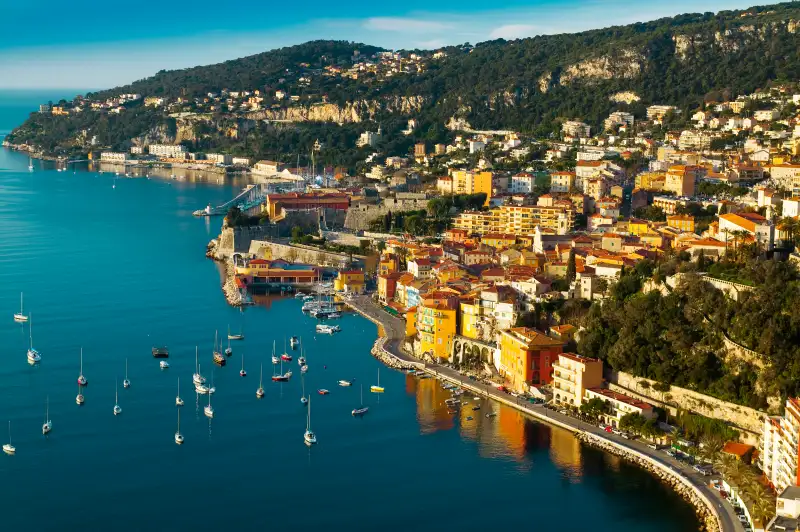 Yann Guichaoua-Photos—Getty Images
(Bloomberg) — Fabien Gaglio confessed to running a $100 million Ponzi scheme on his own terms. At 9 a.m. on a Wednesday in Paris, dressed elegantly in a dark sweater and crisp white shirt, the 39-year-old banker from the French Riviera walked into a police precinct and took a seat in an interrogation room, armed with a folder of notes.
"To summarize the facts," Gaglio told the police commander seated across from him, "my job was to make my clients' money grow." Gaglio was one of two principals at a Swiss wealth manager called Hottinger & Partners. His affluent clientele came from all over the world: businessmen in Singapore, artists in Italy, tech entrepreneurs in America, lured by the promise of low taxes, high returns, or Swiss discretion. When some investments started to go bad, Gaglio explained, he "took money from one client to pay another" and soon graduated to fabricating statements and forging signatures. The charade, he said, had lasted 15 years. "Je n'ai plus rien," Gaglio said. "I have nothing left."
The commander, Franck Royet, didn't understand why Gaglio was telling him any of this. None of Gaglio's victims appeared to be French. "Why did you come forward in France when the company is located in Switzerland and you live in Spain?" Royet asked. Gaglio sidestepped, saying that he'd handed over some of the forgeries in France. Neither man mentioned that France rarely allows extradition of its citizens. At 4:20 p.m., Gaglio signed a statement, collected a wristwatch he'd surrendered, and walked back onto the streets of Paris.
The date was Jan. 23, 2013. In the days that followed, Gaglio's partner, a French count with luxuriant black hair named Jean-François de Clermont-Tonnerre, began tearfully to relay the news to Hottinger & Partners' clients. Eleven of them filed civil and criminal complaints against Gaglio in Switzerland, as did the firm itself. The parent institution from which Hottinger & Partners had sprung—Swiss bank Hottinger & Cie, with roots stretching back to the 18th century—suffered losses that pushed it into bankruptcy. As victims and investigators in various jurisdictions took stock of the globe-spanning scheme, prosecutors in Luxembourg were quickest to act, charging him that spring with making and using forged bank documents, fraud, and laundering stolen funds.
Gaglio pleaded guilty. "Having lived a lie for years, I answer your questions today with the utmost transparency," he said in a hearing. "I have nothing to hide." He reiterated that his clients' money, and his own, was gone. "Caught in a madness that is hard to explain," he said, he had spent everything on lavish holidays, paintings by Andy Warhol and Keith Haring, and private jets. A colleague described his consumption as "Pharaonic." Gaglio's artwork might have been auctioned off to compensate his victims, but the collection, he told authorities, had been burgled from his property a few weeks before his confession.
"Fabien Gaglio lied every day for 15 years. Why would anyone believe him now?"
The court ordered Gaglio to pay back €150,000 ($177,000), all it believed he could afford, and sentenced him to five years in prison for the crimes he committed in Luxembourg. He appealed and, after spending a year in a Luxembourg jail, he was temporarily released and his sentence cut to four years. In Luxembourg it is customary to serve half of one's sentence on parole, meaning Gaglio has 12 months left when he goes back to prison. That compares well with other notable Ponzi sentences, such as Bernie Madoff's 150 years and Robert Allen Stanford's 110.
After that, Gaglio is free to rejoin his family in the exclusive gated community outside Cannes where they rent a villa despite his claims to be insolvent. He may not be safe yet. Prosecutors in Geneva, where Hottinger & Partners was headquartered, launched their own investigation in 2013, which a spokesman described as ongoing. But, after five years, Gaglio's victims have grown skeptical they will ever see justice. Swiss authorities haven't filed any criminal charges, and there's no sign that U.S. authorities are investigating. With Hottinger out of business and Gaglio having served some time, victims fear the motivation to pursue the case has dwindled. It's hard to imagine how events could have turned out better for Gaglio if he'd planned the whole sequence himself.
Some of his clients are convinced he did.
"Fabien Gaglio lied every day for 15 years," says Diana Benedek, a California-based businesswoman who says Hottinger & Partners stole $20 million from her and her husband. "Why would anyone believe him now?" Another customer, Tilman Reissfelder, who says he lost $12 million, enlisted a white-collar private detective named Andrea Galli to do the forensic accounting work he says Swiss authorities are neglecting. Together, they reject the idea that Gaglio acted alone and that their money is truly gone and suggest a tantalizing alternative: That the banker stage-managed his confession to minimize his punishment and divert attention from a raft of other felonies, including operating a money-laundering ring for criminals and corrupt politicians.
It's an impression borne out by the 100,000 pages of bank statements, correspondence, and testimony gathered by prosecutors in Geneva and reviewed by Bloomberg Businessweek.
Whether by luck or design, Gaglio's actions have resulted in a remarkably light punishment, and they've illustrated how confused the European criminal justice system can get when enough borders are crossed. The Gaglio affair isn't the biggest Ponzi scheme on record, but it might be the most galling. It strengthens a sense in Europe that financial criminals can be more sophisticated than the government agencies policing them. And it's a reminder that the continent's jurisdictions are more than just lines on a map. They're seams, and people like Fabien Gaglio appear to be expert at exploiting them.
Stretching across the Mediterranean coast of southeastern France, the Côte d'Azur has long been synonymous with glamour and a certain type of genteel crime. The 1988 flimflam classic Dirty Rotten Scoundrels, in which Michael Caine's gentleman con artist separates American tourists from their riches, was filmed in one of its inlets, Beaulieu-sur-Mer. Fabien Nicholas Gaglio was born there in 1973. His family was surrounded by money but didn't have much of its own, and Gaglio spent his childhood playing on the beach as yachts crossed the horizon.
Gaglio—who declined to answer questions via his lawyer—moved to London after university to work in finance, but he was caught in 2000 using forged banking qualifications to apply for a position at Merrill Lynch. He was given a suspended sentence in Nice, though he managed to get hired later that year at Rothschild, the elite private bank, based in London. Rothschild declined to comment, but it probably helped that Gaglio had access to a long list of potential clients. In northern Italy, across the border from the family home, the Gaglios had wealthy relatives and friends who could be sold trusts and offshore vehicles that would minimize taxes and keep their wealth hidden. Gaglio began to make a name advising European families on generational fortunes, and in 2005 he was recruited by Hottinger & Cie to join a new wealth-management spinoff.
Gaglio had a talent for attracting new clients. He's handsome from his best angle, with a strong Roman nose, a deep tan, and big, hazel eyes, which offset a weak chin and skinny frame. He stands a bit shorter than what his passport lists as 5 foot 9—always with his neck cocked slightly to one side, as though speaking into an invisible mobile phone. At Hottinger & Partners, his boy-made-good banter paired well with his new colleague, Clermont-Tonnerre, who resembles a modern-day musketeer—tall, suave, and hailing from one of France's best-known aristocratic families.
In 2007, an intermediary in Los Angeles introduced Gaglio and Clermont-Tonnerre to a promising lead: Diana and Andrew Benedek, Canadian engineers who had recently sold a water-treatment company to General Electric Co. for $656 million. The Benedeks had just bought a German business and were considering moving to Europe, so the idea of opening an account with a conservative, bespoke Swiss bank was appealing. Gaglio drenched them with attention. He arranged for tours of properties in Geneva and Monaco and once insisted Diana travel on what he said was his company's private jet. (Hottinger had no plane; it was chartered especially for the occasion, for about $40,000.) "He got us by being relentlessly helpful," Diana, 59, says. "We're Francophiles," adds Andrew, 74. "We both speak French, we love French food—so maybe we were vulnerable. We were impressed." After a visit to the plush Hottinger & Cie boardroom in Geneva, Clermont-Tonnerre hosted a dinner party for the Benedeks catered by a chef who had flown in from Paris with a team from a Michelin three-star restaurant. The Benedeks signed on as clients in April 2008.
A few months later, Reissfelder, a laid-back German coder living near San Francisco, sold his travel startup to Expedia for $85 million. He was 33, and with his cut, he was looking forward to traveling the world with his fiancée. That made Reissfelder the perfect target: newly rich, financially inexperienced, and distracted. The same people who had introduced Gaglio to the Benedeks—a network of tax lawyers called the Society of Trust & Estate Practitioners, or STEP—set him up with Reissfelder. Gaglio quickly formed an emotional connection. When Reissfelder said he wanted to lose weight, Gaglio forwarded photos of himself as a pudgy youth. Before long, Gaglio was signing his daily texts and emails with "Bises"—kisses. "In my mind, I'm thinking the familiarity was weird—but they're French, you know?" Reissfelder says. "When he started suggesting investments, I said no, but he was so insistent, and I kind of felt obliged."
STEP Chief Executive Officer George Hodgson said in a statement that reports of fraud were disturbing and he was monitoring the situation closely to see if any action is needed.
The Gaglio affair isn't the biggest Ponzi scheme on record, but it might be the most galling.
For years, the Benedeks, Reissfelder, and about three dozen other clients enjoyed Gaglio's largesse, not realizing they were seeing their own funds flung back at them. Gaglio sent a helicopter to pick up the Benedeks at a French hotel and buzz them over the Loire vineyards. He took Reissfelder bar-hopping in Paris with the former captain of the French rugby team. Gaglio's entourage included a surgeon, a comic-book writer, artists, models, an economist, aristocrats, wealthy Italians who didn't seem to have to work, and the reputed inventor of electronic dance music. Part of Gaglio's allure was that, like Jay Gatsby, he invited people to join him in a glamorous world he had created for himself.
Gaglio kept his clients happy with periodic statements showing their funds steadily rising, even as the financial crisis bit. If he was unable to persuade a client to sign off on a given transaction or investment, he got one of the Hottinger & Partners employees to fake the signature.
In 2012, the Benedeks made plans to return to the U.S. and notified Gaglio they wanted to transfer $30 million to another bank. Gaglio stalled for months, until eventually the Benedeks' new bankers pieced together a seven-figure discrepancy. Gaglio stopped returning calls and messages. Three weeks later, he walked into the police station in Paris.
"Your stomach falls out when you realize it's not real," says Reissfelder, shaking his head at the memory. "You don't sleep for days. It's not just the money; it's your whole trust in humanity. You start to doubt everything—all your judgments, all the people you've interacted with. It's not easy to handle."
At first, Reissfelder was optimistic he would recover some of his lost millions. Prosecutors in Geneva gathered evidence, conducted interviews, and raided offices. But progress abated. In May 2015, two years after Gaglio's confession, one of Reissfelder's lawyers, Stephane Poehner, suggested they give Andrea Galli a call.
From a minimalist home on a residential street in Zurich, Galli and his wife operate a specialized investigative agency. Galli, who's Swiss-Italian and has shoulder-length grey hair, a beard, and rimless glasses, trained as a scientist, gaining a Ph.D. in particle physics and spending time at the Max Planck Institute in Munich. Today, he applies those analytical skills to tracing money through the darkness of the offshore financial system.
"My education is theoretical physics, where I learn the cause of data and I reduce complexity to a model," Galli, 49, says on his veranda, his voice barely rising above a whisper. He wears a formless linen suit that gives him the air of a martial arts master in repose. "You have a lot of small detail and slowly you build a complete picture. It doesn't matter if I analyze electron paths or shell company structures—it's the same."
Galli agreed to help Reissfelder track down his missing funds. Swiss prosecutors had turned over 88 folders of evidence in the course of discovery. They included Gaglio's company filings, transactions, and emails. Over long, quiet days interspersed with cigarette breaks and black coffee, Galli diagramed connections on a digital whiteboard until his entire perception of the case changed. He came to believe that Gaglio was more than a Gallic mini-Madoff—that before the Ponzi scheming, between 2003 and 2009, he was a sophisticated money launderer who helped businessmen, politicians, and criminals wash roughly $300 million through the offshore financial system. Galli suspected that the Ponzi-scheme confession in Paris was devised to cover up the earlier activity.
At the center of Gaglio's operation, the documents show, was a company he'd set up in Belize in 2003 called Glendale Portfolio Inc. Gaglio also controlled a series of companies that fed into Glendale—shells, registered in such locations as Liechtenstein and Cyprus, through which funds passed back and forth until they became almost impossible to trace. Statements show sums ranging from a few thousand dollars to several million entering the shell companies, then similar amounts leaving a few hours later. There were 100 or so beneficiaries, including a Middle Eastern oil executive, a Portuguese cement magnate, and a political lobbyist charged in Brazil with paying bribes.
Glendale kept about 10 cents of every dollar it handled, according to a detailed analysis Galli has passed on to authorities. Statements reviewed by Bloomberg Businessweek show that money from the company and other entities Gaglio controlled ended up in the accounts or businesses of Gaglio's partner Clermont-Tonnerre and several figures who had figured in the dizzy courtship of Reissfelder, the Benedeks, and other Hottinger & Partners clients: the Michelin-starred chef, Yannick Alleno; the rugby captain, Jean-François Tordo; and the dance-music pioneer, Giorgio Moroder, whose connection to the scandal was first reported by German magazine Brand Eins. Swiss authorities haven't accused any of them of wrongdoing.
Clermont-Tonnerre said through his lawyer that he was confident he would be cleared. Earlier fraud charges filed against him in Luxembourg were dropped due to lack of evidence. Alleno's business partner, Florence Cane, said the payments were for services provided to Hottinger and there was no reason to question their origin at the time. Tordo declined to comment beyond saying he learned about Gaglio's crimes when everyone else did and no longer has any relationship with him. Moroder, who was a Hottinger & Partners client, didn't respond to requests for comment. He told investigators he was financially inexperienced and had never checked the origin of payments into his accounts. In 2015, he filed his own lawsuit against Gaglio in Geneva.
Galli struggled to reconcile the evidence with the image Gaglio had presented in Luxembourg court. The hearings never touched on the possibility that Gaglio had been laundering money for third parties; his lawyers had argued there was no foresight involved in his accumulation of losses and haphazard efforts to cover them up. But everything Galli read suggested preparation and intent.
Starting in his late 20s, Gaglio set up dozens of companies and trusts around the world; interacted with lawyers, bankers, and regulators; and orchestrated scores of transactions every week. It was a mammoth undertaking for one individual. The only plausible explanation, in Galli's mind, was that Gaglio wasn't acting alone.
Galli came to suspect that Gaglio had started his illicit activities from his earliest days at Rothschild—tapping into preexisting money-laundering networks via family connections. One striking early transaction, on May 10, 2006, was a payment of €100,000 to an Italian film executive named Giorgio Prandoni, with a note describing him as "onkel." That's German for "uncle," though it's unclear whether Gaglio meant it literally or informally.
It was one of several transactions between the two men. A number of Gaglio's clients made payments to or received money from Prandoni, including Daniele Lorenzano, a former adviser to Italian Prime Minister Silvio Berlusconi sentenced to three years and eight months in prison in 2012 for tax evasion; and Danny Rowe, a Canadian multi-level marketing entrepreneur, who co-owned a Russian bank that in 2015, a year after he sold it, was stripped of its license for failure to take adequate measures to counter money laundering and terrorism financing.
Part of Gaglio's allure was that, like Jay Gatsby, he invited people to join him in a glamorous world he had created for himself.
That so many suspicious enterprises, from Italy to Russia, to the French Riviera, to California, were routinely transacting with each other surprised even Galli, who keeps a database of illicit global money flows. "I had no idea so many connections existed before I started on this case," he says. The transaction records in the Hottinger case may hint that money-laundering rings around the world play nicely together—using each other's offshore entities when their interests align. Or they may just show that Gaglio attracted like-minded people who had little or no knowledge of their part in a larger scheme.
Prandoni said via email that he barely knew Gaglio. He didn't respond to questions about the transactions. Lorenzano said he was just another Hottinger & Partners customer "betrayed" by Gaglio. Rowe, who also filed a lawsuit against Gaglio, declined through his lawyer to comment.
The documents in the case suggest there's a divide between two phases of Gaglio's career. From his entry into private banking until 2009, the focus appears to have been on laundering money for a fee, according to the analysis Galli gave authorities. Then, that year, a major U.S. criminal investigation into tax evasion at Swiss bank UBS Group AG drew global attention to the country's role in helping rich people hide their money, and the flow of transactions through the Glendale network petered out. Gaglio began draining money from the accounts of Reissfelder, the Benedeks, and others.
Well before the confession, Gaglio and Clermont-Tonnerre started putting money into commercial enterprises using complex structures that effectively obscured their identity, records reviewed by Bloomberg Businessweek show. One such company was solar energy firm CAP SUD SAS, established in France by their wives, rugby friend Tordo, and a fourth individual named Stephane Gilli, that was the recipient of loans totaling €3 million from an offshore vehicle owned by Gaglio and Clermont-Tonnerre. From 2013 to 2015, CAP SUD subsidiaries received an additional €19 million in cash injections, according to the records. The documents don't show where the money came from, and Gilli, CAP SUD's president, didn't reply to questions seeking comment.
Another entity was Groupe Eventeam, a sports-ticketing agency owned by a former player for a club Tordo once captained. Gaglio paid €3.7 million for a stake in 2011 and transferred an additional $2 million into the company from the accounts of Reissfelder and the Benedeks. Eventeam President Igor Juzon said in an email that he was unaware at the time Gaglio was behind the investment in his company. He added that the payments his company received were for services rendered and denied any knowledge of Gaglio's criminal activities prior to his arrest. Neither Gaglio's wife nor Clermont-Tonnerre's responded to messages and emails seeking comment.
Five years after Gaglio's confession, his victims continue their campaign to force authorities in multiple European jurisdictions to take action. Reissfelder, citing evidence unearthed by Galli, has filed new lawsuits against Gaglio and his suspected accomplices in Geneva, Lyon, and Milan alleging Hottinger & Partners was a front for money launderers and highlighting the inflows into CAP SUD and Eventeam. In northern Italy, a Bolzano court will meet this month to determine whether there are grounds to further investigate Moroder for his alleged involvement in the conspiracy. And last April, a group of 10 Italian senators filed a motion calling for an independent investigation into the activities of Moroder, Prandoni, and a third man, Alfonso Ziribotti, who also received stolen funds. Ziribotti, who filed his own complaint against Gaglio, says he believed the payments he received were from his own funds.
The noise doesn't seem to have reached Gaglio. After renting a modest property during his Luxembourg trial and claiming to be surviving on state benefits and handouts from his parents, records indicate he has moved his family to a $10,000-a-month villa in a manicured compound near Beaulieu-sur-Mer. In 2015, one of the artworks he said had been stolen before his confession—a sculpture by Yves Klein—fetched $200,000 at auction in New York. The seller's identity wasn't made public.
There's no way Gaglio could have foreseen how events would have played out after he walked into that Paris police station in 2013. But by choosing where and when to confess, by revealing some activities and not others, by painting himself as a failed investor rather than a thief who was still moving money around the globe, he has been able to shape the narrative of his life long after he appeared to have run out of options.
Regardless of how the story ends, Galli admits to a grudging admiration for Gaglio. "The amount of complexity and the number of actors is really impressive," he says. "To keep the structure in mind and keep it running for so long under all that pressure—it's incredible. His memory must be huge."
For Reissfelder, who has spent more than $1 million funding his private investigation, going after Gaglio is no longer just about the money. "At some point, you have to sit down and think: What is the cost-benefit analysis here?" he says. The smile on his face gives way to a look of determination. "If there are no consequences, then the world is seriously broken."