This Is the Best European Vacation Destination Right Now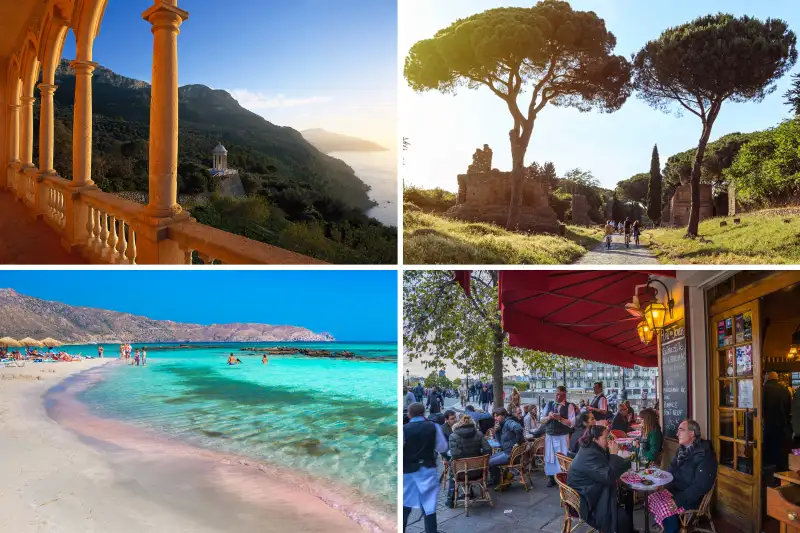 Visiting the Louvre in Paris. Sunbathing on the Azores. Biking across the Appian Way. If any of these are on your bucket list, you're in luck — Money ranked these spots as the best value European trips you can take this year.
To find European travel destinations that won't break the bank, Money dug into its Best in Travel database to zero in on Europe. We analyzed year-over-year changes in flight and hotel prices, plus currency exchange rates, for cities across the continent. The places that had the relatively lowest price points — coupled with abundant restaurants and tourist attractions — made the top 10 cities you need to visit in Europe now.
Some of the following spots may have been eliminated from this year's 2018 Best in Travel ranking because of other recent appearances, but we've allowed them back into the fold to deliver a comprehensive list. You can see an expanded Best in Travel methodology on our database.
Here are Money's top 10 places to visit in Europe:
---
1. Rome, Italy
Cost of a week for two: $4,046
Ancient history meets artistic mastery in Rome, which took the No. 2 spot in Money's 2018 Best International Places to Go ranking:
Enjoy visiting the city's most-visited sites, like the Colosseum ($15 for adults) and the Vatican Museums ($21 for adults), but don't overlook some of the city's underrated spots. Travel + Leisure recommends biking or walking part of the Appian Way, one of the Roman Empire's most important roads that dates back to 312 BCE, or finding a nightclub in the Testaccio district.
---
2. Prague, Czech Republic
Cost of a week for two: $3,622
Tourists on a budget can find much to do in Prague, named one of Money's cheapest international vacations. Entry to many of the city's cultural attractions — including the mid-10th century fort Vyšehrad, the city's 1,000-year-old marketplace Old Town, and Holy Roman Emperor Charles IV's namesake bridge — are free. Or check out The Jewish Museum, one of the most extensive collections of Judaic art and culture in the world, with 40,000 exhibits and 100,000 books; admission costs about $8 U.S. for adults and $6 for kids.
---
3. London, United Kingdom
Cost of a week for two: $4,629
Beyond London's architectural landmarks and storied art scene, you can get a sense of the city's diversity, which marks London's food, entertainment, music, and more. One in three Londoners are foreign born, and the city boasts 270 nationalities and 300 tongues, according to Lonely Planet. So after you're done photographing Big Ben, the Tower of London ($29 or £23 for adults), and St. Paul's Cathedral ($23 or £18 at the gate), head over to the global Borough Market for Spanish tapas, Indian kulfi ice cream, and Ethiopian injera bread.
For more cultural immersion, visit one of many of London's famous free museums and galleries. See two of the four known copies of the Magna Carta at The British Library; view the Chandos Portrait of William Shakespeare up close at the National Portrait Gallery; or learn the inner workings of the British Empire at The British Museum.
---
4. Mallorca, Spain
Cost of a week for two: $4,204
If you're looking to de-stress on a tranquil beach, head to Mallorca. The island boasts sandy expanses on the east and south sides, as well as hiking trails and cliffs in the Serra de Tramuntana mountain range. Lay out on Cala Millor beach — or, for more physical activities, trek the hilltop monasteries or cycle through villages such as Sant Elm. Adrenaline junkies can try their hand at rock climbing at Sa Gubia.
To get to Mallorca, fly into Palma (about $1,000 per person, according to Hopper) and spend some time exploring the Catedral de Mallorca in this chic city.
---
5. Crete, Greece
Cost of a week for two: $4,224
Greece's largest island, Crete is home to vibrant beaches, like the pink sandy Elafonisi Beach, or the "turquoise paradise" Balos Beach. The western end of the island is dotted with harbors, including the historic Venetian town of Chania. Be sure to have your cameras ready after the trek up to the Venizelos graves for panoramic views of the region.
If you're in the mood for libations, grab a bottle of the region's indigenous wine, or take a shot of the fiery raki liquor. You can also visit the Cretan Olive Oil Farm for just over $3, or take a guided tour for $8.
---
6. Paris, France
Cost of a week for two: $3,951
Paris doesn't exactly have a reputation as a budget destination, but if you're looking for a good deal, now is the time to visit. Average flight prices have been falling, according to KAYAK, and the weaker euro has made hotels a better value.
After seeing the Eiffel Tower from the ground, take a lift up the landmark for a view of the city for $29. See the Mona Lisa up close at the Louvre for $10 (or for free if you're under 26 and visit on a Friday evening). Plus, enjoy classic French cuisine without breaking the bank: for the best value meal, Food & Wine recommends visiting a brasserie, a cross between a cafe and a restaurant where simple dishes start around $20.
---
7. Tbilisi, Georgia
Cost of a week for two: $3,348
Set on an ancient crossroads between Asia and Europe, Tbilisi has both medieval architecture and modern food and drink. For a taste of the old, visit the remains of the ancient Narikala fortress on the banks of the Mtkvari River, or walk through the twisting lanes of the Old Town. Or ride the recently reconstructed funicular cable car to get on top of Mt. Mtatsminda (where you can enjoy the amusement park for $1).
The region has also developed a reputation for winemaking; head out to the province of Kakheti to visit the vineyards.
---
8. Krakow, Poland
Cost of a week for two: $3,287
One of the oldest cities in Poland, Krakow has historical sites that date back to the medieval period. Tour the public areas and trade routes of the Middle Ages, enhanced by holograms and audiovisuals, at Rynek Underground ($6). Remains from the Holocaust and WWII also live on in Krakow: Several tour companies offer tours of the old Jewish quarter of Kazimierz, while further afield, you can visit former concentration camp sites at Auschwitz and Plaszów.
---
9. Azores, Portugal
Cost of a week for two: $3,046
The Azores are a small archipelago of nine islands roughly 1,000 miles off the Portugal coast, where you can sunbathe on the white, sandy beaches or hike up volcanic mountain peaks.
If you're tight on time, you can just visit the Azores' most popular islands: São Miguel and Santa Maria. São Miguel, the archipelago's largest island, has ideal surfing water on the coast and thermal pools in the Termas da Ferraria. On Santa Maria, swim in the mild waters of beach Praia Formosa or fish on the island's coastline for bluefish bream, amberjack, conger eels and other native fish.
---
10. Berlin, Germany
Cost of a week for two: $3,749
Beyond its 20th-century historical sites, Berlin boasts a laid-back attitude and a vibrant party scene. Check out The Berlinische Galerie ($9) for 20th century European art, or the contemporary pieces from icons like Olafur Eliasson and Ai Weiwei at Sammlung Boros ($17). If you're looking to dance, head to PURO Sky Lounge for German techno and 360 views of the skyline — you may even spot a celebrity.