This Tiny Floating Home in the Florida Keys Is Pure Paradise—and You Can Rent It!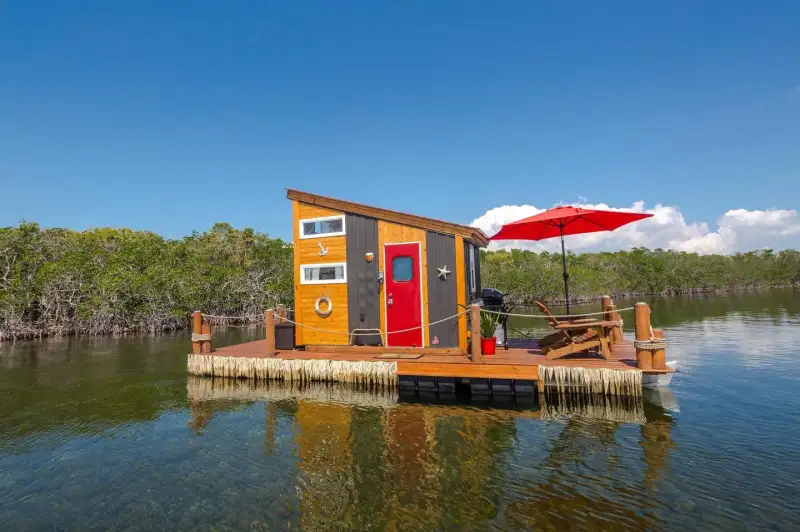 There are three words that, without fail, tend to catch our eyes when shopping for a stellar vacation rental: tiny + floating + Florida. So what happens when we find an adorable Airbnb that happens to have all three? Let's just say you're in for a major gush-fest.
Anchored in the shallow waters of the Gulf of Mexico, this perfect-in-every-way floating cabin, managed by rental agency Vacasa, is a secluded gem just off the Key Largo mainland. Getting there is like a treasure hunt: After hopping on a motorized dinghy that awaits you in a nearby marina, you'll cruise the coastline for 15 minutes before arriving at your peaceful paradise surrounded by mangroves and endless water views.
The dinghy—included in the rental for the length of your stay—is your ticket back to civilization should you want to stop in for a brew at the local tiki bar. (For the adventurers, the world-famous reefs of John Pennekamp State Park are also just 3 miles away.)
But, in the interest of doing nothing at all, you might want to consider marooning yourself here for a day or two. The pint-sized platform holds the 200-square-foot tiny cabin, as well as a pair of Adirondack chairs, a beach umbrella, and a gas grill. From your private little island, you can bask in the sun, take a dip right off the dock, or drop a line in the smooth-as-glass saltwater and reel in the night's dinner. The quiet location, just a stone's throw from a cluster of mangroves, also draws adorable visitors, from tropical birds to dolphins and manatees.
Inside, the cabin is clean and efficient, with a mini-fridge, compact bath, and lofted bed where you can wake up to splendid views of the sunrise each morning. (Swoon!) Vaulted aluminum-clad ceilings and a red, white, and blue palette make the space feel like a seaside summer camp inside.
While there's no WiFi, there are outlets and a flat-screen TV and DVD player inside so you can pass the evening hours reading on a tablet or watching a movie. And as if we didn't love this place enough already, the entire rental runs on solar energy, with no oil or gas on board the cabin or the dinghy.
And with that, we're coming for you, Key Largo. Click here to rent this beauty!