Don't Buy That Tiny House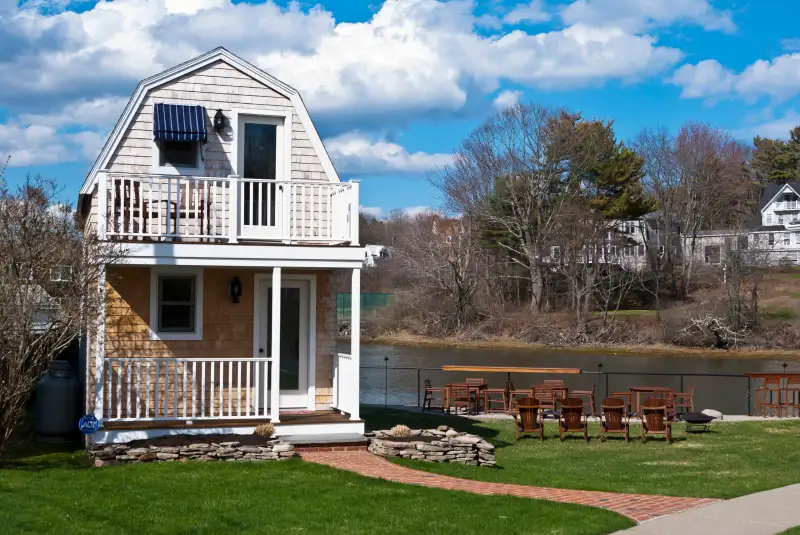 Gary D'Ercole—Getty Images
It's a trend that's sweeping home improvement channels: tiny homes. Like, really tiny homes. And while the cute and often-mobile houses may sound practical — it is, after all, a home with running water and plumbing, appliances, and everything you'd need in a place to live — the truth is, for investment purposes, it's wildly impractical. "High-end travel trailers have been around for decades — and that's what tiny homes really are," says Keith Thompson, a real estate broker with Berkshire Hathaway HomeServices Carolinas Realty in Charlotte, NC. "We don't see a significant portion of the population living permanently in them."
Translation? The trend probably won't last long. It also means your return on investment is next to none. Here are five reasons why buying a tiny home may not be in your best interest.
1. It's a fad
Just like platform sneakers and leisure suits were once popular but are now widely ridiculed, the tiny-home trend is one that may be hot now but is likely to cool off before long. "The key word is fad," says Thompson. "This is a totally unproven market, buoyed by the intense interest in reality TV. Although there can be compelling reasons to want to simplify your life by reducing your financial obligations via less expensive housing options, we don't know long term how that will play out. I'd say the artificial interest caused by the TV trend and the uncertainty in a newer, unproven market make tiny homes a risky investment." You can still live small (even if you don't have a tiny house), however — draw inspiration from that minimal lifestyle and apply it to a home of any size.
Read More: 17 Affordable Luxuries For Your Apartment Bathroom
2. Buyers are few
If you think the demand for a home that backs up to a major highway is slim, then you'll be amazed at how few people are actually willing to pull the trigger on a tiny home. "Real estate sales are dependent on supply and demand," says Justin Udy, a real estate agent with Century 21 Everest Realty Group in Midvale, UT. "A tiny home is not recommended because it only fits a small demographic of buyers in the market. The more restraints the property offers the market, the more niche it becomes. The more niche the home, the less buyers available for the home." In other words: The supply may be great, but the demand — appropriately — is really, really small. That's not to say if you love it and plan to stay put for the long haul, you shouldn't go for it. Just be prepared, because you might end up facing a really long on-the-market period when it's time to sell.
Read More: Pay Up! How Renters With Roommates Should Divvy Up Expenses
3. It's less marketable
The vast majority of tiny homes can accommodate one to two residents, which means many buyers who entertain or host overnight guests (many of us fall into this category!), are simply uninterested in even considering a tiny home for their primary home or even vacation residence. "Tiny homes are simply less marketable," says Udy. "The average consumer needs more space, bedrooms, and bathrooms than a tiny home can offer. An average home allows buyers to grow into it and keep it long term. A tiny home offers restraints to changes in the lifestyle of the buyer." A tiny home on a piece of property that offers space for an additional, larger home to be built later could be the exception here, giving the new owner a place to reside while a dream home is under construction (and a cozy place to host guests in the future!).
4. It's too darn small
Sure, the concept of downsizing sounds nice, but let's be honest: Most people have too many personal belongings to squeeze into a tiny home. "While a tiny home may appeal to a recent college grad who was used to living in cramped dormitory accommodations, let's face facts: Most Americans like collecting a lot of 'stuff' and have a tough time finding storage space for all of it in a small, regular house that has a garage and basement," explains Timothy Wiedman, an adjunct professor at Davenport University in Grand Rapids, MI.
Mike Arman, economic development director for Oak Hill, FL, and a mortgage broker adds, "You have just enough room for yourself but no options for expansion, storage, hobbies, nothing. Need to fix your car? You're doing it in the snow or pay retail for someone else to do it. Have a cat or a dog? Where does the cat box go? Dogs don't like being confined. Where do you put your lawn mower? Your rake and shovel? Going to have a baby? Your small house is now too small."
Of course, there are exceptions to every rule, and climate can play a large role. If you live in a sunny, comfortable climate (think homes in Los Angeles, CA, for instance), the ability to open doors and windows, and enjoy outdoor living spaces year-round could make a tiny home feel expansive.
Read More: Vote! Pick Your Favorite Homes For Sale In Cities With Matching Names
5. It's not less expensive
In essence, downsizing is supposed to help you save money. But that's not necessarily the case with a tiny home. "There is no storage space, so you'll need to rent a storage unit, which means paying for it, and then you have to go back and forth to it every time you need anything larger than a toothpick," says Arman. "Want to have a party? Rent a venue. The list goes on. You can buy a plain old 'non-tiny' house for the same money and get much more utility from it. Finally, most lenders have a minimum square footage they will lend on, so you'll pay cash for your tiny home and so will your potential buyer, which eliminates most of the few remaining prospects you'll have."