Money Secrets From Tony Robbins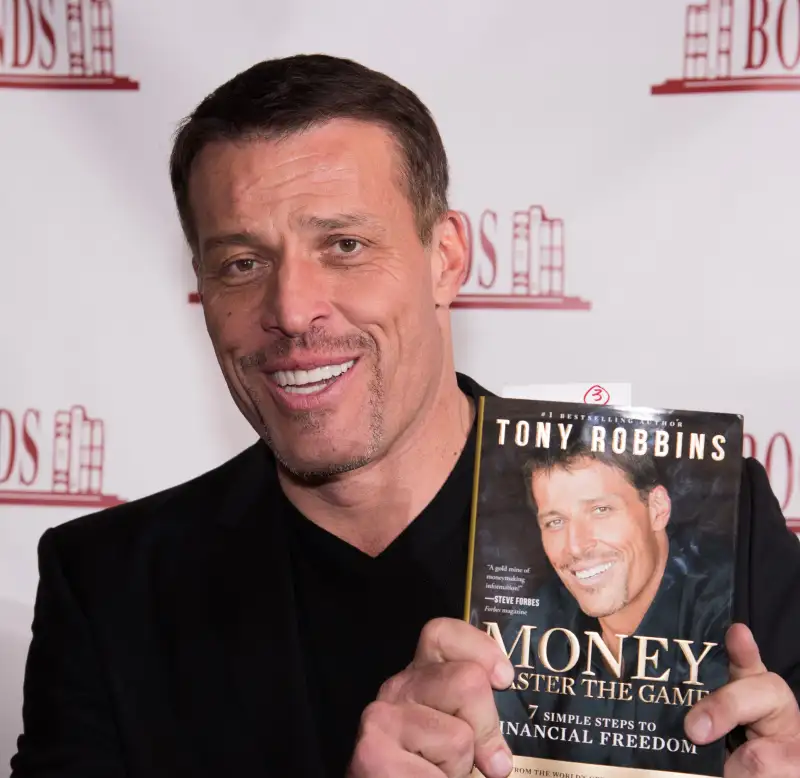 Dave Kotinsky—Getty Images
Tony Robbins is a magnetic life coach who has used his unique perspective on success and life fulfillment to help millions of people find more of both in their lives. His self-help approach focuses on increasing awareness and being intentional in decision-making, and it's one that Robbins himself applies daily in his own life.
In his newest book, "Money Master the Game: 7 Simple Steps to Financial Freedom," Tony Robbins applies his inspiring and change-promoting techniques to the world of finance. While his book claims to delve into "secrets from the world's greatest financial minds," the author is also a huge success in his own right; in fact, a recent Forbes piece estimated Tony Robbins' net worth at $480 million!
In light of Robbins' success, it's no surprise that so many seek to learn from his story. Here are seven key habits that Tony Robbins has used to build his wealth, achieve success and enjoy a more fulfilling, higher-quality life.
1. Reading for 30 Minutes a Day
According to Tony Robbins, reading every day is one of the most valuable habits for achieving success in both finance and life.
"Years ago I got hooked on a habit that turned out to be one of the most valuable of my life: reading at least 30 minutes a day," Robbins wrote on his Facebook page. "Jim Rohn, one of my teachers, told me that reading something of substance, something of value, something that was nourishing, something that taught you distinctions, was more important than eating. 'Miss a meal,' he said, 'but don't miss your reading.'"
The life coach isn't alone in employing this knowledge-building habit to improve his earning potential. Warren Buffett is also a voracious reader, who reports spending a majority of his workday absorbing information relevant to his investing decisions.
Robbins went on to reveal that reading is crucial for maintaining focus on goals while building knowledge, skills and fiscal value. As he told Farnoosh Torabi on her podcast, "So Money," this search for more knowledge is one of his central money-making habits: "For me personally, it's really looking for, and never believing you have, all the answers."
2. Practicing a Habit of Certainty
Are you someone who views uncertainty as a fact of life? According to Robbins, that belief can have a profound effect on financial habits.
"It's no surprise that so many people today have a great deal of uncertainty about where life, the world, the economy is going," Robbins said on his personal website. But with this uncertainty, and periods of big change, can come opportunity. "When you step into uncertainty knowing that certainty isn't a feeling — it's a habit you create — everything shifts."
Robbins went on to advise individuals to take advantage of said uncertainty and not let it stop them from taking action. According to Robbins, "Progress comes when you tell yourself the truth, and you're able to feel the uncertainty and take action anyway."
That habit of practicing a mindset of certainty can make all the difference between inaction and influence. Often, financial health is determined by small choices that add up quickly. Individuals could start with a goal of saving just $1 a week to start developing spending discipline. Or they could take the first step toward achieving long-term goals by finding out more about employers' retirement savings account options. The goal is to face fear and uncertainty and see them as opportunities to do more, be more and have more.
3. Creating Healthy Rituals Around Money
According to Robbins, many people observe detrimental rituals surrounding money and spending. Instead of maintaining these pre-programmed financial rituals, and ending up with the same financial problems again and again, Robbins suggests that individuals create new and healthier rituals that will improve their financial standing.
"You have rituals around your finances, and the rituals that worked in the reaping time, of fall in the markets, and in business and in real estate — those rituals won't work now," Robbins said in a Youtube video. "If you do the right thing at the wrong time, you don't get rewarded — you get pain."
One of the first financial rituals Robbins suggests is creating and following a spending plan. Others include paying yourself first, getting professional financial help and focusing on investments that will provide sufficient growth. On a more personal note, Tony Robbins has revealed that his own wallet always contains three $100 bills to help him maintain a mindset of abundance.
"Take a look at the rituals you do that aren't working, and focus on some new one that will work," Robbins said on his site. He went on to suggest that individuals ignore factors beyond their control and focus on what they can do to enact change. The idea is to take steps to change your own life instead of waiting for a savior to appear and fix your mistakes.
4. Visualizing a Goal
To achieve success in both finance and life, envisioning one's goals is crucial. As a young man, Robbins would go for runs and repeat incantations to himself as a way to stay focused on his goals.
In a video on his website, Robbins said, "I would envision God's wealth circulating my life, and I would see the wealth of love, friendship, and impact, and growth, and economics … I'd see this wealth of abundance flowing, oceans of it, into my life as I went and did these things."
As individuals visualize the financial wealth they desire, it opens them up to the possibility of making these outcomes happen, Robbins believes. Additionally, envisioning goals lets people enjoy the psychological and emotional benefits of success without having to wait for the fiscal reality of it. Instead of waiting to be wealthy in order to feel wealthy, a feeling of wealth helps one create financial success in his or her life.
5. Giving Back
Many people espouse the benefits of giving back. However, for Tony Robbins, this behavior is also a central habit for success.
"Whether you're helping a stranger or someone you love, help comes from a place of abundance, not scarcity," Robbins wrote on his site. "The most important time to help others is when you think you need it."
One of the first experiences Robbins had with giving back was also one that formed his idea of what being wealthy truly meant. On the podcast "So Money," Robbins shared a story about when he was young, deep in debt and down to his last $20. He walked to a nearby all-you-can-eat buffet to try and fill up for just $5, and as he was enjoying his meal he noticed an 8-year-old boy, dressed in a suit, out to lunch with his mother. The scene touched Robbins, who approached the boy and complimented him on his behavior.
"It's pretty cool you're taking her out to lunch like this," Robbins recalled saying. The boy replied that he wasn't paying because he didn't have any money to do so. "I just said, 'You are taking her to lunch,' and I reached in my pocket, I didn't hesitate a moment, I took every penny I had and dropped [it] on the table in front of him. And the look on his face was worth it," Robbins said. The next day Robbins received a check in the mail from someone to whom he'd loaned money. The sum was equal to a month's worth of expenses.
"And that's the day I became a wealthy man," Robbins said. "I had no money, but I linked up in my head … you and I don't stop to take a breath and think, is there going to be air there, before you take a breath? You know it's going to be there … And that's the day I did [know]."
6. Asking Better Questions
Tony Robbins' book, "Money Master the Game," looks at the habits of successful and wealthy people and examines how they play the game of money. According to Robbins, one of the key habits of these individuals is asking better questions.
"To get results, you can't just ask the question once, you have to become obsessed with finding its greatest answer(s)," he said in a Fortune article. "I have been obsessed with the question of how do I make things better? How do I help people to significantly improve the quality of their lives now? This focus has driven me for 38 years to find or create strategies and tools that can make an immediate difference."
In the financial world, this can mean moving beyond limiting questions, like, "Why can't I hang on to my money?" Instead, individuals should ask questions such as, "How can I grow the money I have?"
7. Choosing the Right Partners and People
Robbins believes that the habit of choosing the right people in life will lead to higher value, both in one's business life and romantic relationships.
"I think some of [my] biggest mistakes in business have been picking the wrong partners at different stages, not understanding what somebody really needed or wanted out of a situation, deluding yourself because you so conveniently want that," Robbins said in an interview with Fortune.
According to the life coach, he has learned over the years to take a look at his goals and needs, as well as the goals of those he works with, and make sure they are all aligned to work together. "When it comes to partners … I've learned to be selective," Robbins said.
From business partners to life partners, having the right people around can have a huge positive impact on your ability to earn more and grow your wealth. And who knows? You might even have a chance to attain Tony Robbins-levels of wealth and success.
This article originally appeared on GoBankingRates.com.
More From GoBankingRates: